Making the dessert recipes is usually my area of expertise here on A Family Feast – but every once in a while my husband Jack's sweet tooth takes over! And that's a good thing because it inspired today's recipe for these easy, sinfully good Hazelnut Truffles!
In Jack's own words: "These truffles are so good, they should be illegal!" and fair warning – these are definitely for those days where you are not worried about counting calories! Or – better yet – make these for a special Valentine's treat that your sweetheart will surely love.
These hazelnut truffles have a wonderfully complex flavor thanks to a combination of Nutella (we used our own homemade Nutella – see that recipe here), Kahlua, and instant espresso that is added to melted chocolate, heavy cream, butter, cocoa powder and powdered sugar.
Once the truffle mixture is cooled and set and rolled into balls, these rich, chocolaty hazelnut truffles can be coated in your choice of chopped nuts (we used hazelnuts to match the flavor of the Nutella inside, but any nut will do), cocoa powder or powdered sugar. You could also dip them into melted tempered chocolate for an even more sinful treat!
Print
Hazelnut Truffles
Prep Time:

4 hours

Cook Time:

15 mins

Total Time:

4 hours 15 minutes

Yield:

48 truffles
---
1 cup

heavy cream

8 ounces

milk chocolate chopped into small pieces

1 cup

semi-sweet chocolate morsels

2½ tablespoons

butter softened

1

egg yolk

2 tablespoons

Kahlua

2 tablespoons

Nutella (see here for our homemade version)

¼ cup

cocoa powder

1 tablespoon

instant espresso coffee or regular instant coffee

¼ cup

powdered sugar

1 cup

hazelnuts
---
Instructions
In a medium sauce pan place the cream and bring to just hot but not boiling. The edges of the pan will just be starting to bubble.
Place the milk chocolate pieces and semi sweet chocolate morsels in a medium bowl and pour just half of the hot cream over. Let sit for 30 seconds then mix gently with a wire whip to melt the chocolate.
Slowly add the rest of the cream while stirring. This is necessary so that the fat in the chocolate does not separate. If it does, add little bits of cold cream to the mixture to recover.
Add butter and stir to blend.
Put the egg yolk in a small bowl and add about a half cup of the melted chocolate a little at a time while you whip to temper the egg. Add this back into the larger bowl and mix.
Add Kahlua, Nutella, cocoa powder, instant coffee and powdered sugar and stir to combine.
Pour mixture into a flat, low baking dish, cover with plastic and place in the refrigerator for four hours or overnight.
While mixture is chilling, roast hazelnuts if using to coat truffles.
Heat oven to 425 degrees and pour hazelnuts onto parchment lined sheet pan.
Roast for ten minutes and remove. Pour hot nuts into a small stainless steel or glass bowl and cover with an upside down dinner plate and shake vigorously to remove skins. Stop, pick out the ones that have skins gone and shake the rest until all or most of the skins are off. Discard skins.
Cool slightly and process in a food processor until they are down to a coarse crumb.
When the truffle filling has set, remove from the refrigerator and with two teaspoons, scoop out half ounce size pieces with one spoon and push off onto a plate with the other.
Once you have scooped all 48, roll each into a ball by first coating your hands with oil or non-stick cooking spray and then rolling each piece into a ball. Then drop the balls into the toasted hazelnut crumbs, or coating of your choice. Remove to a platter and store refrigerated until ready to use.
---
You may also like: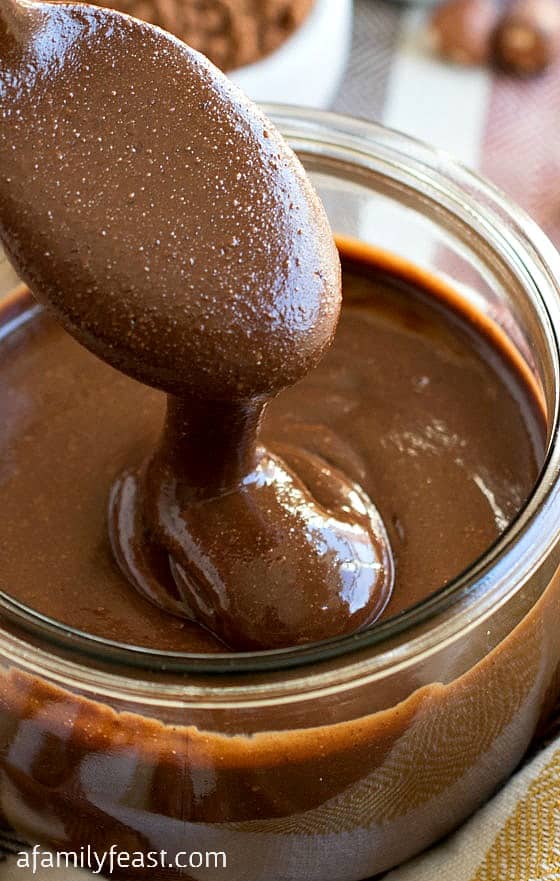 Crispy Chocolate Biscoff Truffles