Grilled Spaghetti Squash Steaks with melted Parmesan cheese on top have a delicious, nutty caramelized flavor.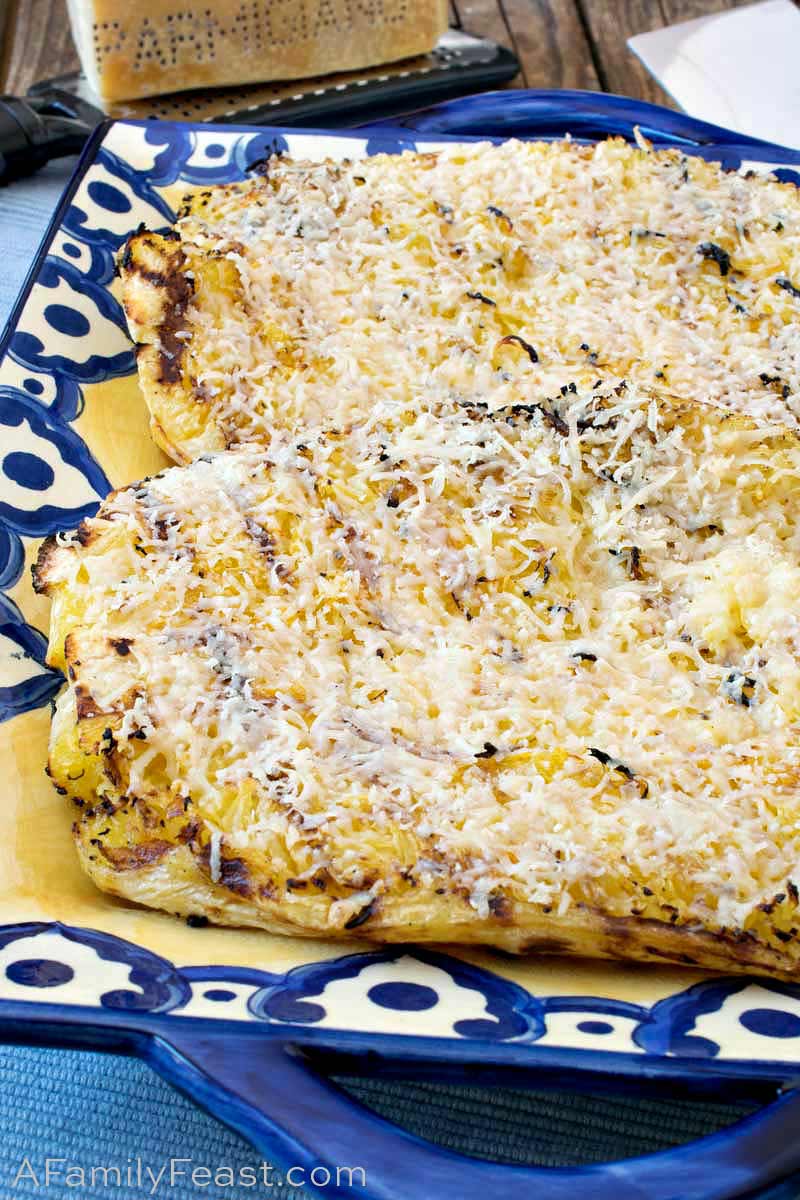 Hi everyone – Jack here. When people learn that Martha and I have a food blog, they often ask us where we get the recipes. In the case of today's Grilled Spaghetti Squash Steaks – I simply woke up one morning with the idea.
When we grill dinner during the summer, I'm always trying to think of ways that we can also grill the vegetables we serve with our entrée. I do this (mostly) so cleanup is easy – but also so I can avoid running in and out of the house.
So – I had the idea of peeling a partially cooked spaghetti squash, flattening it, then grilling it like a steak.
How do I make Grilled Spaghetti Squash Steaks?
To start, poke a few holes into a whole spaghetti squash with a fork, then microwave it for a few minutes. This will soften the skin and also start cooking the squash a bit.
Carefully remove the squash (it will be hot) to a cutting board, then use a vegetable peeler to peel off the outer skin. Place the peeled spaghetti squash on a plate, then microwave it for a few minutes more.
At this point, cut the spaghetti squash in half lengthwise and remove the seeds. Then flatten each half into oval-shaped 'steaks'. (These initial steps can all be done in advance.)
Then – as you're grilling the rest of dinner – brush each side of the spaghetti squash steak with oil, and season with salt and pepper. Place on the hot side of the grill to cook, flipping after five minutes. After another five minutes, remove the spaghetti squash steaks to the cool side of the grill and let them finish cooking through over indirect heat. This takes about fifteen minutes.
Finally, brush with some additional olive oil and sprinkle the spaghetti squash steaks with freshly grated Parmesan cheese. Cook for a few minutes more until the cheese melts and begins to caramelize.
How do I serve Grilled Spaghetti Squash Steaks?
Cut each Grilled Spaghetti Squash Steak in half, and serve alongside your favorite grilled chicken, steak, pork or fish.
We think you'll love the wonderful grilled flavors of the spaghetti squash with the caramelized Parmesan cheese. It's a fantastic flavor combination.
Keto, Low-Carb and Vegetarian-Friendly
With 6.3 net carbs per serving, this Grilled Spaghetti Squash Steak is a great low-carb option for anyone following a keto diet. It's filling and delicious, and it can be served as a meatless meal as well.
You may enjoy these other Spaghetti Squash recipes:
Print
Grilled Spaghetti Squash Steaks
Author:

Prep Time:

20 minutes

Cook Time:

40 minutes

Total Time:

1 hour

Yield:

4 servings

Category:

side dish, vegetable

Method:

grilled, microwave

Cuisine:

American
---
1 large spaghetti squash
¼ cup extra virgin olive oil
1 ½ teaspoons kosher salt
1 teaspoon freshly ground black pepper
1 cup freshly grated Parmesan cheese
---
Instructions
With a fork, poke a few holes in the outer skin of the squash then place the whole squash in the microwave on high for five minutes.
Use a towel to lift it and hold it on a cutting board while you peel off the outer skin with a potato peeler (peel towards you from each end to the middle).
Place back in the microwave on a plate for five more minutes.
Remove with a dish towel to your cutting board and if the squash has a stem, nip that off then slice the squash in half from one end to the other.
Scoop out and discard the seeds.
Place the squash cut side down on your cutting board and place a dish towel over the top and gently press to flatten. Repeat for the second half. You should have two oval shaped thick steaks.
Heat your grill to high on one side and cool on the other. Clean and oil the grates.
Brush the outside of the squash with the olive oil, salt and pepper and place on the hot side with the cut side facing up. Brush the cut side with more olive oil and sprinkle on more salt and pepper. Reserve about a tablespoon of the olive oil for another step.
Grill the outside for five minutes then flip over and grill the inside for five more minutes.
Flip the squash cut side up again and slide the squash over to the cool side and close the lid. Try to regulate the temperature of the grill to about 350 degrees F.
Cook until tender, about 15 minutes. (Test with a fork by poking and pulling up a few strands to test.)
Brush on the remaining olive oil then spread the Parmesan cheese over both halves, close the cover and cook to caramelize, about 5-10 minutes.
Remove to platter or cutting board. Each serving will be half of one half, or four servings in all.
---
Keywords: Grilled Spaghetti Squash Steaks