These thick and juicy Grilled Porterhouse Pork Chops are going to be the talk of the neighborhood!

We hit the jackpot at our local supermarket last week! These scrumptious, two-inch thick porterhouse pork chops (aka "cowboy pork chops") were on sale for a ridiculously low price. So I loaded up our cart with four of these gorgeous beauties so we could make these amazing, juicy Grilled Porterhouse Pork Chops!
What is a porterhouse pork chop?
A porterhouse pork chop is a bone-in pork chop with the pork loin on one side of the T-bone and the pork tenderloin on the other.
More often than not, I've seen these at the market cut to about one-inch thick, but if you see two-inch porterhouse chops – buy some! The thicker the pork chop, I think, the easier it is to avoid over-cooking – and there is nothing worse than a dry, over cooked pork chop!
Although we made Grilled Porterhouse Pork Chops shown in the recipe today, you can actually use this recipe for any type of pork chop. It's very simple to make and adds a wonderfully seasoned flavor that complements the pork, without overwhelming it.
How do you make Grilled Porterhouse Pork Chops?
It all starts with a simple overnight marinade – a process similar to brining – that helps the pork chops stay nice and juicy as they cook, and also imparts extra flavor.
Our marinade is a simple wet rub made with fresh garlic, thyme, parsley, rosemary, champagne vinegar, salt and pepper, whole grain mustard, a touch of sugar, and extra virgin olive oil.  Place your porterhouse pork chops in a large plastic bag (or two bags if your chops are extra large) – then pour the marinade over the chops, coating all sides.)
The next day (at least 12 hours later and no more than 24 hours later) – fire up the grill!  Heat one side of your grill to high, and leave the other side low.  Sear each side on the high heat side, then move to the low heat side to finish cooking through.
Because these Grilled Porterhouse Pork Chops were so thick – it actually took them close to thirty minutes to cook through. We removed them from the grill once they reached an internal temperature of 145 degrees F – and as the chops rest before serving and slicing, the internal temperature continued to rise to the FDA's recommended temperature of 160 degrees F.)
If your chops are a thinner cut, the cooking time will be less.  As always, when cooking meat, we recommend using either a probe thermometer or an instant read thermometer to help you avoid overcooking your meat.
You may also like these other pork recipes:
Print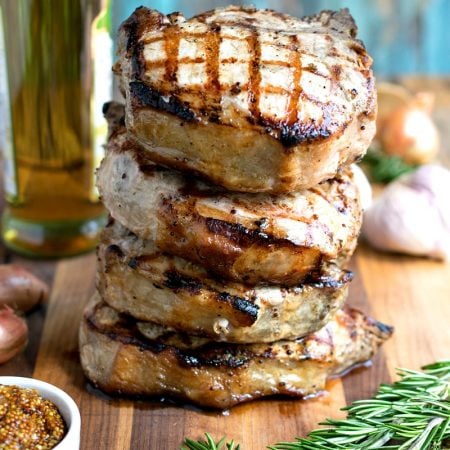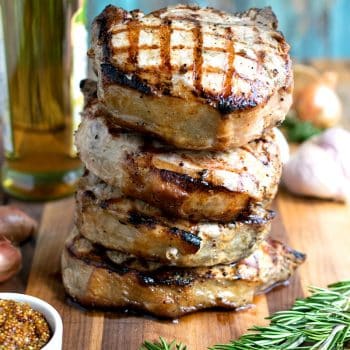 Grilled Porterhouse Pork Chops
Author:

Prep Time:

8 hours 10 minutes

Cook Time:

30 minutes

Total Time:

8 hours 40 minutes

Yield:

4 pork chops

Category:

Entree

Cuisine:

Grilling
---
4 large thick pork chops (ours were 2" thick porterhouse chops and were over a pound each)
For the Marinade
3 cloves garlic smashed
Small bunch fresh thyme
Small bunch fresh parsley
1 large sprig fresh rosemary
½ cup champagne vinegar
2 tablespoons kosher salt
1 teaspoon freshly ground black pepper
1 tablespoon whole grain mustard
1 tablespoon granulated sugar
½ cup extra virgin olive oil
---
Instructions
Place your pork chops into a large zipper seal bag. (You may need two if your chops are very large.)
Add the garlic, thyme, parsley and rosemary to the bag (or split between the two bags).
In a medium bowl, whisk the vinegar, salt, pepper, mustard and sugar then slowly whisk in the oil. Add to the bag(s). Refrigerate overnight for at least 12 hours but no more than 24 hours.
When you are ready to grill, heat one side of your grill to high and the other to low. Clean and oil your grill grates.
Remove pork from the marinade and discard the marinade.
Pat the pork dry and brush with some vegetable oil.
Place on hot side and grill 2-3 minutes then turn one quarter turn and grill for 2 more minutes. This will create the cross marks on the surface.
Flip and grill 2 more minutes then move to the cool side and close the cover. If you can maintain a temperature in the grill, it should be at about 425 degrees F.
Cook on the cool side until the internal temperature of the thickest part of the pork chop is 145 degrees F. They will continue to cook once outside the grill. Let sit for ten minutes then serve.
Our 2" thick chops took almost 30 minutes to cook. Yours will vary depending on thickness and accuracy of your grill so always use a probe thermometer before removing from the heat.
---
Keywords: Grilled pork chops