This Gluten Free Flat Bread is a delicious alternative to pita bread!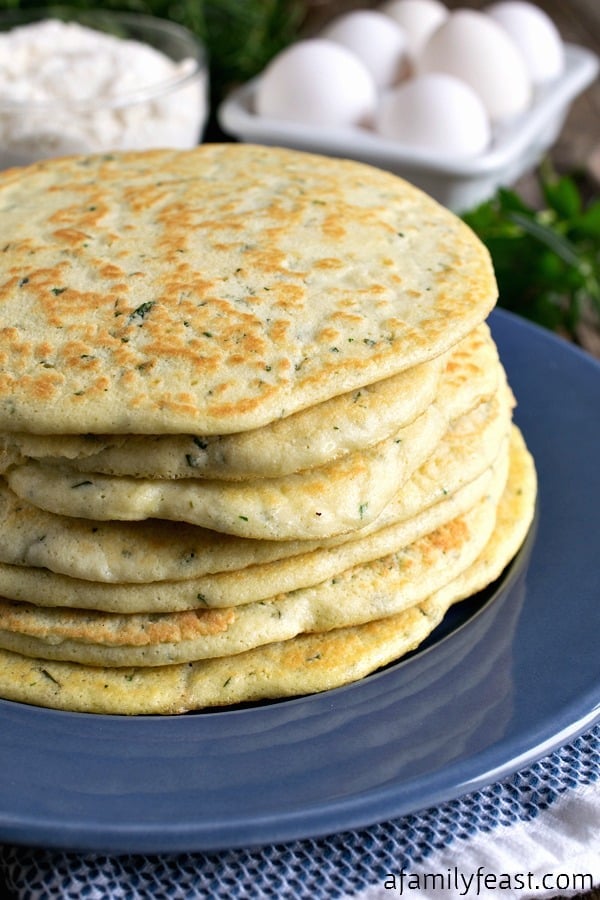 Hi Everyone, this is Jack.  Over the last few months, Martha and I have completed the Whole30 program with great results, and we are now finding the right balance that will allow us to continue with a healthier lifestyle for the rest of our lives. During the first 30 days on the program, we strictly followed the program rules, and now we are adding back different foods to see how we tolerate them.
One food we've missed (and craved) is bread – but we resigned ourselves to live without it because both of us are feeling better when we avoid gluten as much as possible.
Our oldest daughter Courtney has always been a healthy eater, and she told us about a gluten free flat bread that she recently made. (It wasn't dry and flavorless like most of the gluten free breads we've eaten!) Courtney sent us a few flat bread recipes links for inspiration, and I started testing out some of the recipes.
Her favorite recipe used coconut flour, something we've only used in the past for baking. Some other recipes used a lot of eggs, and to me, the flat bread ended up tasting more like an omelet than bread. Others versions were so dense, they were almost too much to eat and they overpowered the other foods on the sandwich.
I think I landed on a great middle ground with today's gluten free flat bread recipe – it has a pita bread feel, it's moist and flexible, and it has a texture just like bread. (It also doesn't taste like an omelet!) We added a mix of fresh herbs to our gluten free flat bread – giving it a wonderful savory flavor, but you can leave those out if you'd like.
Holding a 'sandwich' in our hands again has been wonderful! (I love the Whole30 life but I sure did miss eating sandwiches!)
We found that you can make these ahead of time and freeze them with layers of parchment in between. When you crave a sandwich, toss the gluten free flat bread in a pan or toaster oven to warm it up before serving.
Print
Gluten Free Flat Bread
Prep Time:

10 mins

Cook Time:

20 mins

Total Time:

30 minutes

Yield:

4 6-inch round flat breads

Category:

bread

Method:

stovetop

Cuisine:

American
---
4

whole eggs

4

egg whites

1 tablespoon

coconut manna, or extra virgin olive oil, or clarified butter

¾ teaspoon

sea salt or kosher salt

¼ cup

coconut flour (found online, in some big box stores, or supermarket)

1 ½ teaspoons

gluten free baking powder

2 teaspoons

arrowroot powder (found at some supermarkets or on line)

3 tablespoon

any fresh herb or a combination such as fresh parsley, basil, rosemary or thyme
Extra virgin olive oil or non-stick cooking spray for pan
---
Instructions
In a large bowl, mix whole eggs with egg whites until blended.
Add melted manna or olive oil or butter, salt, coconut flour, baking powder, arrow root and fresh herbs.
Mix thoroughly with a whisk then let mixture sit for five minutes. Then whip again. This is necessary so the flour absorbs the liquid.
Using a flat griddle pan or crepe pan, heat over medium low to low heat. But let the pan fully heat before starting to ensure that the pan is very hot.
Once hot, spray or brush on some oil and pour about a third of a cup of batter onto pan and then cover with a glass lid . The lid helps retain the heat (like a mini oven) to cook the bread and using a glass lid will help you see when to turn the flat bread.
After 3-4 minutes, you should see the edges dry and bubbles forming in batter. With a spatula, lift an edge and check. If golden, flip, cover and cook the other side about 2-3 more minutes, or until slightly browned and cooked through.
Transfer to a platter and continue cooking the remainder of the batter. (Note: I used two pans so I could cook two at a time and found the timing to be slightly different between the two pans, mostly because one pan was thicker than the other, therefore your cooking time will vary depending on your cookware, burner type and heating source.)
Once cooked, these are great served warm with sandwich ingredients folded in half like a piece of pita bread.
---
Keywords: gluten free flat bread
Disclosure: This post contains affiliate links.
You may also like:
Whole30 Cauliflower and Yam 'Potato' Salad