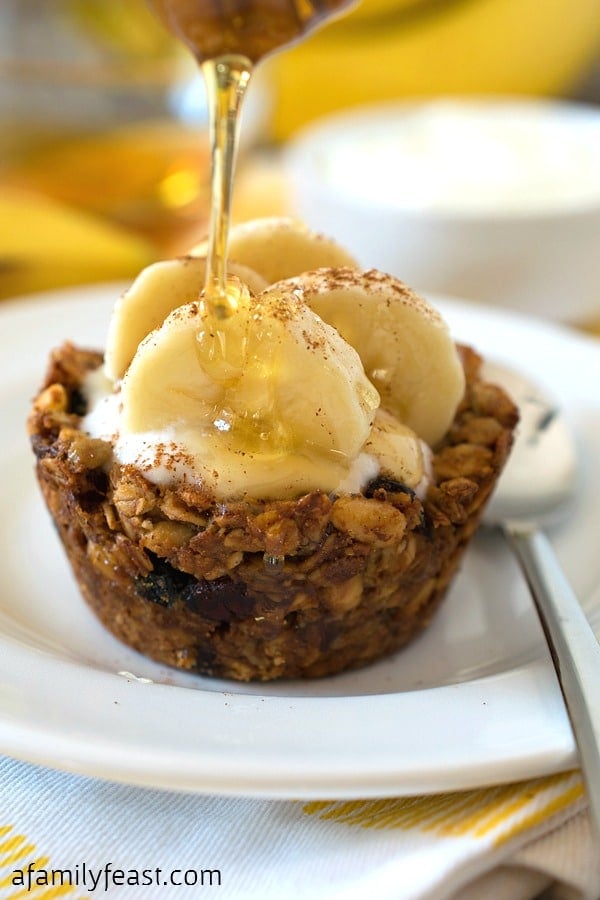 These Fruit and Nut Oatmeal Breakfast Cups are a delicious way to make breakfast a little extra special in the morning!
I mean – who wouldn't love to sit down at the breakfast table and have one of these sweet little cups placed in front of them?
We made these Fruit and Nut Oatmeal Breakfast Cups with a mix of rolled oats, crunchy peanut butter, mashed bananas, plus all sorts of other fruit and nut goodness like golden raisins, dried cranberries, sunflower seeds, and ground flax seed. We used our homemade chai spice mix, plus vanilla extract and honey for flavor and sweetness.
Next, divide the mixture evenly among the cups of a muffin pan – then use a tart stamper (like this one) or the bottom of a shot glass to create an indentation. Bake the Fruit and Nut Oatmeal Breakfast Cups until golden and firm.
To serve, we spooned some plain Greek yogurt into the bottom of each of the Fruit and Nut Oatmeal Breakfast Cups, then added some sliced bananas, a drizzle of honey and a sprinkle of cinnamon on top. Then – dig in!
A batch of these Fruit and Nut Oatmeal Breakfast Cups can be made in advance, then enjoyed all week long. Just be sure to store them in an airtight container to keep them fresh.
Print
Fruit and Nut Oatmeal Breakfast Cups
Prep Time:

1 hour

Cook Time:

20 mins

Total Time:

1 hour 20 minutes

Yield:

12 cups
---
1

over-ripe banana, about

4 ounces

½ cup

crunchy peanut butter

¼ cup

agave nectar or honey

1 teaspoon

vanilla extract

½ cup

golden raisins

½ cup

dried cranberries

¼ cup

pine nuts

¼ cup

sunflower seeds
Pinch kosher salt

2 tablespoons

golden ground flax seed

1 ½ teaspoons

Chai spice mix

2 cups

rolled oats
To Serve
Yogurt
Sliced fruit (we used bananas)
Honey and cinnamon
---
Instructions
In a large bowl, mash banana with a fork or potato masher until creamy.
Add the peanut butter, agave and vanilla and whip until completely incorporated.
Add all other ingredients and combine with a wooden spoon.
Cover tightly and refrigerate for 30 minutes.
Preheat oven to 350 degrees F.
Spray a 12 cup muffin pan with kitchen pan spray and divide the mixture between the 12 cups using an ice cream scoop.
Using a tart stamper (see here) or the bottom of a shot glass, stamp the mixture flat then press hard in the center with the tart stamp to make an indentation as deep as you can so that the sides and bottom are about a quarter inch think and the batter pushes up the sides almost to the top of the muffin cup. (Does not have to be perfect)
Bake for 20 minutes turning pan half way through.
Remove from oven and let sit cooling on a rack still in the muffin tin for 10 minutes.
With a small knife, run around the inside of the tin to loosen then lift out. Some little bits may stick, but they all should come out relatively clean and whole.
Cool completely on a wire rack and when ready to serve, fill with yogurt, your favorite fruit and drizzle with honey and dust with cinnamon.
---
Disclosure: This post contains affiliate links.
You may also like:
Banana Chocolate Chip Granola Muffins