We're sharing all of our tips and tricks to make the best Fried Boneless Skinless Chicken Breasts!
We love fried chicken – with its tender, juicy meat and crispy, seasoned breading. Fried Boneless Skinless Chicken Breasts are a delicious option if you want to make a sandwich, or if you simply want to eat fried chicken without worrying about the bones.
Normally, when you make fried chicken from pieces of a whole chicken with the skin still on, the skin really helps the breading stick to the pieces as they fry.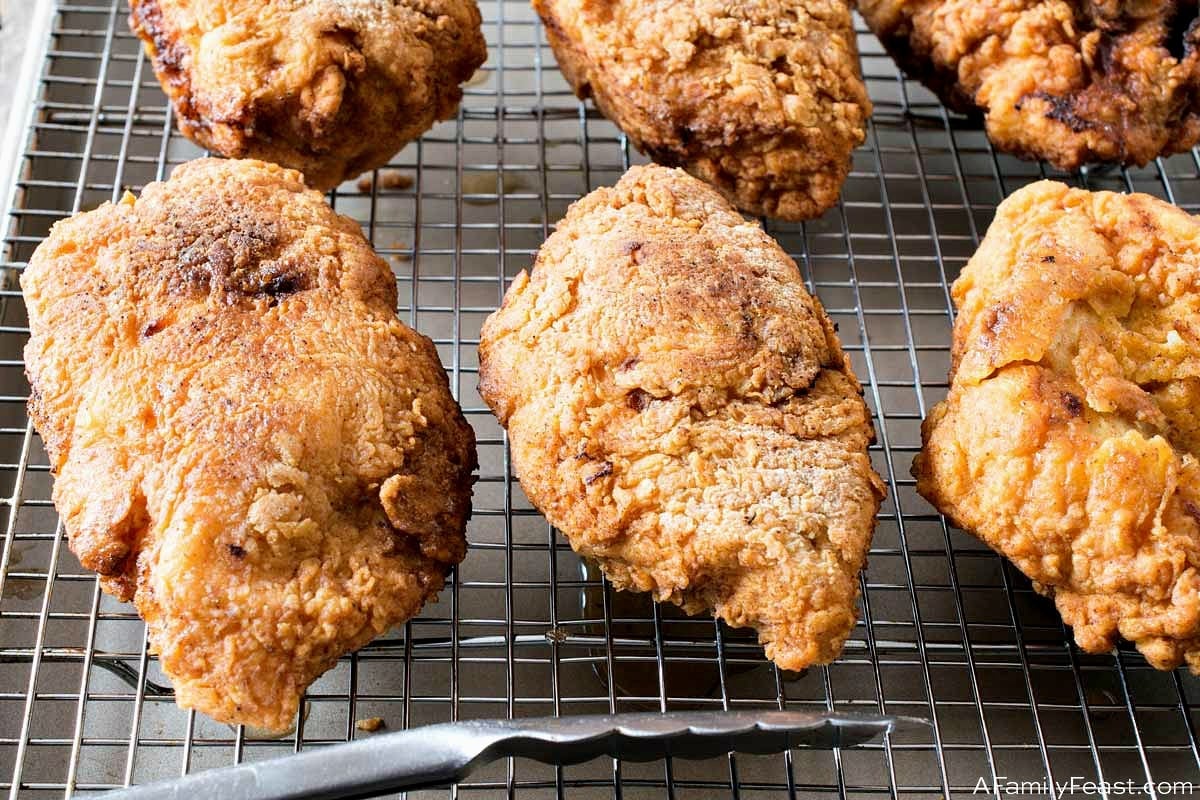 But how do you make the breading stay on a fried, boneless chicken breast without the skin?
After some trial and error – we discovered that three layers of a seasoned flour mixture – with a dip into an egg mixture in between – should do the trick.
You'll start with thick boneless skinless chicken breasts. If the breast is thicker than an inch and a half, you'll want to butterfly the breasts so it is a more even thickness. (This will help the fried chicken breast cook through more evenly.)
In a large bowl, whisk together flour, salt, pepper, garlic powder and paprika. In a second bowl, whisk together eggs, milk and some hot sauce.
Dip the boneless, skinless chicken breasts back and forth in this order: flour, egg, flour, egg, flour.  Don't worry if the breading starts to get a little 'shaggy' as you dip back and forth. Those little rough clumps of breading will fry up nice and crisp.
Gently place the coated chicken breasts on a plate – pressing the coating into the chicken to make sure it sticks. Repeat with the rest of your chicken breasts, then melt lard or shortening in a large heavy-bottomed pan such as cast iron or porcelain-coated cast iron braiser.
We recommend that you invest in a deep fry or candy thermometer (which are not at all expensive). This will help you know when your frying oil is at the proper temperature of 325 degrees F. (Don't go higher, or the chicken will scorch on the outside before it is cooked through on the inside.)
Depending on the size of your pan, fry in batches – making sure that that chicken pieces are not overly crowded as they cook. Fry for about 15 minutes – carefully turning the chicken pieces every few minutes. Jack used two spatulas to flip the pieces, making sure not to disturb the nice, fried crust that formed as the chicken cooked.
How do I know when my Fried Boneless Skinless Chicken Breasts are cooked through?
The best way to tell is by using an instant-read probe thermometer. Carefully insert the thermometer into the breast and remove from the oil once the internal temperature reaches 155 degrees F. (The residual heat will continue to cook the chicken to a safe-to-eat internal temperature of 165 degrees F.)
Carefully place the Fried Boneless Skinless Chicken Breasts on a rack to drain and cool slightly – then serve immediately. The inside will be juicy and perfectly cooked through, and the coating will be nice and crispy!
You may enjoy these other chicken recipes:
Print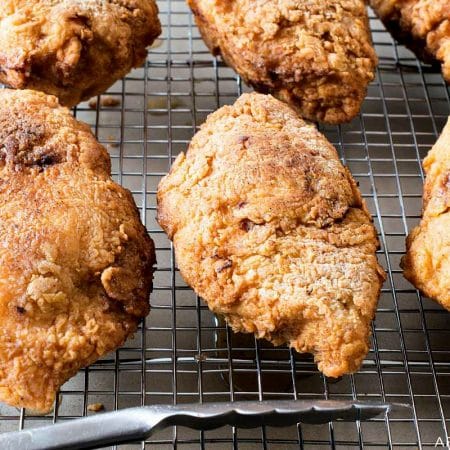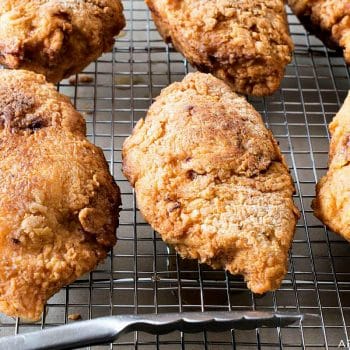 Fried Boneless Skinless Chicken Breasts
Author:

Prep Time:

12 hours

Cook Time:

15 minutes

Total Time:

12 hours 15 minutes

Yield:

4 servings

Category:

entree

Method:

fried

Cuisine:

American
---
2 pounds boneless skinless chicken breasts
2 cups buttermilk*
2 cups all-purpose flour
2 teaspoons kosher salt
1 teaspoon white pepper
1 teaspoon garlic powder
1 teaspoon paprika
3 whole eggs
3 tablespoons whole milk
2 tablespoons hot sauce (we used Cholula which is a mild hot sauce)
Enough lard or vegetable shortening to come 2" up the side of a large cast iron skillet
---
Instructions
Breasts pieces thicker than 1 ½ inches should be butterflied.
Place chicken breasts in a zip lock bag and cover with the buttermilk and let soak in the refrigerator overnight or at least 12 hours.
When ready to cook, drain the chicken and discard the buttermilk.
In a large bowl, whisk flour, salt, pepper, garlic powder and paprika.
In a medium bowl beat eggs, milk and hot sauce.
Place the pieces, two at a time, in flour, egg, flour, egg and flour, pressing each time to coat. The breading should be rough and shaggy and not neat and even. The shaggy parts will crisp up as they fry and give a nice crunchy coat. As you bread each piece, place on a platter or plate.
Place a rack over a sheet tray and set aside.
Melt shortening in a large heavy bottomed pan, (a large cast iron or a coated cast iron pan works best), and hold at 325 degrees F using a candy thermometer or other thermometer to get to that temperature, no higher.
Add all of the chicken at once, piece by piece. If they do not comfortably fit all at once, you will need to cook in two batches. The temperature of the oil will drop below 300 degrees F when you place the chicken pieces in and that is where you should keep it during the cooking. If the oil is too hot, the outside will get too dark before the inside cooks.
Fry for a total of about 15 minutes, carefully turning every few minutes for even browning. (We used two heat-proof spatulas (silicone or metal) to make sure we did not disturb the nice crust forming). Insert a probe thermometer into one piece and remove from the fryer onto the prepared rack once the internal temperature reaches 155 degrees F. The chicken will continue to cook to a safe temperature of 165 degrees F.
Be gentle when handling so that the cooked breading stays on.
Serve immediately.
---
Notes
*If you don't have buttermilk, in a pinch add one tablespoon of fresh lemon juice or white vinegar to every cup of whole milk. Let sit 15 minutes to curdle.
Keywords: fried chicken breasts, fried boneless skinless chicken breasts