This Buttermilk Fried Chicken recipe is crispy and flavorful on the outside, and juicy and tender on the inside!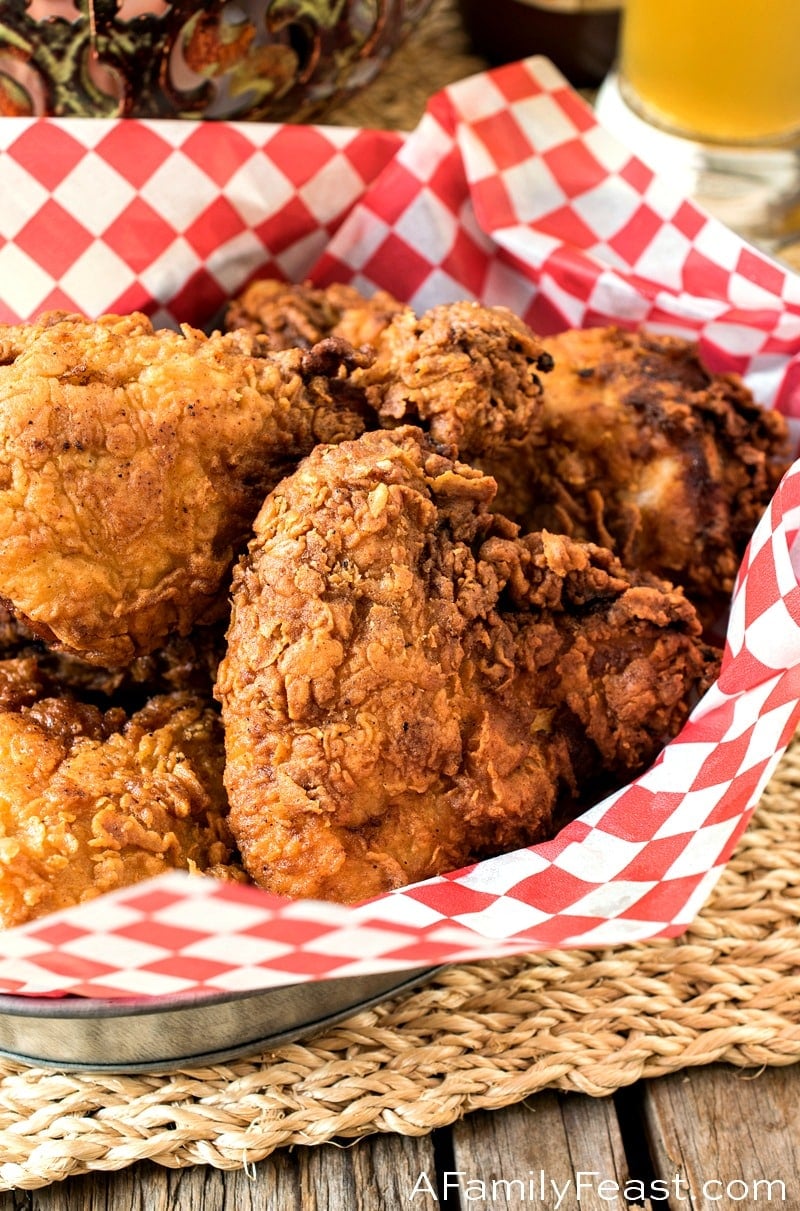 This is Jack sharing our recipe today. At one point in my career, I was the Food Service Director of a mental health facility in Boston. We fed patients, staff, medical personnel, and also provided prepared meals to a homeless shelter and a meals-on-wheels program – so needless to say, my kitchen staff was very busy.
My head chef, a true Southern gentleman named Welton, shared a number of recipes with us from his childhood down in Georgia.  Among his family recipes was Welton's fantastic Buttermilk Fried Chicken recipe.
Now – I know that a really good Southern fried chicken recipe is worth its weight in gold – and to this day, I'm so thankful that Welton taught this New Englander how to make it the 'right' way.
How to make the best fried chicken:
To make the best fried chicken, Welton stated five rules:
The chicken must be brined before cooking. Brining ensures lots of flavor as well as a juicy piece of chicken once it is cooked.
You must use buttermilk – both in the brine and in the breading batter. The acid in the buttermilk helps tenderize the chicken. Plus it adds great flavor to the fried chicken breading.
The chicken must be double-breaded. This is the only way to get that thick, crunchy coating you want for your fried chicken.
The chicken must be fried in lard. Lard is rendered pork fat and it has a high smoke point so your chicken will not scorch at lower temperatures. Welton also stated to never use vegetable shortening.
And the most important rule: Your buttermilk fried chicken must be cooked in a cast iron skillet. Cast iron pans hold the heat without creating hot spots. This will ensure that the chicken cooks through without burning.
Personally, I have found over the years that cooking in a cast iron skillet takes some skill and practice. If you start frying with the lard at too high a temperature, the heat from the pan keeps it hot and when you are cooking Buttermilk Fried Chicken the outside of the chicken will scorch and get too dark until the temperature regulates.
So Welton taught me that the trick is to get the temperature at about 340 degrees F, then to maintain that temperature through the cooking process. First things first – you really need a deep-fry or candy thermometer (like this one – it isn't expensive at all!) clipped onto the side of your skillet so you can easily monitor the oil temperature fluctuations. As you add the first batch of chicken to the cast iron skillet, the oil temperature will drop and that's totally fine. Just gradually increase the flame under the skillet until you are back at 340 degrees F for cooking.
The natural tendency when you see the temperature drop while frying is to crank the flame up to high, but that will get that pan too hot too quickly. The fat temperature will come up too quickly and sail past 340 degrees F – and your chicken will scorch. So slow and steady wins the race, and you end up with perfectly cooked, juicy and crunchy Buttermilk Fried Chicken.
Hope I have made you proud Welton. I know you are watching me from above.
You may also like:
Print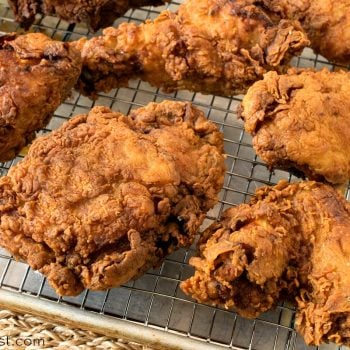 Buttermilk Fried Chicken
Author:

Prep Time:

8 hours 20 minutes

Cook Time:

30 minutes

Total Time:

8 hours 50 minutes

Yield:

4 servings

Category:

Entree

Method:

Fry
---
3–4 pounds whole chicken or chicken pieces
2 cups buttermilk
1 cup water
3 tablespoons kosher salt
1 tablespoon granulated sugar
2 teaspoons garlic powder
6 whole black peppercorns
2 large sprigs fresh rosemary
8 small sprigs fresh thyme
2 more cups of buttermilk
3 cups all-purpose flour
1 ½ teaspoons kosher salt
1 teaspoon white pepper
¼ teaspoon ground cayenne pepper
1 ½ teaspoons garlic powder
1 ½ teaspoons onion powder
1 teaspoon paprika
3 or more cups lard *
---
Instructions
Cut chicken into 10 pieces (2 wings, 2 thighs, 2 legs and two breast halves cut in half again) and place in a gallon zip lock bag.
In a bowl mix two cups of buttermilk with water, salt, sugar, 2 teaspoons garlic powder, peppercorns, rosemary and thyme.
Pour marinade over chicken. Press out air and refrigerate overnight for at least 12 hours and as long as 24 hours.
The next day discard marinade and rinse chicken pieces under cold water.
Place chicken pieces on a rack that sits over a sheet pan and let sit at room temperature for one hour.
Place two cups of buttermilk in a medium bowl.
In a separate medium bowl, place flour, salt, pepper, cayenne, garlic powder, onion powder and paprika. Whisk to combine.
Place a cast iron skillet on your burner and add enough lard to come half way up the side of the pan. Heat to 340 degrees F. Use a candy thermometer or other means to maintain that temperature and never go any higher.
Turn oven on to warm and place a rack over a sheet tray and set aside.
Cook four breast pieces first by placing in butter milk, then flour, then back in buttermilk then back into flour mixture. On this second pass, really push the flour into the chicken so it has clumps of flour. This will provide a nice crispy crust.
Use tongs and place the chicken breasts skin side down one at a time into the hot fat. Each piece will froth up the fat, so be careful that it doesn't froth over. Adding one piece at a time and waiting a few seconds for the froth to die down before adding the next one will avoid any issues.
Cook the breasts for about four minutes then check color of bottom using tongs. If nice and golden, flip with tongs and continue cooking for about 12-16 minutes total. I turned mine a few additional times to get an even brownness.  They are done when the internal temperature is 165 degrees F. Use a probe thermometer.
Remove these to the pan with the rack and place in the oven to keep warm while you cook the remaining chicken.
Once the fat is back up to 340 degrees F, double bread the remaining pieces as before and start by placing the thighs in, skin side down. Then add legs skin side down, then finally the wings.
As before, wait about 4-5 minutes, check color and flip to cook both sides.
The wings will be done first, then the legs and thighs. Use tongs to move each to the rack in the oven. The same internal temperature rule of 165 degrees applies, however the cooking time will be less by 2-4 minutes overall.
I don't salt after they come out of the fat because I think they are seasoned correctly and do not need additional salt.
Notes
Some bacon fat can be added to the lard for additional smoky flavor, but don't let Welton see you do it.
Keywords: Buttermilk Fried Chicken