Fettuccine Alfredo has tender strands of pasta smothered in a smooth and silky cheese sauce.
Fettucine Alfredo is one of the easiest comfort food dinners around! It has pasta in a decedent, rich, creamy cheese sauce – and if you'd like – you can garnish it with Parmesan cheese and chopped, fresh Italian flat-leaf parsley when served.
What is Alfredo Sauce?
Alfredo Sauce is named after Alfredo di Lelio, who is believed to have first served Fettucine Alfredo at his restaurant, Alfredo's, in Rome around 1914.
Back then, it was simply fresh fettucine tossed with butter and Parmesan cheese – but it was prepared tableside in a ceremonious fashion for his customers. As the Parmesan cheese melted, it emulsified the butter and residual pasta cooking water – creating a smooth, creamy sauce that coated the fettucine. This dish is also sometimes called Fettucine al burro – which means with butter in Italian.
Over the years, versions of Alfredo Sauce have evolved (including our recipe today) to include cream, garlic and other seasonings and it's more of a thick cream sauce with generous amounts of freshly grated, aged Parmesan added for both flavor and texture.
Today Fettucine Alfredo is on the menu at just about every Italian-American restaurant. It's often served with grilled chicken, beef, or seafood including shrimp or lobster.
What the difference between Béchamel Sauce and Alfredo Sauce?
Béchamel is a classic, French, creamy white sauce that is thickened with a roux made from butter and flour. It's often used as the starting point for white sauces including in many recipes such as our Chicken Enchiladas, Mexican Lasagna, and Chicken a la King.
Alfredo sauce traditionally has no flour, corn starch or any thickening agent – just lots of Parmesan cheese, however we do include some flour in our version!
You may enjoy these other creamy pasta dishes:
Print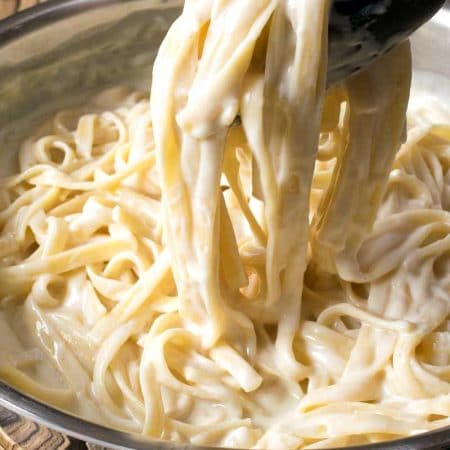 Fettuccine Alfredo
Author:

Prep Time:

15 minutes

Cook Time:

15 minutes

Total Time:

30 minutes

Yield:

4 servings

Category:

entree, pasta

Method:

stovetop

Cuisine:

Italian
---
12 ounces dry fettuccine pasta
1 cup whole milk
1 cup heavy cream
2 tablespoons butter
2 teaspoons garlic, finely minced
2 tablespoons all-purpose flour
1 teaspoon kosher salt
½ teaspoon white pepper
½ teaspoon dry mustard powder
Few grinds fresh nutmeg
2 cups freshly grated Parmesan cheese plus more for serving
Optional – chopped parsley (for garnish)
---
Instructions
Place a large pot of water on to boil and once boiling, salt the water then add the fettuccini. Always salt pasta water to flavor the pasta. Cook to al dente.
Place the milk and cream in a small sauce pan and bring to hot, but not to a boil. Hold hot on low heat.
While the pasta is cooking, in a large skillet or saute pan over low heat, melt butter and add the garlic.
Cook for a few minutes on low. Just as the garlic barely starts to brown, add the flour.
Cook this mixture for three minutes on low, stirring often.
Whisk in the hot milk/cream mixture one third at a time, whisking thoroughly after each addition.
Whisk in the salt, pepper, mustard and nutmeg. To make things easier, measure out all of the spices in a little dish ahead of time.
Whisk in the Parmesan cheese and turn off the burner.
Once the pasta is cooked, pour into a colander.
While pasta is draining, turn heat back onto the sauce to medium heat.
Add the drained pasta and toss to coat. If too thick, add a little additional heavy cream or whole milk to thin it down.
Serve immediately with additional Parmesan cheese over the top of each portion along with optional chopped parsley.
---
Keywords: Fettuccine Alfredo