Chicken a la King has tender chunks of chicken, mushrooms, and vegetables in a rich and creamy sauce, served in a puff pasty shell.
Today's recipe is sponsored by the American Dairy Association North East. All opinions are 100% mine.
Chicken a la King is one of those delicious comfort food classics that reminds me of my childhood. It's exactly the type of meal my parents often served – wholesome, hearty, easy, creamy, delicious – and a great way to feed a hungry crowd. (After all, I was one of six kids in the family!)
It's the same for my husband Jack.  But he also recalls learning how to make Chicken a la King during a commercial foods cooking course he took back in high school. (He was a great cook even back then – and won an award for making the best version Chicken a la King in class!)
Fast forward to today, and Chicken a la King is still a dish that everyone loves.
How do you make Chicken a la King?
Tender chunks of cooked chicken are combined in a creamy béchamel sauce with mushrooms, leeks, and onions, and seasoned with salt and pepper, nutmeg and dry mustard, plus a splash of sherry. Green peas and chopped pimentos are also added.
Chicken a la King is traditionally served in puff pastry cups, although serving it with a simple homemade biscuit is equally delicious.
Our recipe below also includes instructions for roasting a whole chicken first – then using the cooked chicken in your a la king sauce. But – if you want to save some time – feel free to buy a store-bought rotisserie chicken instead.
New York Dairy Tour
There's nothing better than feeding wholesome, delicious foods to your family – and have you noticed that many of the very best recipes include dairy ingredients? It's true! Milk, butter, cream, and cheese are part of all of the things I love to eat (including this Chicken a la King)!
Earlier this month, I had the huge pleasure of joining the American Dairy Association North East, plus a group of other food bloggers and nutritionists on an immersive tour of the Finger Lakes region of New York state.
During our three-day tour, we were hosted by dairy farmers, cheesemakers, distilleries, cooking schools, and restaurants – learning about the farm-to-table process that goes into producing and enjoying our favorite dairy foods. (I also got to hug this cute cow named Cheddar!)
Dairy farmers work long, hard hours taking care of their cows. Happy, healthy cows produce quality milk, and the health and well-being of their animals is number one priority.
Plus, dairy farmers today are environmental stewards – preserving and maintaining farmland in the region, as well as implementing sustainable innovations that not only benefit their herds, but also the environment.
You can learn more at the American Dairy Association's website.
And now…that delicious Chicken a la King recipe – made with fresh, delicious dairy!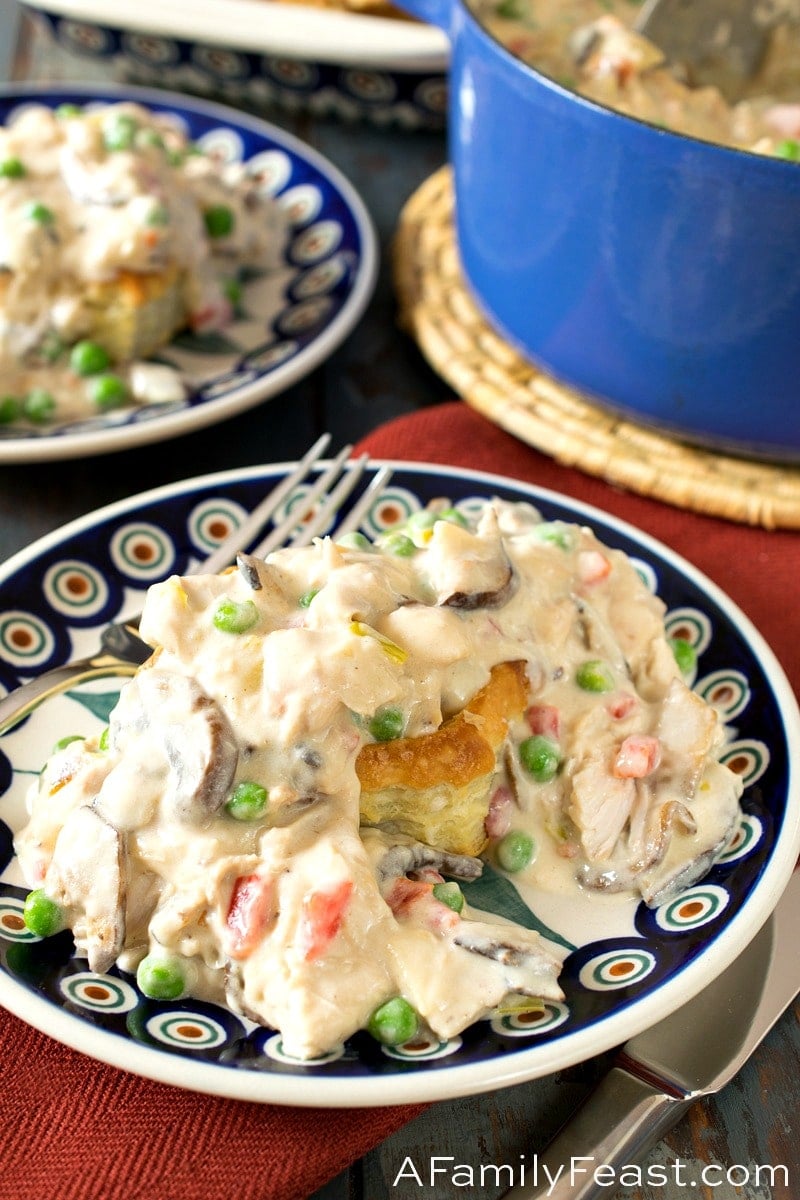 Print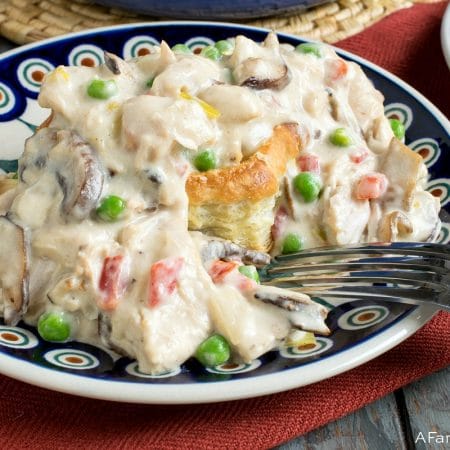 Chicken a la King
Author:

Prep Time:

30 minutes

Cook Time:

2 hours 30 minutes

Total Time:

3 hours

Yield:

8 - 12 servings

Category:

entree

Method:

roast, stovetop

Cuisine:

American
---
Description
Cooking time listed assumes you will be roasting chicken from scratch.
---
Ingredients
5 cups cooked* chicken meat (use already cooked rotisserie chicken, or if roasting the chicken from scratch, buy ingredients below)
*If cooking a chicken from scratch
1 4-5 pound whole chicken with neck
2 carrots coarsely cut up
1 onion peeled and quartered
2 stalks celery coarsely cut up
2 cloves garlic crushed
½ bunch fresh parsley
2 teaspoons kosher salt
6 black peppercorns
2 bay leaves
For the 'a la King'
2 boxes frozen puff pastry shells (6 per box)
2 cups dried sliced mushrooms such as Shiitake or Cremini (now carried in most supermarkets or you can order online here)
2 cups boiling water
1 8-ounce package fresh mushrooms such as white button or Cremini, sliced
10 tablespoons butter, divided
1 cup onion, diced
1 ½ cups leeks, diced (whites only, cleaned of sand)
½ cup dry sherry
3 tablespoons fresh lemon juice
¼ cup all-purpose flour
1 pint heavy cream (2 cups), heated
1 pint whole milk (2 cups), heated
2 egg yolks
1–2 teaspoons kosher salt (start with one then add more at end as needed)
½ teaspoon white pepper
¼ teaspoon freshly grated nutmeg
½ teaspoon dry mustard powder
2 cups frozen peas, thawed
1 8-ounce jar chopped pimentos, well drained
---
Instructions
If making the chicken from scratch, place whole chicken in large stock pot along with neck, onion, celery, carrots, garlic, parsley, salt, peppercorns and bay leaves and cover with water. Bring to a boil and reduce to a simmer and cook two hours. Strain stock to be frozen or used in other recipes. Pick meat from chicken and discard remaining solids. Cut chicken into bite-sized pieces and refrigerate until needed. Should yield about five cups.
If using cooked rotisserie chicken, remove meat from bones and refrigerate until needed.
Bake the pastry shells according to the box directions and set aside. They bake at 425 degrees F for 18-20 minutes. Once cooled, poke out top and discard. Or serve on top after ladling in the finished a la King.
Place two cups of dried mushrooms in a small glass or metal bowl and cover with two cups of boiling water. Cover with plastic and let sit 30 minutes while you prepare the other ingredients. After at least 30 minutes, strain and discard liquid. Once cool enough to handle, grab handfuls of the now reconstituted mushrooms and squeeze out as much liquid as possible. Set aside for next step.
In a medium to large Dutch oven or nonstick pot, heat 4 tablespoons of butter over high heat. Once melted, add the squeezed-out sliced dried mushrooms along with sliced fresh mushrooms and saute for 8-10 minutes until nicely browned but not starting to stick and burn. Remove to a bowl.
Reduce heat to medium high and add the remaining 6 tablespoons of butter and once melted, add the onions and leeks and saute for three minutes.
After three minutes add the sherry and lemon juice and deglaze the pan. Once the liquid has evaporated, lower heat to medium and add the flour and stir to combine. Cook this mixture for three minutes. Whisk in the heated cream and heated milk after the three minutes.
Place the two egg yolks into a medium bowl and slowly whisk in about two cups of the cream mixture, being careful to add slowly. This is called tempering the eggs.
Whisk the tempered eggs back into the mixture. Keep the heat on medium and never let it come to a bubble.
Stir in the salt, pepper, nutmeg, mustard powder, peas and pimentos along with the cooked chicken and cooked mushrooms.
Stir and once hot, remove from heat and taste. At this point, add more salt if needed.
Serve in and over the baked pastry shells.
---
Keywords: chicken a la king