Chicken a la King has tender chunks of chicken, mushrooms, and vegetables in a rich and creamy sauce, served in a puff pastry shell – just like Grandma used to make!
Chicken a la King is one of those delicious comfort food classics that reminds me of my childhood. It's exactly the type of meal my parents often served – wholesome, hearty, easy, creamy, delicious – and a great way to feed a hungry crowd. (After all, I was one of six kids in the family!)
It's the same for my husband Jack.  But he recalls learning how to make Chicken a la King during a commercial foods cooking course he took back in high school. (He was a great cook even back then – and won an award for making the best version of Chicken a la King in class!)
Fast forward to today, and Chicken a la King is still a dish that everyone loves.
What is Chicken a la King?
It's a dish made with cooked chicken meat (traditionally breast meat) in a rich and creamy sauce with vegetables. It's often served over puff pastry, biscuits, noodles or rice.
Chicken a la King dates back to sometime between the 1880's and the 1920's – when several different chefs claimed this delicious recipe as their own.
Regardless of who created Chicken a la King, it became widely popular in the 20th century – particularly in tough economic times. It's a relatively inexpensive recipe to prepare, and it is filling – so a portion goes a long way!
Why you'll love it
It's the ultimate, creamy comfort food made with simple ingredients – and your entire family will love it!
You can easily feed eight to ten hungry people with one batch. Or, enjoy it for dinner one night, then have leftovers for lunch the next day.
The flavors are nostalgic and delicious – and you might even feel like a kid again!
Key Ingredients and Substitutions
Chicken – You can poach a chicken specifically for this recipe, or pick up an already-cooked rotisserie chicken at the supermarket. Both are great options for this recipe. Or, if you have some leftover roast chicken on hand, use that.
Puff Pastry Shells – The flaky, crispy texture of puff pastry shells is the perfect vessel for serving individual portions of Chicken a la King. You could also use biscuits if you'd prefer.
Mushrooms – We use a combination of dried, sliced mushrooms as well as fresh mushrooms. Using a variety of mushroom types gives a wonderful, earthy depth of flavor to the sauce.
Veggies – Leeks, onion, peas, and pimento peppers are traditional for this recipe.
Dry Sherry – Adding sherry to the cream sauce gives it a distinctively delicious, rich flavor. If you don't have sherry on hand use any white wine, or if you prefer a non-alcoholic option, you can swap in apple juice.
Cream – Heavy cream, butter, and whole milk together gives this dish a luscious, creamy texture and amazing flavor. You could swap in light cream and 2% milk for a lighter version but the sauce won't be as thick and creamy.
Spices – White pepper, nutmeg, and dry mustard powder are the perfect finishing touch to season to this dish.
Chef's Tip

Cook the chicken ahead of time  – up to 2 days in advance. You can also dice up the onions and leeks and refrigerate until you are ready to prepare the dish.
How do you make Chicken a la King?
Cook the chicken. We include a simple, poached chicken recipe below, or buy a rotisserie chicken at the supermarket. Either way – remove the meat from the bones and cut into bite-sized pieces.
Bake the pastry shells according to package instructions.
Soak the dried mushrooms while you measure and prepare the other ingredients for the sauce. Once the mushrooms are re-hydrated, drain and squeeze out any excess water.
Saute mushrooms in butter, then set aside.
Saute onions, leeks and butter in a large Dutch oven. Deglaze the pan with the sherry and lemon juice.
Add flour to the pan, then slowly whisk in the cream and milk.
Temper egg yolks by whisking some of the hot cream mixture together with the yolks.  Then, add the tempered eggs back to the rest of the cream mixture and heat until thick and creamy.
Add cooked chicken and mushrooms, seasonings, peas and pimentos to the cream mixture. Stir and heat through.
Serve in or on the pastry shells, and enjoy!
Chef's Tip

Scroll below to the bottom of the recipe card to the watch our video, showing exactly how we make Chicken a la King!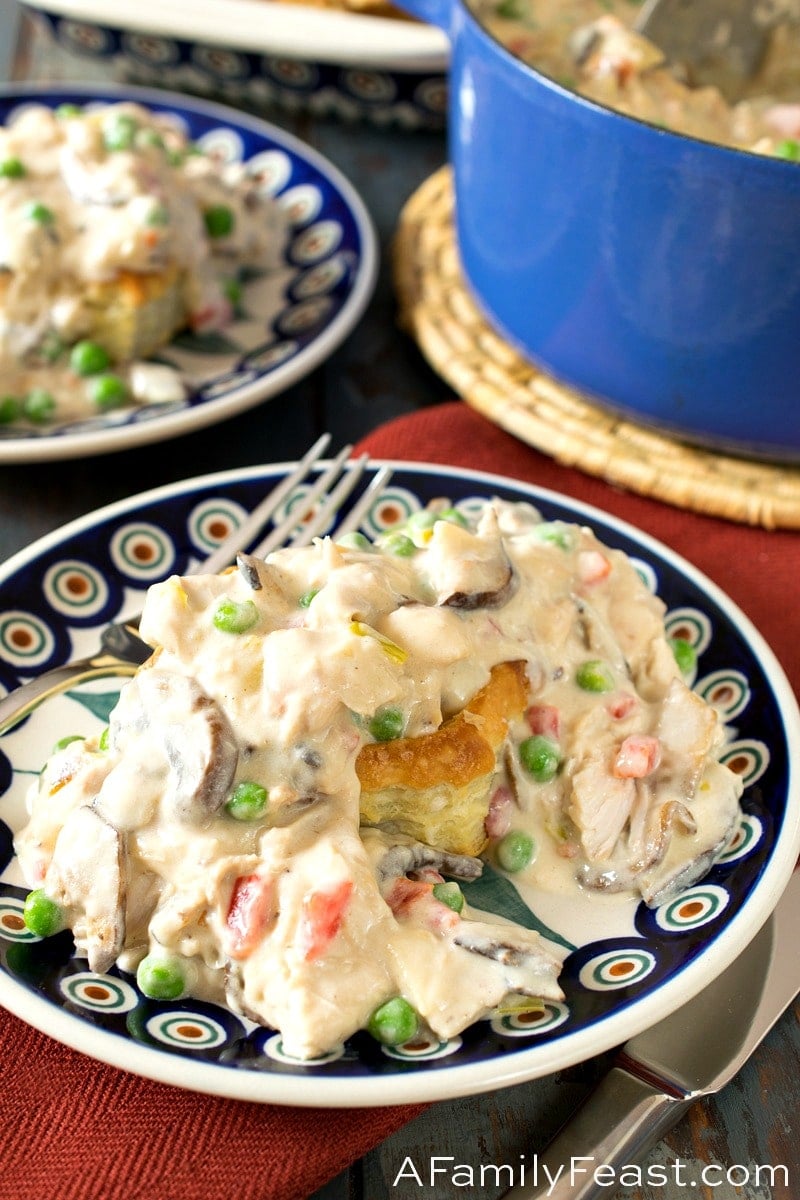 Frequently Asked Questions
How do I store the leftovers? And, how long will the leftovers last? You'll store leftovers in the refrigerator, in a covered container. If you made this recipe with freshly-cooked chicken, leftovers will last up to three days. However, if you made this dish with leftover chicken that was already sitting in the refrigerator for a day or two – you'll want to eat the leftover a la King as quickly as possible.
How do I reheat the leftovers? We reheat our leftovers in the microwave – being careful not to overheat the sauce. (If the sauce overheats, the cream may separate and, while you can still eat it, the sauce won't be as thick and creamy.)
Can I freeze the leftovers? We personally don't recommend it. Most cream sauces like this will separate once frozen and thawed.
You may like these other Chicken recipes:
This post originally appeared on A Family Feast in October 2018. We've updated the post but the delicious recipe remains the same!
Print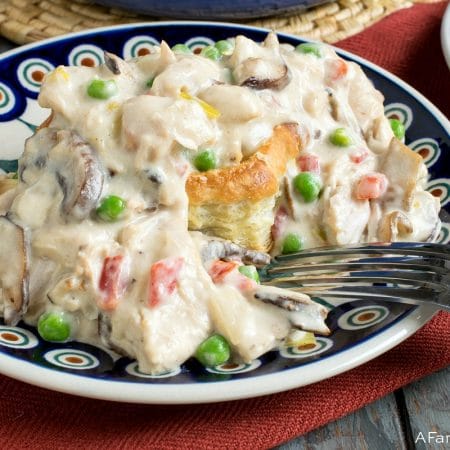 Chicken a la King
Author:

Prep Time:

30 minutes

Cook Time:

2 hours 30 minutes

Total Time:

3 hours

Yield:

8 - 12 servings

Category:

entree

Method:

roast, stovetop

Cuisine:

American
---
Description
Cooking time listed assumes you will be cooking a chicken from scratch.
---
5 cups cooked* chicken meat (use already cooked rotisserie chicken, or if poaching the chicken from scratch, buy ingredients below)
*If cooking a chicken from scratch
1 4-5 pound whole chicken with neck
1 onion peeled and quartered
2 stalks celery coarsely cut up
2 carrots coarsely cut up
2 cloves garlic crushed
½ bunch fresh parsley
2 teaspoons kosher salt
6 black peppercorns
2 bay leaves
For the 'a la King'
2 boxes frozen puff pastry shells (6 per box)
2 cups (approximately 2 ounces) dried sliced mushrooms such as Shiitake or Cremini (now carried in most supermarkets or you can order online here)
2 cups boiling water
10 tablespoons butter, divided
1 8-ounce package fresh mushrooms such as white button or Cremini, sliced
1 cup onion, diced
1 ½ cups leeks, diced (whites only, cleaned of sand)
½ cup dry sherry
3 tablespoons fresh lemon juice
¼ cup all-purpose flour
1 pint heavy cream (2 cups), heated
1 pint whole milk (2 cups), heated
2 egg yolks
1–2 teaspoons kosher salt (start with one then add more at end as needed)
½ teaspoon white pepper
¼ teaspoon freshly grated nutmeg
½ teaspoon dry mustard powder
2 cups frozen peas, thawed
1 8-ounce jar chopped pimentos, well drained
---
Instructions
If making the chicken from scratch, place whole chicken in large stock pot along with neck, onion, celery, carrots, garlic, parsley, salt, peppercorns and bay leaves and cover with water. Bring to a boil and reduce to a simmer and cook two hours. Strain stock to be frozen or used in other recipes. Pick meat from chicken and discard remaining solids. Cut chicken into bite-sized pieces and refrigerate until needed. Should yield about five cups.
If using cooked rotisserie chicken, remove meat from bones and refrigerate until needed.
Bake the pastry shells according to the box directions and set aside. They bake at 425 degrees F for 18-20 minutes. Once cooled, poke out top and discard. Or serve on top after ladling in the finished a la King.
Place two cups of dried mushrooms in a small glass or metal bowl and cover with two cups of boiling water. Cover with plastic wrap and let sit 30 minutes while you prepare the other ingredients. After at least 30 minutes, strain and discard liquid. Once cool enough to handle, grab handfuls of the now reconstituted mushrooms and squeeze out as much liquid as possible. Set aside for next step.
In a medium to large Dutch oven or nonstick pot, heat 4 tablespoons of butter over high heat. Once melted, add the squeezed-out sliced dried mushrooms along with sliced fresh mushrooms and saute for 8-10 minutes until nicely browned but not starting to stick and burn. Remove to a bowl.
Reduce heat to medium high and add the remaining 6 tablespoons of butter and once melted, add the onions and leeks and saute for three minutes.
After three minutes add the sherry and lemon juice and deglaze the pan. Once the liquid has evaporated, lower heat to medium and add the flour and stir to combine. Cook this mixture for three minutes. Whisk in the heated cream and heated milk after the three minutes.
Place the two egg yolks into a medium bowl and slowly whisk in about two cups of the cream mixture, being careful to add slowly. This is called tempering the eggs.
Whisk the tempered eggs back into the mixture. Keep the heat on medium and never let it come to a bubble.
Stir in the salt, pepper, nutmeg, mustard powder, peas and pimentos along with the cooked chicken and cooked mushrooms.
Stir and once hot, remove from heat and taste. At this point, add more salt if needed.
Serve in and over the baked pastry shells.
Keywords: chicken a la king