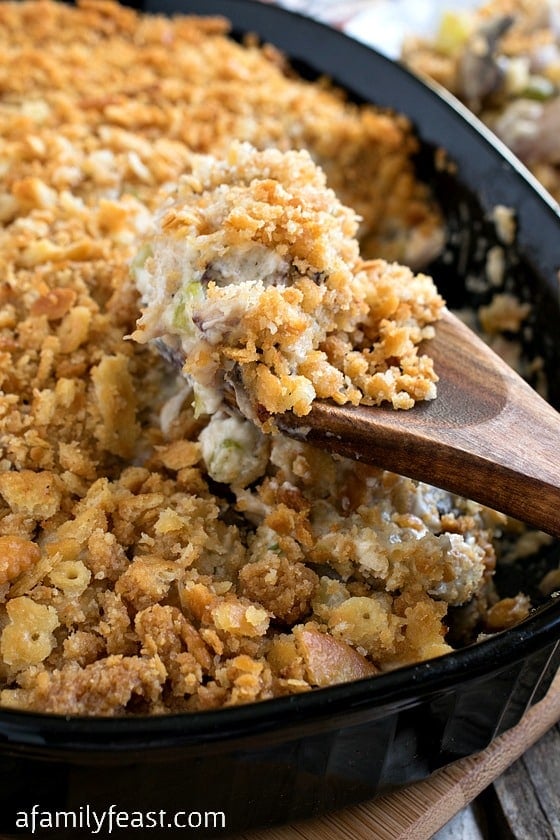 My husband Jack wanted to be the one to share the story behind today's recipe – a delicious Baked Chicken Salad. It's another treasure from my mother's old recipe box and we think you're going to love it as much as we did! Here is Jack in his own words:
I feel honored that I have a window into Martha's family history by looking through the hundreds of handwritten recipes from her mother and grandmother, and even the recipes that Martha used to collect from many years ago.
Many of the recipes, like this Baked Chicken Salad, have an almost vintage feel to them with methods and language that was common back then but seem a little outdated today.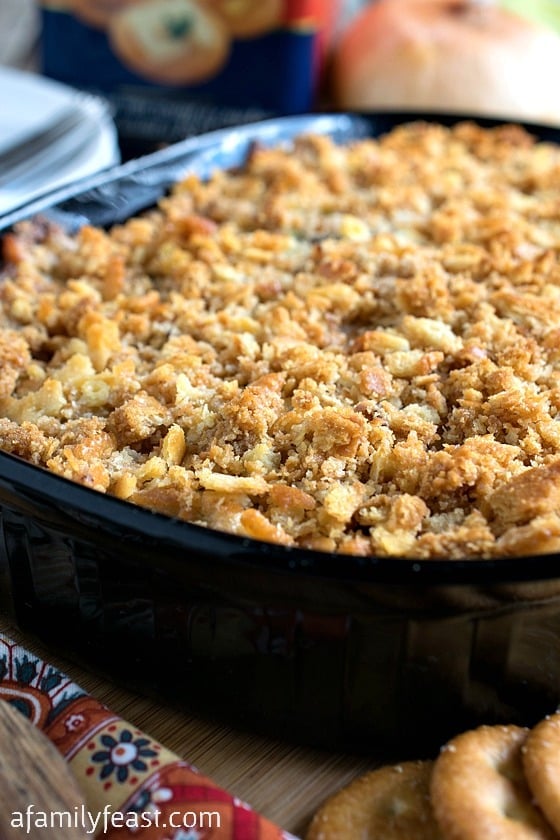 But if you look past all that – and just look at how the combination of ingredients come together, there are some really great recipes in Martha's mother's old recipe box. I love looking at each recipe with a modern-day eye and try to imagine how that would taste if we tweaked this or that method, or added some new ingredient that wasn't available back when Helen (Martha's mother) originally wrote down the recipe.
But sometimes – like in the case of this Baked Chicken Salad – the recipe is better left exactly as was written. With its delicious Ritz cracker crust, chunks of tender chicken and mushrooms, and tangy, creamy sauce – it really does taste like a chicken salad – but in casserole form.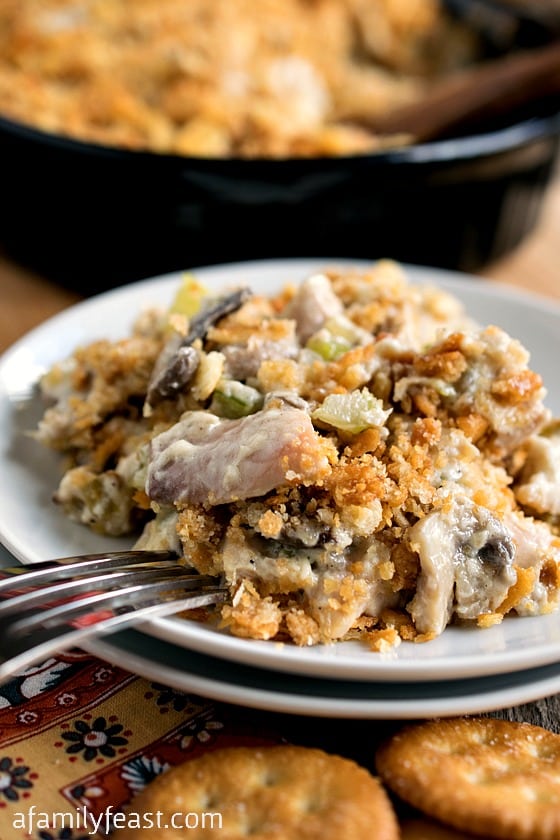 We made this recipe without making any changes to the original recipe, except where it called for cooked chicken – we simply put a whole supermarket rotisserie chicken in its place. We also updated the language a bit. Typically, we share many of our recipes with my own parents who live nearby – but in this case, we ate the entire casserole ourselves! (Sorry mom and dad…we'll make this recipe for you another time!)
Print
Baked Chicken Salad
Prep Time:

15 mins

Cook Time:

45 mins

Total Time:

1 hour

Yield:

6-8
---
6 tablespoons

butter, divided

8 ounces

button or cremini mushrooms, sliced

1 cup

medium diced celery

½ cup

finely chopped onion

1 teaspoon

kosher salt

¼ teaspoon

freshly ground black pepper

3 tablespoons

flour

8 ounces

heavy cream
One average-sized rotisserie chicken, picked and roughly chopped (discard skin, bones and scraps)

½ cup

mayonnaise

1

sleeve Ritz crackers, crushed
---
Instructions
Preheat oven to 350 degrees
In a large skillet over medium high heat, melt 4 tablespoons of butter and add mushrooms. Sauté for two minutes.
Add celery, onions, salt and pepper and sauté just for one more minute. (Celery will still be crunchy)
Lower heat to medium and add flour. Cook for one minute over medium stirring often.
While stirring with a wooden spoon, add cream a little at a time, stirring constantly. Cook for one minute and remove from heat.
In a large bowl, place chicken and mayonnaise and stir. Add in mixture from pan, stir and pour into a two quart casserole dish.
In a small bowl, melt remaining two tablespoons of butter and add crushed Ritz. Sprinkle this over the casserole and bake uncovered for 45 minutes.
Remove and serve immediately.
You may also like:
Copycat Willow Tree Chicken Salad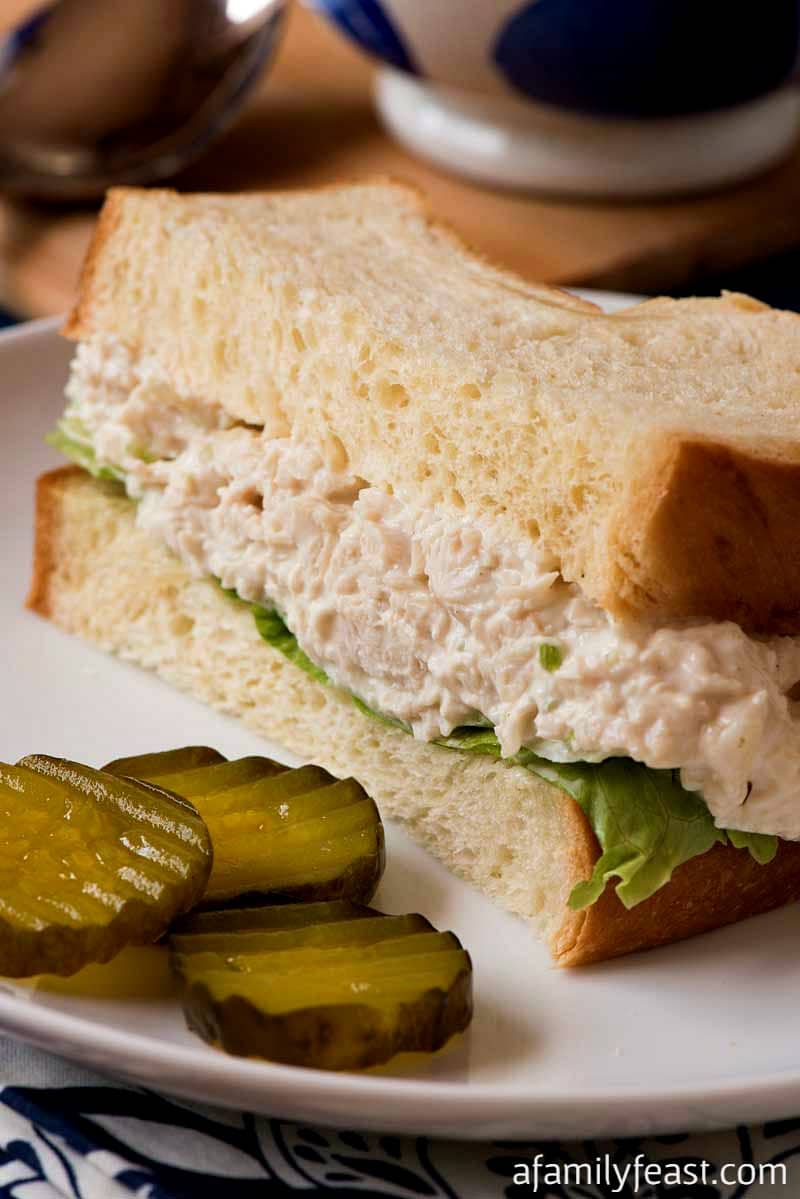 Israeli Couscous with Chicken and Peas