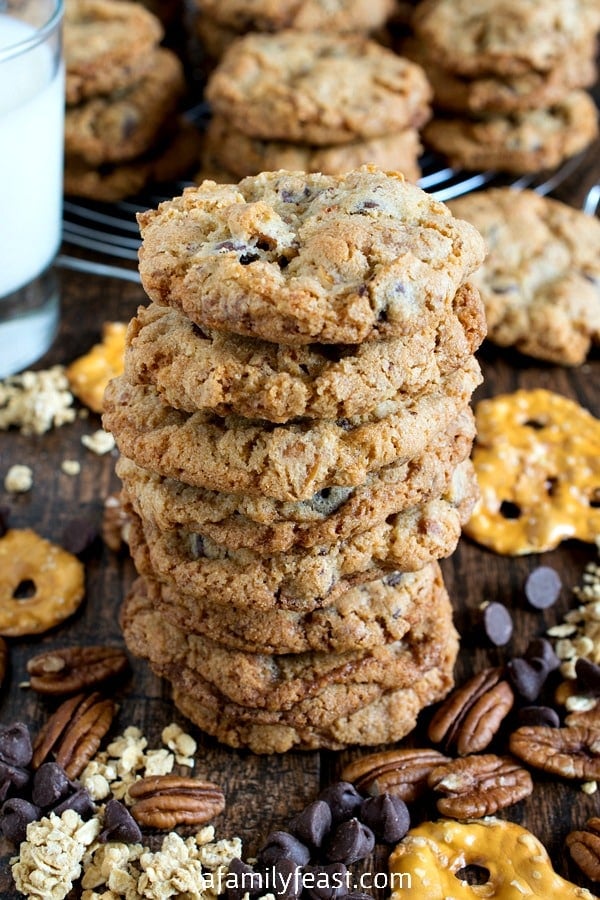 When "The Munchies" strike – which do you prefer?  A salty, crunchy snack or sweet, decadent treat? For me, it depends on the day – and sometimes, I really want both when I can't decide what I'm craving!
Good News: These Crunchie Munchie Cookies are a delicious salty-sweet combination that is sure to satisfy any craving when the munchies come on strong!
These delicious, Crunchie Munchie Cookies are perfect with a cold glass of milk.  They've got a wonderful light and crispy texture and are still loaded with sweet chocolate chips, salty and crunchy crushed pretzels and nuts, plus some additional sweet and crunchy granola.  (Sometimes cookies like this are called "pantry" cookies – and you really can use any salty-sweet-nutty-crunchy mix of snack foods you have on hand in your pantry when making this recipe!)
One thing to point out before you start baking these Crunchie Munchie Cookies – for best results, the dough should be thoroughly chilled before baking.  The cookies will spread quite a bit as you bake them so the colder the better before you put them in the oven.
But good news – you can mix up the batter for these Crunchie Munchie Cookies and roll them into balls.  Then, keep them on hand in the freezer and bake them off any time the Munchies strike!
Adapted from Food52.
Print
Crunchie Munchie Cookies
Prep Time:

15 mins

Cook Time:

14 mins

Total Time:

29 minutes

Yield:

30 cookies

Category:

dessert

Method:

baking

Cuisine:

American
---
Description
Note: This cookie dough spreads as it bakes, so for best results, the dough must be thoroughly chilled before baking, so plan your timing accordingly. We chilled our dough overnight and kept it chilled as we baked each batch in the oven. Alternately, you can freeze the balls and then bake them anytime 'the munchies' strike!
---
1 ½ cups

all-purpose flour

1 teaspoon

baking powder

½ teaspoon

baking soda

1 teaspoon

kosher salt

14 tablespoons

(

1 ¾

sticks) unsalted butter, room temperature

1 cup

granulated sugar

½ cup

light brown sugar

1

egg

1 teaspoon

vanilla extract

1 cup

granola (we used Nature Valley Protein Oats 'N Honey granola) or other cereal*

½ cup

crushed salted pretzel pieces (we used Pretzel Crisps) or other salty snack food

1 cup

semi-sweet chocolate chips (we used Nestle's Toll House morsels) or other chopped chocolate bar

½ cup

chopped pecans, or other nuts (*if you decide to leave out nuts, then increase the amount of granola by

½ cup

)
---
Instructions
In a medium bowl, whisk together flour, baking powder, baking soda and salt. Set aside.
In a mixing bowl, cream together butter, granulated sugar, and brown sugar on low speed until combined. Scrape down sides of bowl, then beat on medium speed for approximately one minute until the mixture is light and fluffy. Scrape down sides of bowl again, then add egg and vanilla extract and mix until fully incorporated.
Gradually add dry flour mixture to the mixing bowl with the butter mixture, mixing on low speed until just incorporated. Keeping the mixer on low speed, gradually add the granola, pretzels, chocolate chips and nuts – mixing again until fully incorporated. Stir again with a wooden spoon or spatula, scraping the sides and bottom of the bowl to ensure that all ingredients are mixed evenly.
Line a cookie sheet with parchment paper. Scoop the dough (we used this scoop) and roll into smooth balls. Place balls on the parchment lined cookie sheet – you should end up with about 30 cookie dough balls. Cover cookie sheet with plastic and chill overnight. (Or – see note above. Cookie balls may be frozen.)
When ready to bake, preheat oven to 375 degrees F and place oven rack in the middle position. Line your cookie sheets with parchment paper, and place cookie dough balls – about 8 per sheet, spread at least 2 ½ inches apart. (Keep the raw cookie dough balls chilled as you bake to prevent softening.)
Bake cookie sheets one at a time until golden brown, 13-15 minutes and rotating the cookie sheet in the oven halfway through the baking time. (Note: The longer you bake the cookies the crunchier they will get – we liked them best at around 14 minutes baking time. Also, if the dough isn't fully chilled, the cookies will spread more and bake more quickly.)
Remove cookie sheets from the oven and allow the cookies to cool and firm up completely on the sheet before moving them to a wire rack to cool the rest of the way.
Keywords: Crunchie Munchie Cookies, kitchen sink cookies, salty sweet cookies
Disclosure: This post contains affiliate links.
You may also like:
Granola Chocolate Chip Cookies
Craisins Pistachio Dark Chocolate Clusters