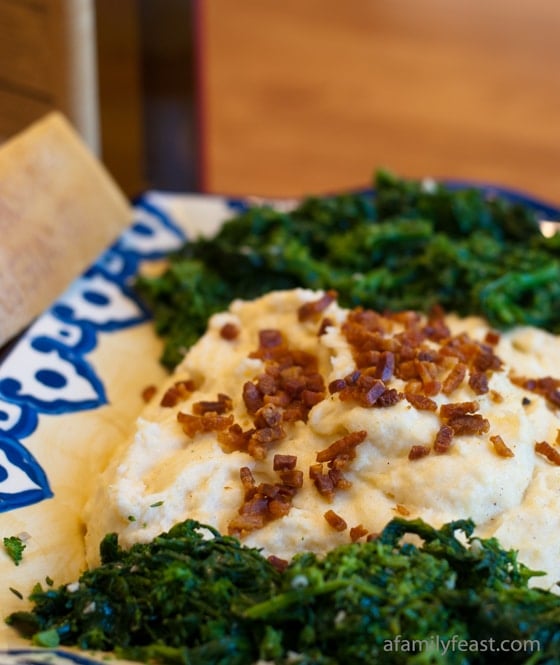 Polenta is a really delicious alternative to potatoes or rice and it's one of those dishes that always makes us ask, "Why don't we have this more often?" This recipe for Soft Polenta with Pancetta and Broccoli Rabe can be a filling and satisfying meal in and of itself.
The rich, creamy and cheesy polenta, combined with the sharpness of broccoli rabe (or any greens that you prefer), and sprinkled with the delicious, salty crunch of pancetta is a wonderful combination of textures and flavors.
We've adapted this recipe from one that originally appeared in The Tra Vigne Cookbook
by celebrity chef Michael Chiarello. Our version uses instant polenta rather than the more traditional polenta which takes longer to cook – so ours is a quick and easy dish to prepare as well. As Chef Chiarello notes in his cookbook, this dish is like "a food hug" and we think he's absolutely right!
Print
Creamy Polenta with Broccoli Rabe
Prep Time:

10 mins

Cook Time:

10 mins

Total Time:

20 minutes

Yield:

4 servings
---
Description
A rich and delicious creamy polenta served with broccoli rabe (or other greens of your choice) and a sprinkling of crunchy pancetta.
---
For the Soft Polenta
1 ½ cups

chicken stock or canned low-salt chicken broth

1 ½ cups

heavy cream

½ teaspoon

freshly grated nutmeg

¾ teaspoon

salt
Pinch ground white pepper

5 tablespoons

instant polenta

5 tablespoons

semolina

¼ cup

freshly grated Fontina cheese

¼ cup

freshly grated Parmesan cheese
For the Pancetta and Broccoli Rabe
4 cups

roughly chopped broccoli rabe (or other greens of your choice)

1

slice pancetta, about

¼

inch thick

1 tablespoon

extra virgin olive oil

1 tablespoon

minced garlic

1 tablespoon

finely chopped fresh thyme

1 ½ cups

chicken stock or canned low-salt chicken broth
Salt and pepper to taste
---
Instructions
Clean and chop the broccoli rabe and place it in a bowl of ice water while you are preparing the polenta and the pancetta. (Soaking the broccoli rabe before cooking will help to remove any bitterness from the greens.)
To prepare the polenta, combine the chicken stock and cream in a heavy saucepan and bring to a simmer. Reduce the heat to a low simmer. Add the nutmeg, salt, and pepper. Quickly whisk in the polenta and semolina – stirring constantly so the mixture doesn't get lumpy. Continue stirring until the grains are cooked – about 2-3 minutes. Remove from the heat and set aside.
Unwind the pancetta into a long strip and cut into ¼ inch wide pieces. In a skillet (note: you will use the same skillet to cook the greens so select one that is large enough to hold the greens), sauté the pancetta in the olive oil over low heat until the pancetta is very crispy. Remove the pancetta from the pan with a slotted spoon and place on paper towels to drain any excess fat. Set aside.
Drain the broccoli rabe very well and pat dry with a towel (or use a salad spinner) to remove any excess water from the greens.
Turn the heat under the skillet to medium high. There should be about two tablespoons of fat from the pancetta remaining in the pan – but if there is not enough, add some additional olive oil to the pan. When the pan is hot, add the garlic and stir until brown – about 1 minute. Add the thyme, stir briefly. Then add the stock and bring to a boil, reducing to about half. Add the broccoli rabe and season with salt and pepper, then stir to coat well. Cover the skillet, reduce the heat to low and cook until the broccoli rabe is tender (about 5 minutes).
To serve, pour the polenta onto a warm serving platter and pour the broccoli rabe over it. Sprinkle with the pancetta.
---
You may also like:
Grilled Polenta with Bacon Jam