This Copycat Olive Garden Pizza Bowl tastes just like the original!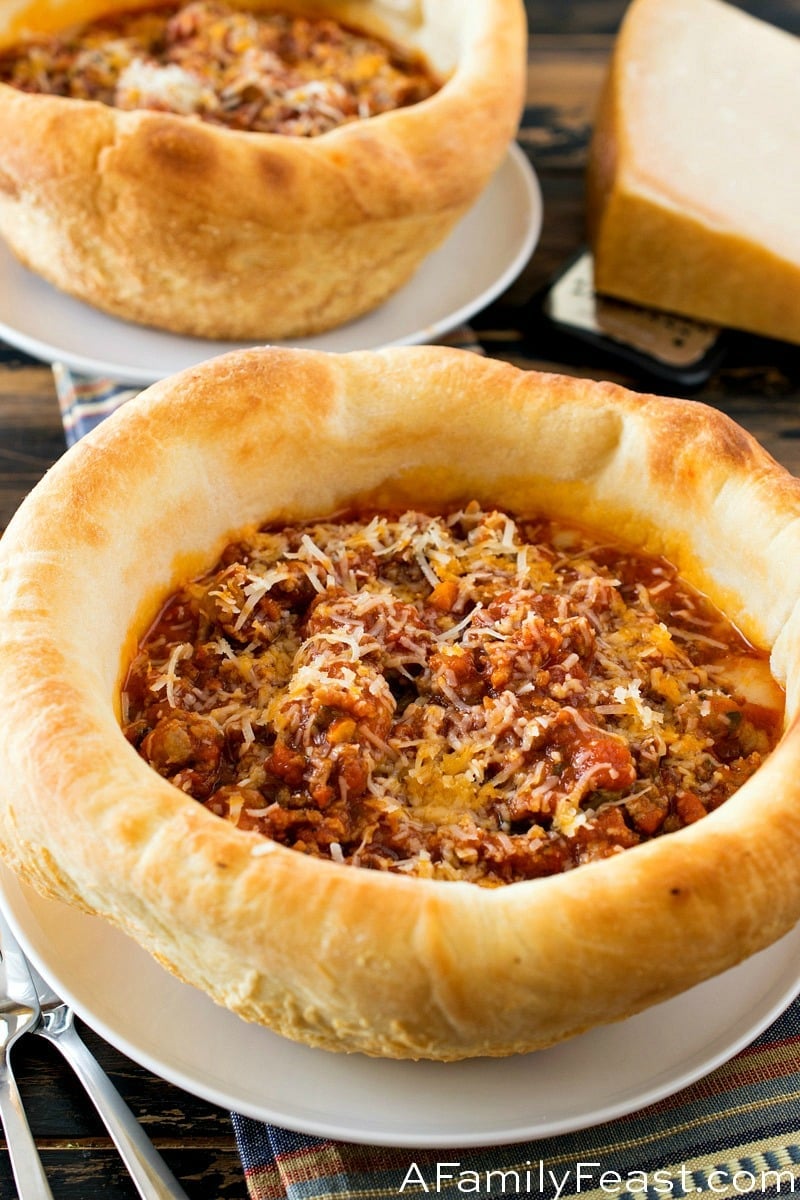 One of the perks of being your own boss – as well as a perk of being food bloggers – is that every once in a while, Jack and I can justify taking a break from cooking to go out for lunch. It's all in the name of research and recipe development! 😉
A few weeks ago, we saw a commercial on television for Olive Garden's Pizza Bowl lunch. It looked great – so we decided to take a 'field trip' to our local Olive Garden restaurant to try it out – with the hopes of recreating a Copycat Olive Garden Pizza Bowl at home.
That pizza bowl was delicious! It was made with dough baked into a bowl-shaped form, then filled with creamy Alfredo sauce, melty cheeses, a tomato and meat sauce with Italian sausage, plus mini meatballs.
You start eating it with a fork – digging in to reach the creamy Alfredo sauce underneath.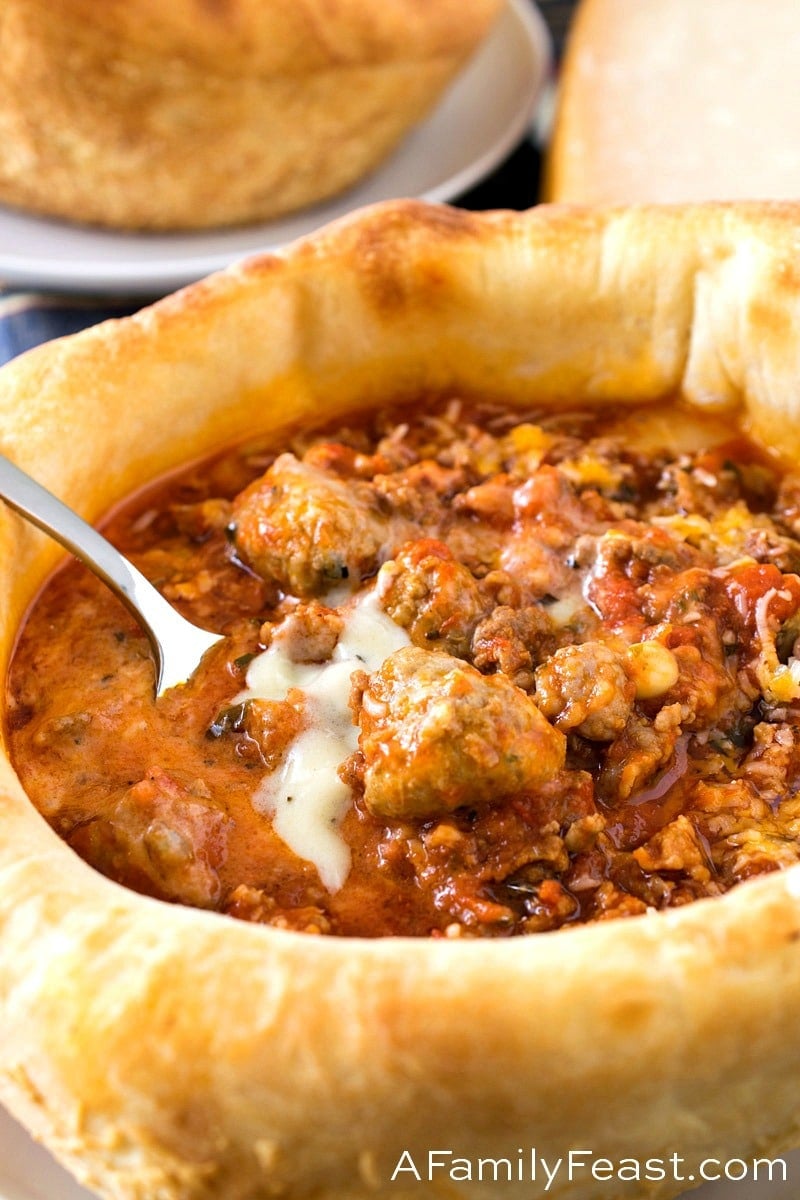 And it's very satisfying to eat your way through a generous portion of mini meatballs and a zesty meat sauce, plus lots of melty cheese.
About halfway through eating your Copycat Olive Garden Pizza Bowl, you can then start tearing off pieces of the bowl, soaking up every last bit of sauce with the soft bread dough.
How do you make a Copycat Olive Garden Pizza Bowl?
First, I want to mention that our recipe below includes from-scratch recipes for both homemade Alfredo sauce and homemade mini ricotta meatballs. We also made our homemade Italian tomato sauce from scratch and added Italian sausage. But – by all means – feel free to take a few short cuts if you'd like and buy jarred Alfredo and tomato sauces, and use prepared or frozen meatballs. (*See Note below in recipe. Homemade versions may be made in advance.)
Second, Jack and I initially debated whether the original pizza bowl was made with pizza dough or bread dough. After eating our way through the original Olive Garden Pizza Bowl, we felt that the thickness and the softness of the bowl pointed toward bread dough. So – we used frozen bread dough from our local supermarket.
To create the pizza bowl, follow these steps below: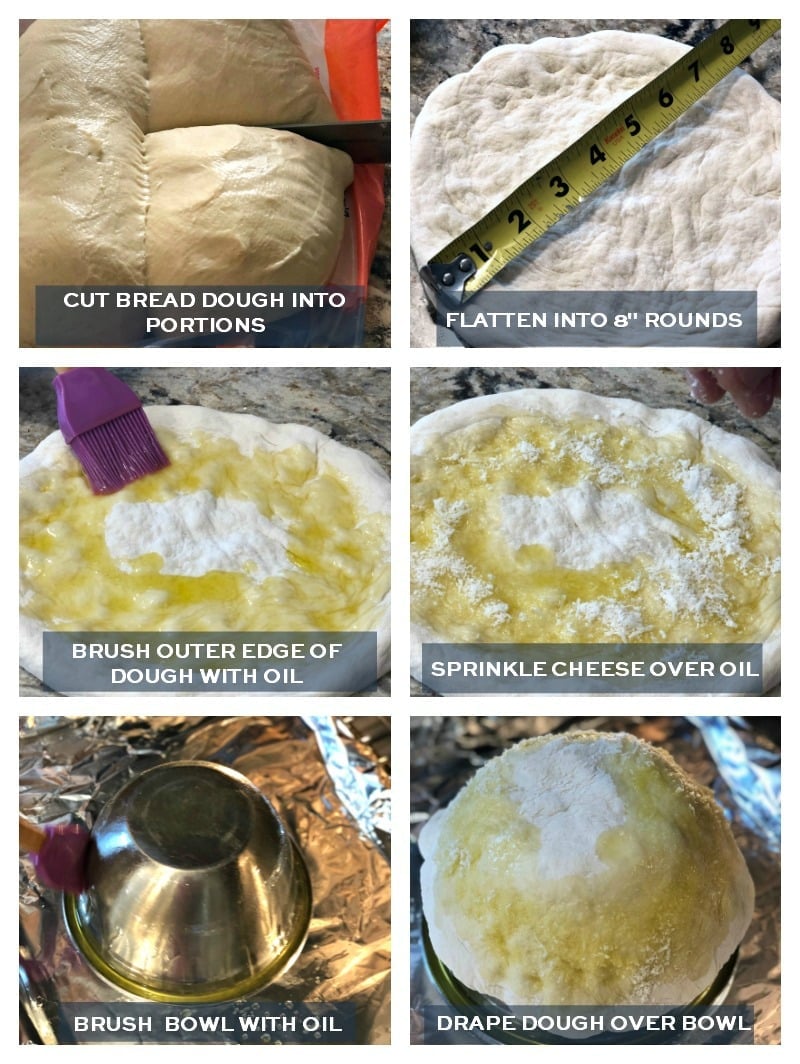 Bake until cooked through and golden, then invert and fill your Copycat Olive Garden Pizza Bowl with sauce, cheese, meat sauce and meatballs!
One last note: We used a one-quart metal bowl similar to this one  – and in full disclosure, the Copycat Olive Garden Pizza Bowl you see in our photos is a larger portion than what you would be served at the restaurant.  Feel free to make your pizza bowls smaller if you prefer.
You may enjoy these other recipes:
Print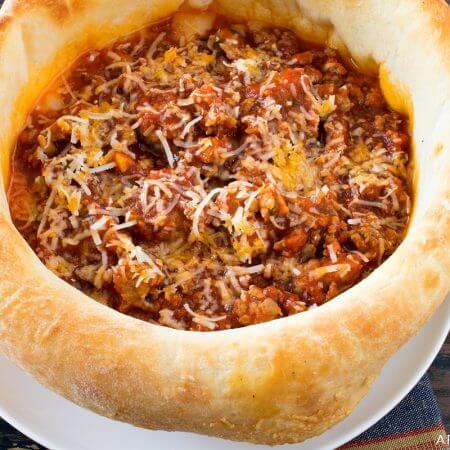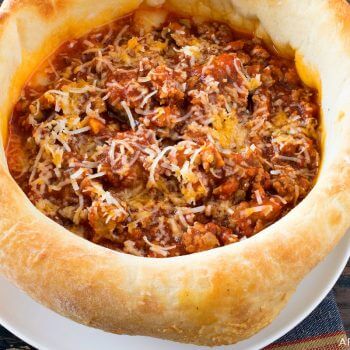 Copycat Olive Garden Pizza Bowl
Author:

Prep Time:

2 hours

Cook Time:

2 hours

Total Time:

4 hours

Yield:

4 large pizza bowls

Category:

copycat

Method:

baked

Cuisine:

Italian
---
Flour for counter
2 1-pound loaves of frozen bread dough, thawed and brought to room temperature
2 cups Alfredo Sauce (if making from scratch) – or buy pre-made 

Alfredo Sauce
½ cup butter
2 cups heavy cream
Few grinds nutmeg
½ teaspoon dry mustard
¼ teaspoon kosher salt
¼ teaspoon white pepper
1 teaspoon Italian seasoning (or half dry oregano and half dry basil)
2 cups freshly grated Parmesan cheese
36 Mini Ricotta Meatballs (if making from scratch) – or buy premade 

Ricotta Meatballs
½ cup milk
1 cup coarse bread such as sour dough, crust removed and broken up into small pieces
1 pound ground beef (85/15)
1 egg
¾ cup whole milk ricotta drained of any liquid
1/3 cup finely chopped onion
2 tablespoons grated Parmesan cheese
1 tablespoon fresh flat leaf parsley chopped fine, or half that of dry
Few grinds of nutmeg
1 teaspoon kosher salt
¼ teaspoon freshly grated black pepper
¾ cup shredded mozzarella
¼ cup of olive oil for cooking meatballs
Italian Tomato Sauce (see our recipe here), or 48 ounces jarred sauce (1½ quarts)
Other
One pound Italian sweet sausage, removed from casing
One pound ground beef (85/15)
1 ½ cups olive oil, divided
1 pound Fontina cheese, shredded
1 pound mozzarella, shredded
2 cups freshly grated Parmesan cheese, divided
---
Instructions
Cut each one-pound bread dough in half to make four 8-ounce pieces. Roll each into a ball and flatten into a circle on a well-floured counter. The dough will take some time to relax so keep pressing into a circle, let it relax and press again until each dough ball is eight inches across. Cover with a dish towel until later.
If making the Alfredo sauce from scratch, melt butter in a medium sauce pan over medium heat and add cream, nutmeg, mustard, salt, pepper and Italian seasoning. Stir and heat and once heated, stir in the Parmesan cheese. Heat to melt the cheese and set aside off heat. The sauce can be made a day ahead.
If making the meatballs from scratch, heat oven to 375 degrees F.
In a medium bowl place milk and bread, pressing the bread into the milk. Let this set while you prepare the other ingredients.
In a medium to large bowl place the ground beef, the egg, ricotta, onion, Parmesan, parsley, nutmeg, salt, pepper and mozzarella.
Squeeze all milk out of the bread with your hands and add the bread to the beef mixture. Discard milk.
Mix the meatball mixture until combined. Use a one-ounce scoop and scoop out all of the mixture onto your counter or cutting board.
Line a sheet tray with parchment paper and drizzle 2 tablespoons of olive oil onto the parchment. Pick up each meatball and pull apart into two, giving you two half-ounce meatballs. Will yield about 32-36 half-ounce meatballs.
Roll each into a ball using your palms and line up on the tray. Then drizzle two more tablespoons of oil over the top and bake for 15 minutes or until cooked through. Remove from oven and set aside.
If making the Italian tomato sauce from scratch, follow recipe here. Set aside.
Once the bread dough has softened and stretched to an eight-inch circle, dust off all flour and place back onto a flour free counter.
Preheat the oven to 450 degrees F.
We used a metal mixing bowl to bake our dough into a bowl. The bowl was 7" wide at top, 3" wide at bottom and 4" deep. You can use any bowl, ceramic or metal as long as it is oven safe. You can also use a bowl with dimensions slightly different than ours. The trick is to find an oven safe bowl that will hold the dough in place while it bakes with a finished opening no wider than 7".
Place the bowl on a foil lined sheet tray upside down and place in the preheated oven to heat.
Use olive oil and brush a ring of oil around the dough leaving about 3" in the center. Repeat for the remaining three doughs. Divid one cup of the Parmesan cheese over each oil ring, pressing into the oil.
Open the oven door and brush the bowl with the olive oil and then quickly place one 8" prepared dough over the bowl, cheese face up. If you have more than one bowl, bake as many at once as you want. If just one bowl, then repeat process until all four doughs are baked.
Bake for five minutes then rotate pan and bake for five more minutes. At this point, the outside should be nice and golden brown. Open oven door and slide rack out. Using a dish towel or mitts, lift off cooked dough bowl and stand upright on a cooling rack to cool. Brush more oil on the bowl and continue until all four are baked. Set these aside and turn off the oven.
In a medium pan, brown sausage and ground beef, breaking up pieces as you cook. Once browned, add all of the tomato sauce and keep warm.
Warm the Alfredo sauce. If made ahead, the butter fat will separate. Just whisk as you heat and it will come together and stabilize.
Place the meatballs in a sauce pan with a little water and heat.
To serve, lay out the four pizza-bowls on serving plates and divided the hot Alfredo sauce between the four.
Next divide the shredded Fontina over the Alfredo.
Next place half of the meat sauce over the Fontina.
Next place half of the meatballs over the meat sauce.
Next divide the shredded mozzarella over the meatballs.
Next divide the remaining meat sauce over the mozzarella.
Finally divide the remaining meatballs over the meat sauce and sprinkle the tops with the remaining cup of Parmesan cheese.
Serve with lots of napkins.
---
Notes
*Prep and cook time will depend on your method. You can purchase jarred Alfredo sauce, jarred tomato sauce, and frozen meatballs – or you can make everything from scratch as this recipe is written. If using jarred sauces and frozen meatballs, this recipe can be on the table in about an hour. If making from scratch, suggest you make the two sauces and the meatballs a day in advance.
Keywords: copycat Olive Garden, pizza bowl