Chicken Scarpariello is an easy dinner made with chicken, sausage, peppers, and potatoes in a fantastic, zesty sauce.
Hi everyone – Jack here. First, let me start off by saying that I think you're absolutely going to love this Chicken Scarpariello recipe. (I know I do!)
Chicken Scarpariello is believed to have originated in New York. The word "scarpariello" means shoemaker or shoe fixer in Italian.
There are lot of different ideas floating around as to why this recipe is called "shoemaker chicken." Some believe that this recipe got its name from the variety of ingredients 'cobbled' or thrown together.
Others have you imagine chicken bones sticking out of your mouth as you eat this delicious dish – similar to a shoemaker holding tacks in his mouth as he works.
And others center around Chicken Scarpariello being a somewhat meager, modest dish of chicken and potatoes that even shoemakers could afford to prepare for their families.
Over time, Chicken Scarpariello recipes have evolved to include a wonderful mix of pieces of chicken, Italian sausage, potatoes, onions and two kinds of peppers – bell peppers and zesty piquante peppers.
How do you make Chicken Scarpariello?
The chicken, sausage and vegetables are seared first on the stove top, then braised in the oven until cooked through. The chicken and sausage stays juicy and tender, and the potatoes and other vegetables are perfectly cooked through.
This Chicken Scarpariello has a fantastic punch of flavor and a slight tart bite from the red wine vinegar that is added to the luscious butter and wine sauce, as well as the piquante pickled peppers.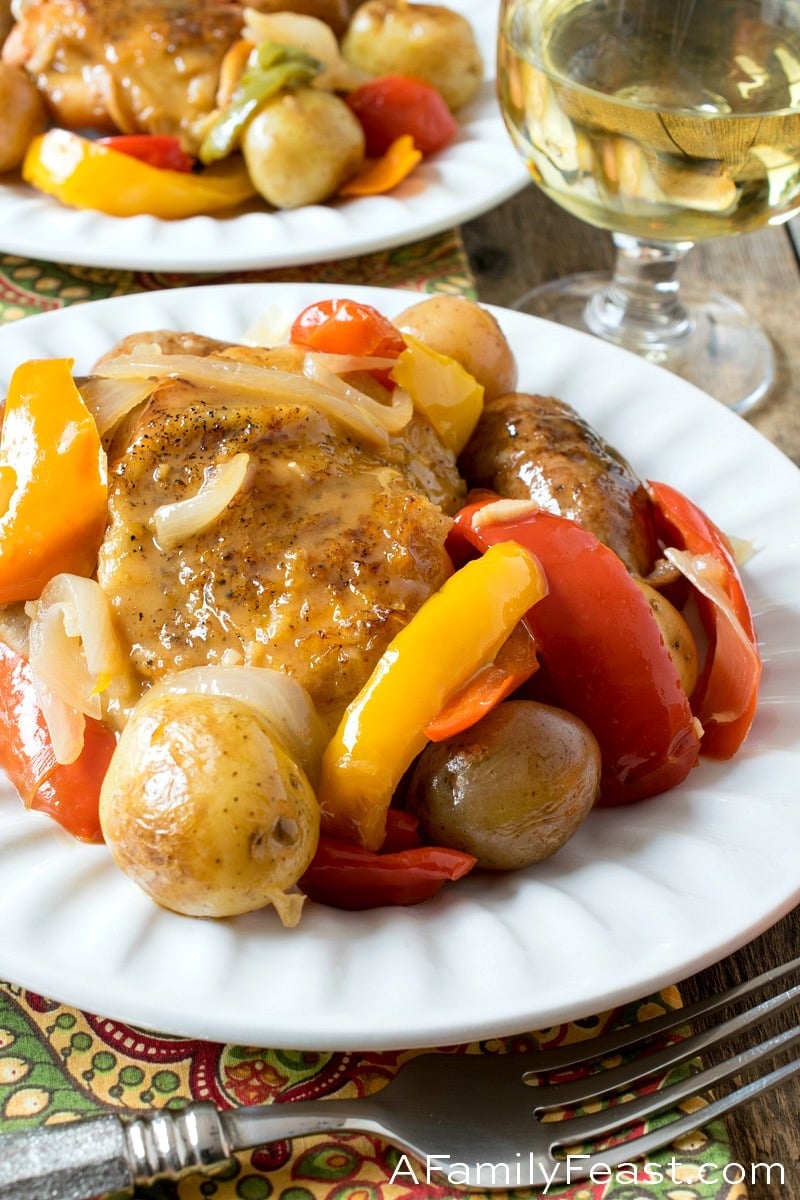 Interestingly enough, my grandfather was a shoemaker here in the United States, and his father was a blacksmith and shoemaker in Italy.  Perhaps that's another reason why I'm so fond of this delicious recipe.
You may enjoy these other Italian chicken recipes:
Print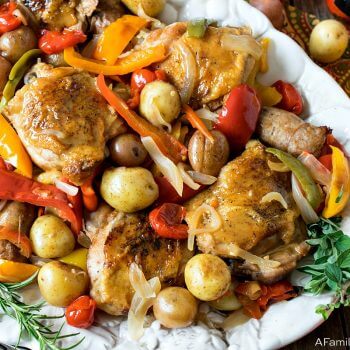 Chicken Scarpariello
Author:

Prep Time:

30 minutes

Cook Time:

1 hour

Total Time:

1 hour 30 minutes

Yield:

6-8 servings

Category:

entree

Method:

roasted

Cuisine:

Italian-American
---
3 pounds bone-in, skin-on large chicken thighs (we used six thighs weighing 8-ounces each) *See Notes below
½ teaspoon kosher salt
¼ teaspoon freshly ground black pepper
3 tablespoons olive oil
3 Italian sausage links, each cut in half across the middle (not the long way)
2 pounds baby potatoes (we used brand "Little Potato Company," their Dynamic Duo of mini red and white potatoes)
1 large sweet onion, cut into thick strips, about 12 ounces in weight
1 red bell pepper cut into thick strips
1 orange bell pepper cut into thick strips
1 yellow bell pepper cut into thick strips
1 green bell pepper cut into thick strips
2 tablespoons fresh garlic, chopped
¼ cup white wine
One large sprig of fresh rosemary
One or two sprigs fresh oregano
½ cup red wine vinegar
1 cup chicken stock
1 cup whole mild piquante peppers (we used Peppadew brand but a pickled cherry pepper would work)
3 tablespoons cold butter
---
Instructions
Preheat oven to 400 degrees F. just before you start searing the chicken.
Salt and pepper both sides of chicken.
In a large skillet over medium high heat (ours was 12" across and 3" deep with straight sides), place the three tablespoons of olive oil and once shimmering, lay the chicken thighs in, skin down and sear for five minutes or until golden brown and crispy. Flip and cook for three more minutes then remove to a waiting platter.
Add the Italian sausage and brown, about 3-4 minutes. Remove to the platter with the chicken.
Pour off fat into a small glass pitcher and pour two tablespoons back in along with the potatoes.
Increase heat to high and shake the potatoes around during cooking for five minutes then remove to the same platter or a different one if full.
Pour in two more tablespoons of the reserved fat and reduce heat to medium high and add the onion, all of the peppers and the garlic and saute just three minutes. They will still be crunchy.
Add the wine to deglaze. Once evaporated, about one minute, add the whole rosemary, whole oregano and red wine vinegar and heat.
Nestle in the chicken, sausage and potatoes and pour in the stock and piquante peppers. Once hot and starting to bubble, cover and place in the preheated oven for 30 minutes, or until the chicken registers at least 160 degrees F. and the vegetables are tender.
Remove meat and vegetables to a platter and bring the liquid left in the pan to a boil and cook until reduced to about one cup. Remove from heat and stir in the cold butter to form a slightly thick sauce, then pour over the platter of meat and vegetables or serve on the side.
Serve immediately.
---
Notes
*If your chicken thighs are smaller than 8-ounces each, the cooking time will change. So that everything is done at the same time, as you are nestling everything back in the pan, leave the partially cooked chicken out and continue to cook the mixture in the pan for five more minutes. Then add the chicken, cover and put into the oven. Check for doneness after 20 minutes and remove once everything is fully cooked.