As a follow-up to yesterday's Classic Cheesecake recipe, today we're sharing a recipe for a fantastic Caramelized Pineapple Topping that is a perfect accompaniment to cheesecake and other desserts.
This caramelized pineapple topping was inspired by simply wanting to make a dessert that goes well with the ham dinner we're making for Easter! We originally thought about making a pineapple cheesecake. But my husband Jack remembered a lesson he learned in culinary school where he was taught that (and we're about get a little scientific here…) the bromelain in pineapple breaks down the protein links faster than they can form, so desserts like a cheesecake or JELL-O would not properly set if pineapple were added to the mix.
So instead we decided on this caramelized pineapple topping! We caramelized slices of fresh pineapple in a mixture of honey, butter, vanilla, sugar and cinnamon – then flambéed it with a bit of brandy. A sauce of orange juice and some corn starch was added next to thicken the mixture, and then we pulsed it in the food processor to make a sauce with small, bite-sized chunks of pineapple.
I should point out that this caramelized pineapple topping is NOT very sweet at all – which actually makes it perfect for topping much sweeter desserts like our classic cheesecake! While we served our caramelized pineapple topping chilled over the cheesecake, it would also be delicious served warm over some vanilla ice cream or pound cake!
Print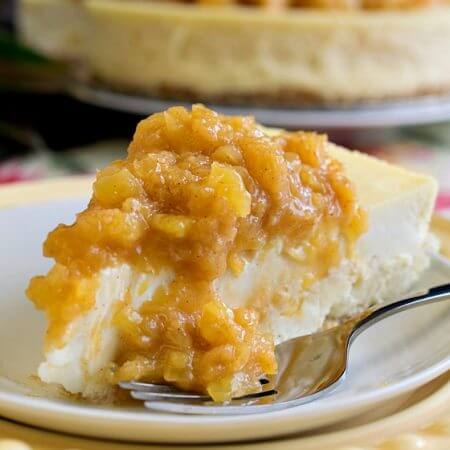 Caramelized Pineapple Topping
Prep Time:

15 mins

Cook Time:

15 mins

Total Time:

30 minutes

Yield:

2-3 cups
---
1

large fresh ripe pineapple

2 tablespoons

honey

1 teaspoon

vanilla extract

1 tablespoon

butter

1/3 cup

brown sugar

½ teaspoon

ground cinnamon

¼ cup

brandy

¼ cup

orange juice

1 teaspoon

corn starch
---
Instructions
Trim off top and bottom of pineapple. Using a sharp knife with a wide blade, shave off outside skin. Any little brown pieces left on pineapple can be removed with the tip of a potato peeler or a tomato shark/corer. Cut into four long quarters and remove core from each quarter. Then slice into thick slices, 1 ½ to 2 inches thick.
In a very large non-stick skillet or fry pan, place pineapple, honey, vanilla, butter, sugar and cinnamon. Bring to a boil then reduce to medium and cook for five minutes, moving and tossing contents.
Add brandy off the heat then back on so it does not flare up. Cook for three minutes. The alcohol will burn off.
Add orange juice to corn starch and add to pan and cook for 3-5 minutes or until the pineapple slices are nice and browned and the sauce is thick and caramelized. Be careful at this step that everything doesn't stick and burn.
Remove from heat and cool completely. Then place in food processor and just pulse long enough to break up the pieces to slightly larger than pea size. Hold refrigerated until ready to top cooked and cooled cheesecake.
---
You may also like: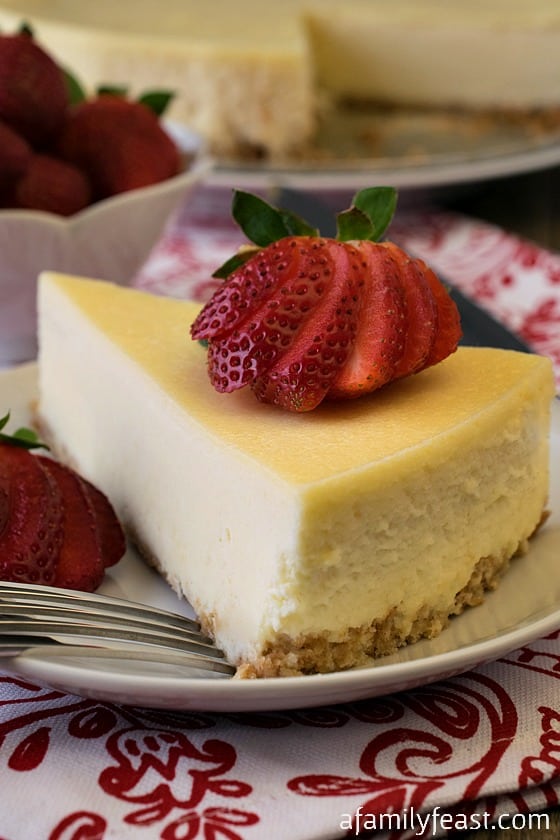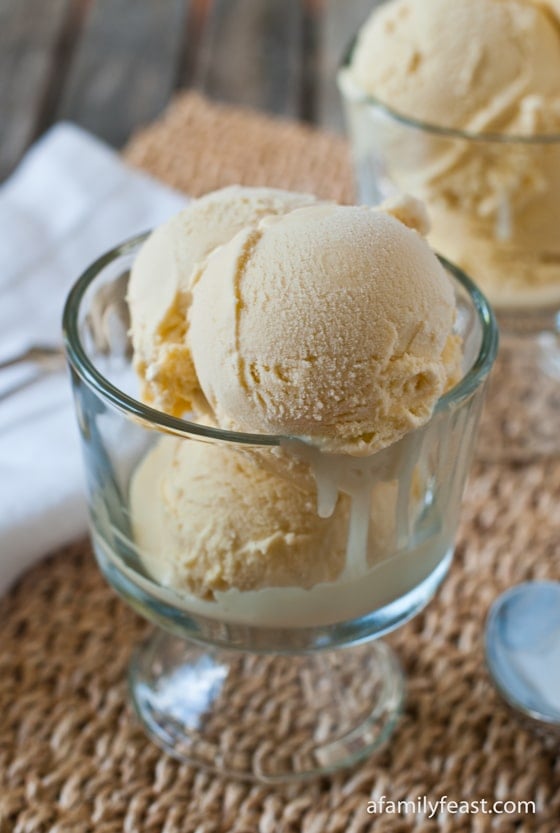 Grilled Bananas  and Pineapple with Rum-Molasses Glaze