A delicious version of Bulgogi (Korean Beef Barbecue) that anyone can make at home. No need to make a trip to a specialty market – our recipe uses commonly-found ingredients.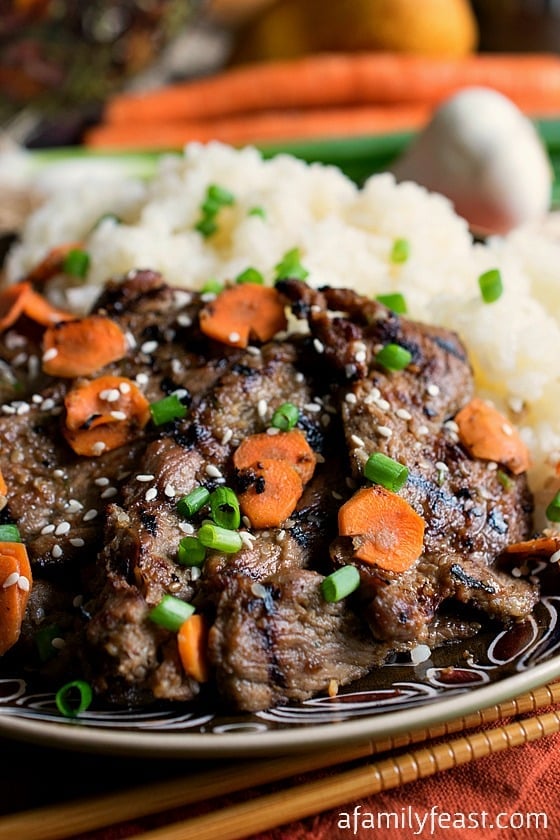 Hi everyone, this is Jack. I'm a huge fan of Korean foods and this Bulgogi recipe is near and dear to my heart, so I wanted to jump on and share the story  behind this recipe in my own words.
Earlier in my life, before I met Martha and was a bachelor, I spotted a guy waxing a 1970 Boss Mustang in the parking lot of the apartment building where I lived at the time. I also owned a Mustang (1967 Mustang with a non-factory engine) so I went out to talk to him. On my way down the stairs, I spotted a beautiful Asian woman sunning herself in the side yard.
The guy with the Mustang turned out to be a great guy and Don, and I have been life-long friends ever since. And, as it turned out, the woman sunning herself was his fiancée, Geri. Geri was Korean and because of her and her family, I fell in love with Korean food, their culture and the people.
So – fast forward a few years, and I ended up being the best man at Don and Geri's wedding. The wedding was in New Jersey, so I flew out from Boston and stayed at Geri's mother's house. During my stay I was treated to non-stop Korean food for three days – I tried everything under the sun; all made-from-scratch, authentic, Korean dishes.
Even though Don and Geri are no longer together, a meal of Bulgogi, sticky rice and Kimchi has remained near and dear to my heart all these years later – in part because that was the first Korean food I ever tried, but also because it was made by people who were very near and dear to me at the time.  Back then, I dared to try these dishes – and it opened up my palette to many more delicious and exciting dishes that I've had the pleasure of enjoying ever since.
To get a good caramelization on your Bulgogi – a scorching hot grill is best.  (Try to avoid barbecuing in the rain if you can…)
I should also note that this is my own version of Bulgogi, and adding Coca-Cola to the marinade is my idea and non-traditional, so leave it out if you prefer.
Also – a good number of the ingredients used in a traditional Bulgogi recipe are not commonly found in local supermarkets unless you live in an community that has an Asian market.  So, in order to make this a recipe that anyone can make – I replaced things like mirin for corn syrup, Asian pear for a Bosc pear, etc.
Bulgogi is typically served with sticky rice and Kimchi. Or use this recipe to make our fantastic Bulgogi Egg Rolls!

Print
Bulgogi (Korean Beef Barbecue)
Prep Time:

45 mins

Cook Time:

10 mins

Total Time:

55 minutes

Yield:

6-8 servings
---
Description
There are two ways to approach the meat in this dish. If you buy an expensive cut such as rib-eye, 30 minutes is all you need to marinate the meat. If you buy an inexpensive steak (many varieties), you can marinate up to 24 hours depending on the cut. We highly recommend using a rib-eye steak and marinating 30 minutes. To keep the cost down, buy bone-in and remove the bone yourself.
---
2

pounds good quality thick bone-in steak, such as strip steak or rib-eye (see note above)

1

Bosc pear, peeled and cored

¾ cup

onion, rough cut

2 tablespoon

fresh peeled garlic

1 teaspoon

fresh peeled ginger

1

medium scallion, tops and bottoms

1 cup

Coca Cola

3 tablespoon

soy sauce

2 tablespoons

corn syrup

1 tablespoon

brown sugar

¼ teaspoon

freshly ground black pepper

2 tablespoons

sesame oil

2 Tablespoons

sesame seeds

2 cups

peeled carrots, cut into very thin slices
Sticky Rice and Kimchi, for serving
---
Instructions
Trim all gristle, bone and excessive fat from meat. This should leave about 1½ pounds of usable meat. With a very sharp knife, slice 1/8th inch thick slices on a slight bias from one end to the other. Set aside.
In a food processor place pear, onion, garlic, ginger and scallion and puree until very smooth. Pour into a medium to large bowl and add Coca-Cola, soy sauce, corn syrup, brown sugar, pepper, sesame oil and sesame seeds.
Add beef and carrots; making sure everything gets coated. Place in tight fitting container or zip lock bag for 30 minutes or more depending on the cut of beef used.
If making rice, make that now.
Preheat the grill to its hottest temperature and also place a grill pan on grill to cook the carrots.
Drain the beef and carrots but discard the marinade. Remove as much liquid as possible even blotting any last drops from the meat with paper towels.
When the grill is at its hottest, mop some vegetable oil over the grill grates and lay the beef slices on the oiled grill. Grill just for a few minutes each side and remove. At the same time, place the carrots in a grill pan and grill just a few minutes until tender.
Serve cooked sliced beef and carrots with sweet sticky rice and good quality Kimchi. (I have tried a lot of jarred brands of Kimchi and only a few come close to home made. If you are lucky enough to live near an Asian market, buy it fresh.)
---
Disclosure: This post contains affiliate links.
You may also like: