Swapping in brown sugar adds wonderful richness to these delicious Brown Sugar Cookies!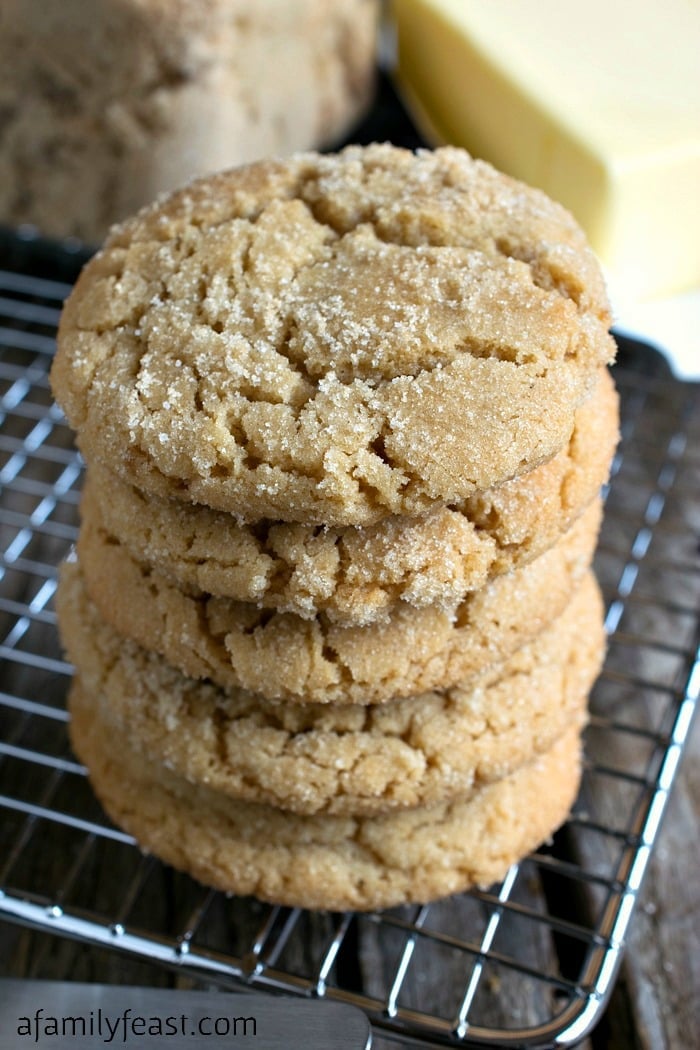 Brown Sugar Cookies are a clever twist on the traditional sugar cookie recipe – and they are absolutely delicious! Thanks to some simple swaps – these Brown Sugar Cookies are so much more rich and flavorful than any other sugar cookie I've eaten.
How do you make Brown Sugar Cookies?
First, unsalted butter is melted and browned in a skillet before being mixed into the cookie batter. Also, brown sugar is used in this recipe instead of all granulated sugar. These Brown Sugar Cookies bake up perfectly chewy with that crisp, sugar cookie crackle on top. After one bite – I think you'll agree that this is one very special cookie recipe!
Santa would be very happy to see these Brown Sugar Cookies on his Christmas Eve cookie tray this year. (You'll be very happy too!)
Adapted from America's Test Kitchen Cookbook.
Print
Brown Sugar Cookies
Prep Time:

15 mins

Cook Time:

25 mins

Total Time:

40 minutes

Yield:

2 dozen
---
Description
Note on brown sugar: The America's Test Kitchen Cookbook clearly states to use fresh brown sugar as older dried out brown sugar will yield a dry cookie. Another note on ovens: This recipe works best at exactly 350 degrees F. In 12 minutes or so, the cookies are perfectly baked. Most ovens have small temperature drops and increases as the oven works to maintain that temperature. Some ovens do this very well and others not so well. So I experimented and baked each pan slightly differently. The first batch was spot on 350 for the whole 12 minutes and the cookies were perfect. The second batch was baked in an oven that fluctuates a bit and that batch did not puff up or brown as nicely as the first batch. Just suggesting that for this recipe, oven temperature is critical.
---
14 tablespoons

unsalted butter (

1¾

sticks), divided

2 cups

brown sugar, divided (The original recipe called for dark brown sugar, however we used light brown sugar. Also see note above.)

¼ cup

granulated sugar

2 cups

plus 2 tablespoons all-purpose flour

½ teaspoon

baking soda

¼ teaspoon

baking powder

½ teaspoon

table salt

1

large whole egg

1

egg yolk

1 tablespoon

vanilla extract
---
Instructions
In a medium sauce pan place 10 tablespoons of butter. Try not to use non-stick or a dark pan so that you can see the color of the butter as it browns. Bring heat to medium high and melt the butter. Once it melts, keep swirling the pan and cook about one to three minutes longer until the color is caramel brown and the smell is toasty. Pour into a large metal bowl and add the remaining cold butter to the browned butter. This butter mixture needs to cool for 15 minutes or so before it can be used. I placed mine in the refrigerator to cool while I measured out the other ingredients.
Place oven rack in center of oven, preheat oven to 350 degrees F. and line two cookie sheets with parchment paper.
In a small bowl, mix ¼ cup of brown sugar with the ¼ cup of granulated sugar. Mix thoroughly making sure there are no lumps and set aside.
In a medium bowl, sift flour, baking soda and baking powder. Set aside.
Once the melted butter has cooled, stir in the remaining brown sugar and salt. Make sure it is fully incorporated.
Use a rubber spatula and scrape down the bowl then add the whole egg, egg yolk and vanilla extract. Mix with the spatula or a wooden spoon to combine.
Scrape the bowl again and add in the flour mixture. Mix until fully combined.
Pour the dough out onto your counter and roll into a log. Cut the log in half. Cut each half into quarters then each piece into thirds, yielding 24 pieces.
Roll each into a ball, roll in the reserved sugar mixture then place on the prepared pans, 12 per pan.
Bake one pan at a time for 12-14 minutes, see note on oven temperature.
Let sit on the pan for five more minutes then transfer to a cooling rack and cool to room temperature (but they are very delicious eaten while still warm).
Disclosure: This post contains affiliate links.
You may like these other Cookie recipes: