Boy Scout Stew is a hearty and delicious stew made with ground beef and other pantry ingredients.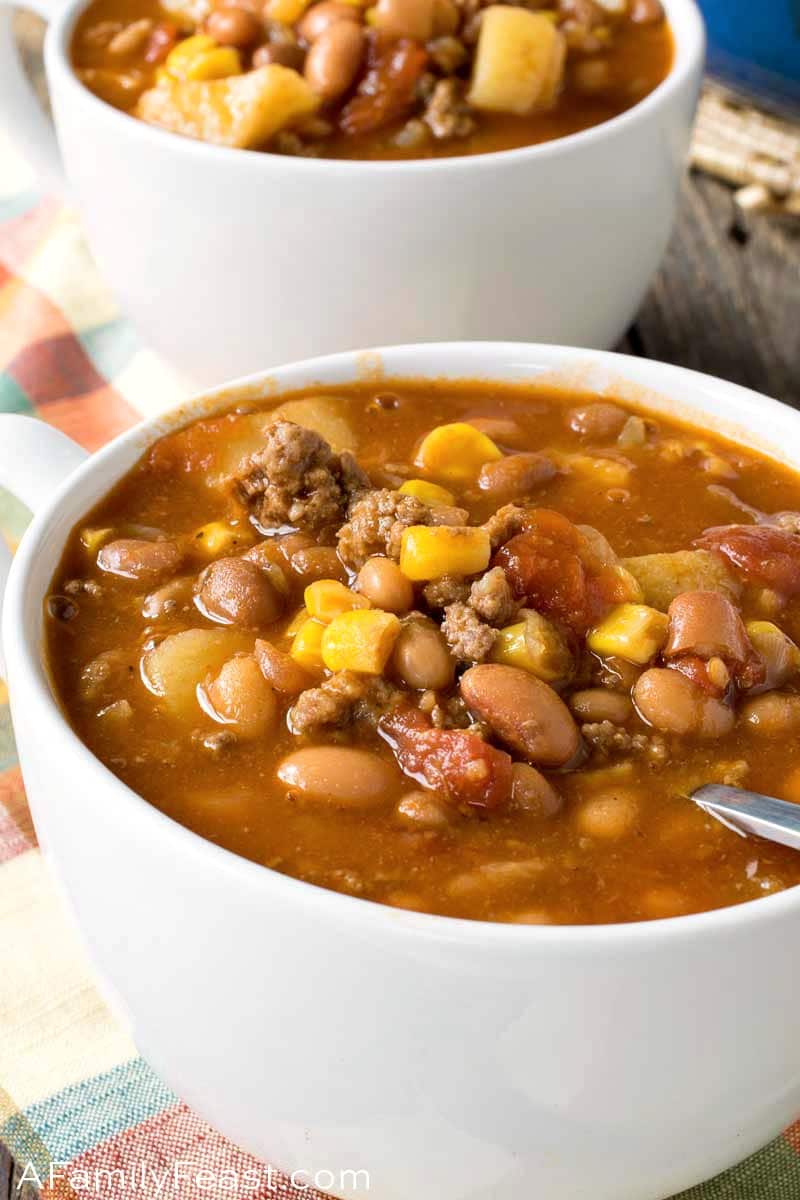 Hi Everyone – Jack here. Many, many, many, many years ago, I was a Boy Scout. To this day, I have distinct and very fond memories of going on an overnight scout camping trip with my dad (aka Grampa) as part of earning a merit badge.
I was twelve years old at the time, and I still have such vivid memories of that camping trip – mostly because I got to spend some uninterrupted time with my dad – plus, just about every boy that age loves being outside and on an adventure.
As part of the badge-earning responsibilities – we were required to come up with a menu, make sure we brought the necessary ingredients and cooking utensils. Then, after hiking to our campsite for the night – we hunkered down, set up our tents, built a fire – and cooked that delicious campfire stew.
What is Boy Scout Stew?
Boy Scout Stew is also sometimes called Cowboy Stew. I'm not sure which version came first – but the premise is the same. Hearty, rib-sticking stew that can be made cooked over a campfire out in the middle of nowhere.
I'm guessing some authentic variations of this stew were made with dry beans and possibly dried or smoked meats that traveled well without refrigeration – but back in my boy scout days, I remember lugging cans of beans, onions, potatoes, and corn. (Our backpacks were a lot lighter coming home.)
Full disclosure: It was a long time ago, and I'm a little foggy on the exact Boy Scout campfire stew recipe we cooked. So, I did ad lib today's recipe a bit – adding in some canned bean varieties that weren't around back then.
Anyway, I'm happy to report that I did earn a merit badge that evening. But not before a dozen or so almost-teenage boys sat around the campfire, eating a lot of beans. (You can use your imagination on what happened next – after the beans started to digest.) 😉
That same night, it rained like it never rained before. Our camp, which was built on a hill, washed out. By 5:00 AM the next morning, my dad and I were both home – soaked and tired – but having enjoyed every minute of our camping trip.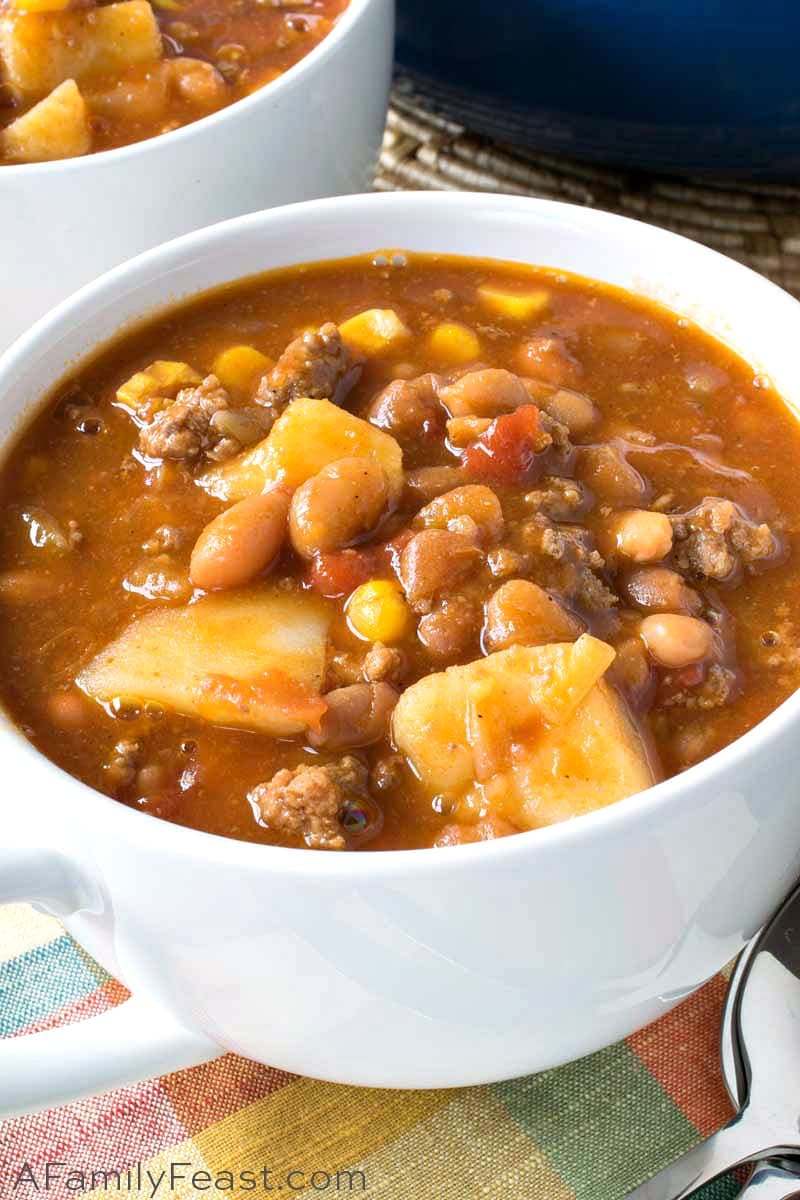 You may enjoy these other hearty dishes:
Print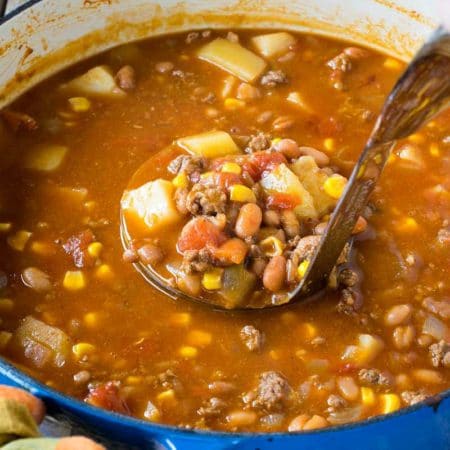 Boy Scout Stew
Author:

Prep Time:

15 minutes

Cook Time:

1 hour

Total Time:

1 hour 15 minutes

Yield:

10 servings

Category:

soup

Method:

oven

Cuisine:

American
---
Description
This stew can also be cooked on the stovetop (or a campfire).
---
2 tablespoons olive oil
1 pound ground beef
2 cups onion, cut into large pieces, about one large onion
1 pound potatoes, peeled and cut into 1" pieces (I used New Red)
1 14.5-ounce can beef stock
2 14.5-ounce cans diced tomatoes
*2 8.5 ounce cans Bush's Baked Beans
*1 22.5 ounce can Bush's Steakhouse Grillin' beans
1 15.5ounce can pinto beans, rinsed and drained
1 14.5 ounce can kernel corn, drained
1 teaspoon ground cumin
1 teaspoon ground chili powder
1 teaspoon kosher salt
½ teaspoon freshly ground black pepper
½ teaspoon garlic powder
¼ teaspoon ground cayenne pepper
---
Instructions
Preheat oven to 375 degrees F.
In a medium to large heavy bottomed pan or Dutch oven, over medium heat, add olive oil and once hot add the beef and onions.
Break up the beef and cook until browned.
Add all other ingredients and bring to a simmer, cover and place in the oven for 30 minutes or until potatoes are tender.
Serve hot.
---
Notes
* You can use any brand of beans in this recipe, and if using Bush's Beans, any flavor profile you want. I liked the 'Steakhouse Beans' because they had brown sugar and steak sauce as the base, but use whatever flavor you'd like.
Keywords: cowboy stew, boy scout stew, campfire stew