Today we're sharing our own 'secret family recipe' for Boston Baked Beans!  This is a recipe that Jack has perfected over the years and it's so much better than any canned baked beans you can buy.
Boston baked beans are another one of those dishes that I never really liked – until I ate Jack's recipe.  Growing up, we had canned baked beans on occasion, and I just never understood what the fuss was all about!
But Jack's Boston baked beans are tender and delicious – and the sauce is rich and sweet thanks to a combination of salt pork, onion, molasses, brown sugar, and maple syrup.  And the sauce gets an even more amazing depth of flavor from Dijon mustard, ketchup, dry mustard, Worcestershire sauce and a hint of vinegar.
These Boston baked beans take some time to cook – first to soak the dry beans and then to bake – but it's actually a very easy dish to make!   Boston baked beans go great with a fish cakes and coleslaw dinner, or franks and Boston Brown Bread – a dark, slightly sweet bread with or without raisins.
If you've never had Boston brown bread before, you can sometimes find it in the grocery store along with the canned baked beans.  Brown bread is cooked by steam in a can, and cans of the bread can be found on the supermarket shelf right next to the cans of baked beans!   It's another popular New England favorite! 
Also on a side note, make sure you rinse any salt from the salt pork before dicing and that you do not add the salt until the beans have cooked for at least 90 minutes. If you add salt at the beginning, the beans will cook hard and not soften. As well, one of our readers suggested waiting to add the ketchup and vinegar because acid can sometimes keep the beans hard if added too early. As well, she also suggested using bottled water if you have a hard water problem.
Print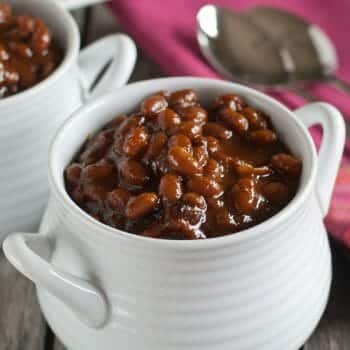 Boston Baked Beans
Author:

Prep Time:

12 hours

Cook Time:

4 hours

Total Time:

16 hours

Yield:

6-8 servings

Category:

side dish

Method:

baked

Cuisine:

New England
---
Description
Be sure to read the Notes section below this recipe!
---
1 pound dry navy beans
½ pound rinsed salt pork, rind left on and cut into 1-inch chunks
2 cups onion, sliced thick
½ cup molasses
2 tablespoons pure maple syrup
3 tablespoon Dijon mustard
2 tablespoons Worcestershire sauce
1 teaspoon dry mustard
½ cup packed brown sugar
¼ teaspoon black pepper
1 teaspoon garlic powder
6 cups of water, divided
½ cup ketchup
1 teaspoon cider vinegar
1 teaspoon salt
---
Instructions
Soak beans overnight at room temperature in 2 quarts of water.
Preheat oven to 325 degrees.
Drain and rinse beans.
In a large Dutch oven over medium high heat, cook rinsed diced salt pork, turning occasionally, for about 15 minutes or until golden brown on all sides.
Add onions and cook two minutes.
Add the drained beans, molasses, maple syrup, Dijon mustard, Worcestershire sauce, dry mustard, brown sugar, black pepper and garlic powder.
Stir and add two cups of water.
Place in the oven covered and cook for 90 minutes. Stir and add the ketchup, vinegar, salt and two more cups of water.
Bake for 90 more minutes covered, stir and add one cup of water.
Reduce oven to 275 degrees and bake for one hour covered.
Stir, and if beans are not soft enough to the bite, add the last cup of water and continue cooking covered until they are tender – just make sure they don't burn if the sauce is very thick.
Serve with brown bread.
---
Notes
Salt added too early in the cooking process may stop the beans from becoming tender (especially if you have hard water at your home) so wait to add the salt until the recipe indicates.
As well, one of our very smart readers also noted that the acid in ketchup and vinegar will sometimes do the same, so those two ingredients get added with the salt.
Another reasons your beans may stay hard after cooking is that they are  stale – so always check the expiration date on your dry beans package.
Finally if you do have hard water, use bottled filtered water for this recipe. (Thanks to Karla Mae for the tips!)
Keywords: Boston Baked Beans
You may also like: