Our Baked Tomatoes and Zucchini with Cheddar Parmesan Parmesan Topping makes a delicious meatless meal or side dish that kids and grown-ups will both love.
All summer long, we've waited for our garden tomatoes to grow and ripen. We had cooler and rainy weather earlier in the season – which our garden zucchini seemed to love, but our tomato plants weren't doing much of anything.
And now – it's so hot and humid – the tomatoes are all ripening at once! And those zucchini plants gave us one last crisper drawer-filling burst of zucchini, just before dying off for the season.
So what to do with so many tomatoes and zucchini? This Baked Tomatoes and Zucchini with Cheesy Panko Topping is a delicious option.
My husband Jack made this Baked Tomatoes and Zucchini with Cheddar Parmesan Panko Topping for us for dinner the other night – simply as a way to use up the ingredients we had on hand.  After my first delicious bite, I looked at Jack and simply asked, "Blog post?"
With dozens more tomatoes sitting on our kitchen counter, Jack quickly agreed, and below is his fantastic recipe.
Slices of zucchini and tomatoes are layered in a baking dish with panko bread crumbs that are tossed with melted butter, shredded cheddar cheese, grated Parmesan, and fresh garlic and basil. The mixture is also seasoned with dry oregano, plus other seasonings – and the flavors all together are simply wonderful.
We initially planned to wait until next summer to share this Baked Tomatoes and Zucchini with Cheddar Parmesan Panko Topping – but it's so good, we decided instead to share it today. Enjoy!
You may enjoy these other recipes made with garden-grown zucchini and tomatoes:
Print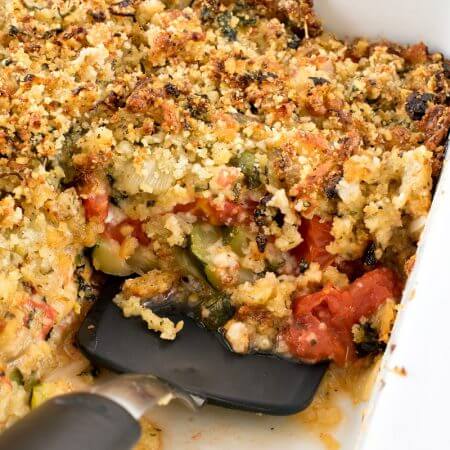 Baked Tomatoes and Zucchini with Cheddar Parmesan Panko Topping
Author:

Prep Time:

30 minutes

Cook Time:

40 minutes

Total Time:

1 hour 10 minutes

Yield:

8 servings

Category:

vegetarian

Method:

baked

Cuisine:

American
---
2 tablespoons extra virgin olive oil
2 cups large dice Vidalia onion
1 ½ tablespoons fresh garlic
4 tablespoons butter
1 teaspoon dry oregano
1 teaspoon kosher salt
½ teaspoon freshly grated black pepper
1 ½ cups panko bread crumbs, divided
1 ½ cups fresh grated Parmesan cheese
2 cups extra sharp cheddar cheese, shredded and divided (we use Cracker Barrel)
2 pounds fresh zucchini trimmed and cut into quarter inch thick circles
1 ½ pounds fresh garden tomatoes sliced into quarter inch thick circles (we used Big Beef and Early Girls)
¼ cup fresh basil chopped (Don't chop until needed in recipe. Basil turns black if chopped too soon.)
---
Instructions
Preheat oven to 400 degrees F.
In a medium sauté pan, place oil and bring heat to medium. Once hot, add onions and sauté three minutes. Add garlic, butter and oregano and cook for another two minutes.
Remove from heat and mix in salt, pepper, one cup of Panko, one cup of Parmesan and one cup of cheddar cheese. Set aside.
Spray a 9×9-inch or an 8×10-inch pan or dish with pan spray.
Pour in the remaining half cup of Panko. (This step helps absorb the liquid that the tomatoes and zucchini give off during baking.)
Layer the zucchini slices over each other in rows to cover the bottom.
Sprinkle the remaining half cup of Parmesan over the top.
Layer tomatoes over the zucchini and Parmesan in the same manner.
Cover the tops of the tomatoes with the remaining one cup of shredded cheddar cheese.
Take the reserved topping and at this point, chop the fresh basil and mix into the topping then spread the topping over the top of the tomatoes and cheese and bake uncovered for 35 minutes. Depending on your oven, the dish may take more or less than the 35 minutes. If getting too browned, cover with foil.
To test for doneness, poke the center with a fork to gauge the doneness of the zucchini on the bottom layer. As long as the zucchini is tender and the top browned, you are good to go.
Let sit ten minutes then cut into eight or more portions and serve as a side dish.
---
Keywords: zucchini, tomatoes, cheese