French and Italian cuisine have come together today in one delicious dish! You must try this Ratatouille Bruschetta recipe!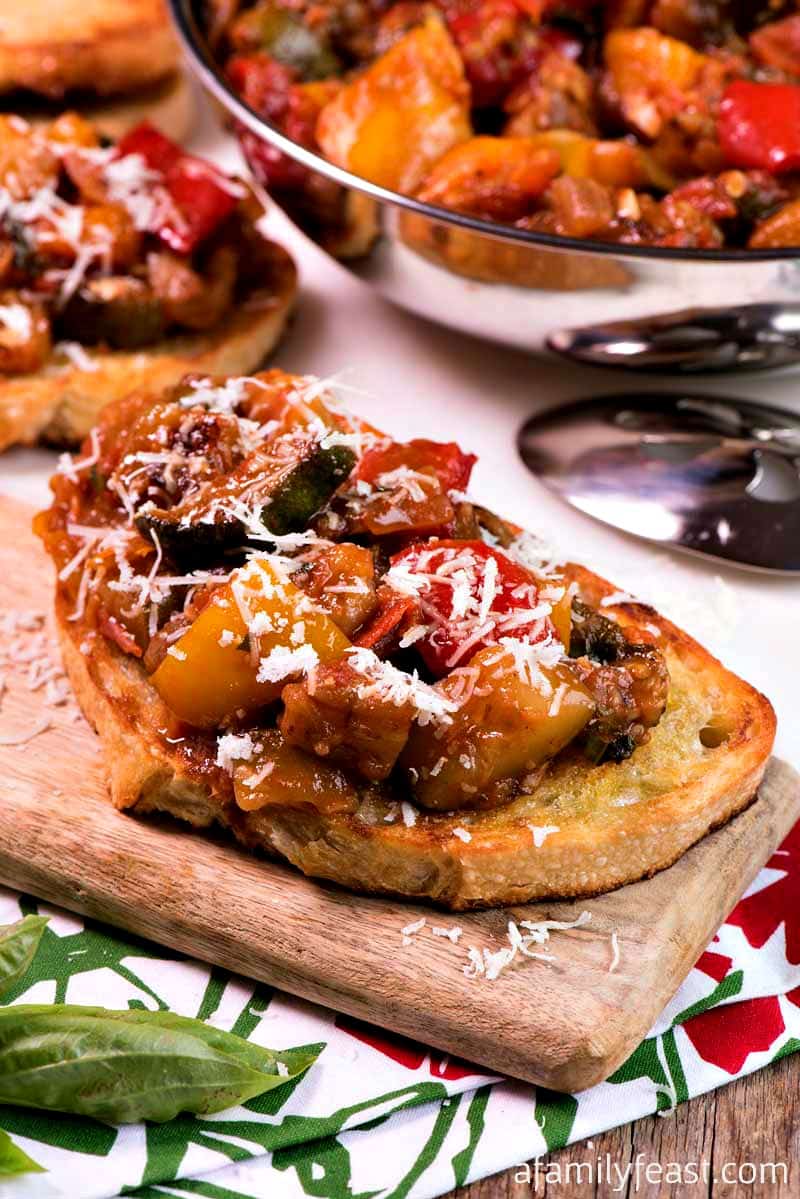 Do you remember the children's movie called Ratatouille? In that movie, the snobby restaurant critic named Anton Ego is served a ratatouille so delicious that he is reduced to tears. That simple, incredibly delicious "peasant's meal" brings back memories of his own mother's cooking.  After meeting Remy, the creator of that amazing dish (who also happens to be a rat), Anton is a humbled and changed man.
I'm going to go out on a limb today and confidently tell you that our Ratatouille Bruschetta is so fantastic, it may make you a changed person too! 😉
This is one of the most delicious ratatouille dishes you'll ever taste! Fresh summer vegetables – eggplant, zucchini, two types of tomatoes, plus onions, colorful bell peppers, herbs and seasonings – all cook down into a luscious, rich and flavorful stew.
Ratatouille is a French Provençal dish, but we spooned it over Italian-style Bruschetta (which is grilled crusty bread that has simply been rubbed with garlic.  We added an extra (optional) sprinkle of Parmesan on top as well.
As you look ahead to trying this Ratatouille Bruschetta, we do want to warn you that this recipe takes some time to prepare. It's not at all difficult to make – but it is time-consuming because you want to take a few steps to extract water from the vegetables prior to cooking them.  (If you skip these steps, you'll need to cook the vegetables longer to evaporate the excess water – and at that point your ratatouille will simply be a pot of mush instead of soft, tender but still distinct vegetables.)
The extra time you take to prepare our Ratatouille Bruschetta is well worth it – and you'll be rewarded tenfold with a rich, deep flavor profile.  I should also note that most of that lengthy prep time is just allowing the slices of vegetables to sit on your kitchen counter while they give up their liquid – so feel free to go about your day. (Sit down, watch Ratatouille again on DVD… 😉)
This French meets Italian Ratatouille Bruschetta is a match made in heaven – and a delicious way to enjoy fresh, in-season summer vegetables.  Serve this as an appetizer or enjoy it as a light summer meal. Enjoy!
Print
Ratatouille Bruschetta
Prep Time:

3 hours

Cook Time:

1 hour 30 minutes

Total Time:

4 hours 30 minutes

Yield:

10-12 servings
---
Description
Warning: This Ratatouille Bruschetta is very addictive. We couldn't stop eating this after taking our photos and stuffed ourselves silly.
---
2 pounds eggplant
2 pounds zucchini
1 ½ pounds vine ripe garden tomatoes (or the best ripe tomatoes you can find)
1 ½ pounds plum tomatoes
3 tablespoons kosher salt
1 cup good quality extra virgin olive oil, divided
1 large red onion, (¾ pound)
4 large garlic cloves (2 tablespoons) minced
2 pounds mixed bell peppers (red, orange and yellow) about one each, diced into one-inch pieces
1 tablespoon fresh thyme, about four sprigs removed from stems
1 teaspoon kosher salt
½ teaspoon freshly ground black pepper
Zest from half a lemon
2 tablespoons tomato paste
1 tablespoon good quality balsamic vinegar
20 large basil leaves
1 loaf Italian bread or French baguette, sliced
1 large garlic clove to rub on the grilled or toasted bread
Grated Parmesan cheese to sprinkle over each Bruschetta
---
Instructions
Lay out three sheet pans with racks placed in each.
Peel and slice the eggplant into one-inch thick slices. Lay out on one of the sheet pans.
Do not peel the zucchini but slice as you did for the eggplant.
Dice all tomatoes into large one-inch dice and lay out on the third sheet pan.
Use one tablespoon of salt for each sheet pan. Sprinkle salt on both sides of the eggplant and zucchini.
Sprinkle the last tablespoon over the tomatoes.
Let all three pans sit for two hours turning every 30 minutes in a stacked formation as shown with tomatoes on top to press out additional liquid.
Go read a book or watch Ratatouille on DVD. 🙂
After two hours, rinse salt from eggplant and zucchini and dry with paper towels and set aside.
Transfer the tomatoes to a strainer over a bowl to collect more water until you are ready to use. No need to rinse off salt.
Discard all liquid collected from the three vegetables.
OK, the hard part is over. From here it is pretty simple.
Take the now dried eggplant and dice into one-inch cubes.
Do the same for the zucchini.
In a very large skillet or sauté pan (ours was 12" across and 3" deep), heat two tablespoons of the olive oil over high heat until just shy of smoking.
Add half the eggplant and sauté for 6-8 minutes until lightly browned.
Remove to a large bowl and add two more tablespoons of the oil. Once hot, add the second half of the eggplant and once cooked, remove to the same bowl.
Add two more tablespoons of oil and add half the zucchini and cook for about four minutes until browned.
Remove to the same bowl as the eggplant and add two more tablespoons of oil to the pan.
Cook the second half of the zucchini and add to the bowl.
Add two more tablespoons of the oil and once hot, add all of the bell peppers.
Cook for eight minutes stirring around with a wooden spoon. Remove to the same bowl as the other vegetables.
Add two more tablespoons of the oil and reduce the heat to medium high.
Once hot, add the red onions and sauté for five minutes then add the garlic.
Cook for one more minute then add the drained tomatoes along with the fresh thyme, salt, pepper and lemon zest and cook over medium high for five minutes.
Add tomato paste, balsamic vinegar and the entire bowl of the cooked vegetables.
Gently stir, cover and cook over medium low for 20 minutes. Occasionally stir gently to make sure it doesn't stick.
After 20 minutes, remove lid and remove from heat.
Stack the 20 basil leaves and with a knife, slice into thin ribbons and add to the mixture.
Slice the bread and oil both sides then broil or grill and rub with a little raw garlic.
To serve, top each grilled bread slice with a few spoons of the ratatouille, drizzle a little olive oil over the top and finish with some grated Parmesan cheese.
---
Disclosure: This post contains affiliate links.
You may also like:
Italian Sausage and Eggplant Dip