This Apple Pie Jam is incredible! All of the delicious flavors of freshly baked apple pie in a luscious, spreadable jam.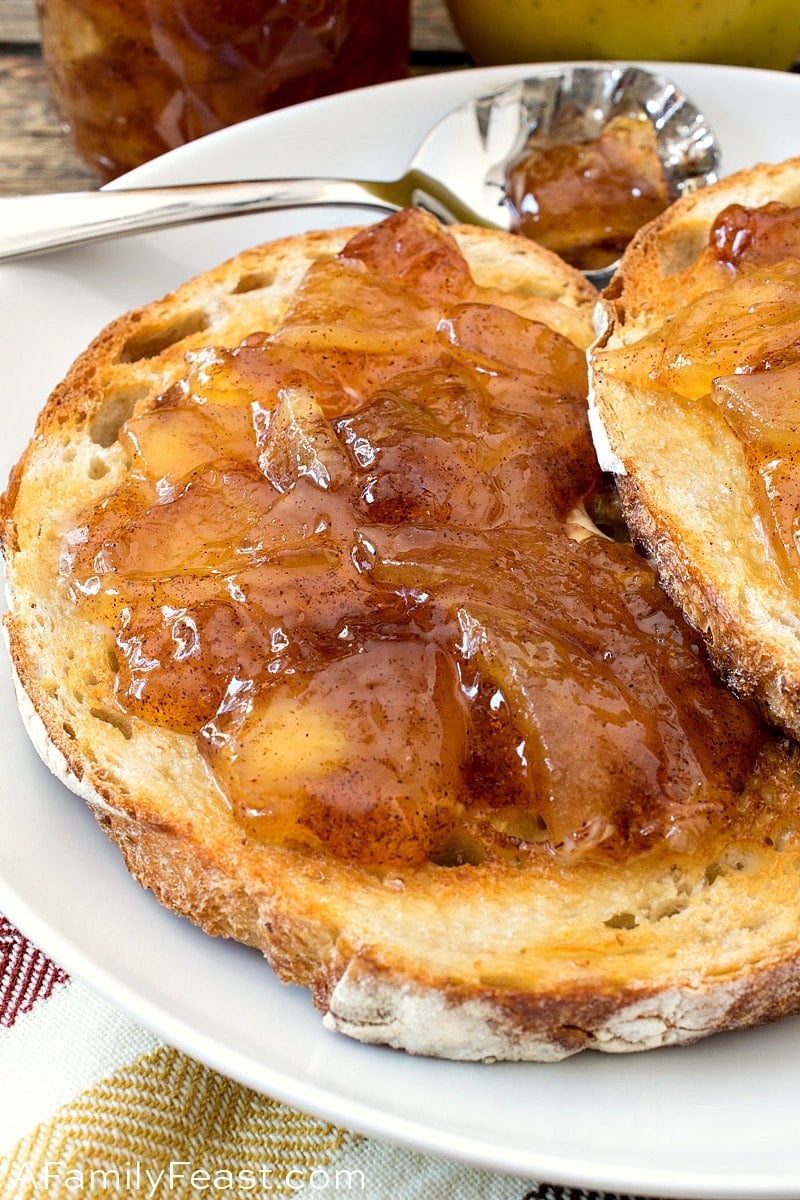 I am SO excited to share this Apple Pie Jam recipe with all of you today! (In fact, I'm drooling as I look at these photos, remembering how good this jam tastes!) This Apple Pie Jam has all of the same delicious flavors of your favorite apple pie recipe – but cooked up as a luscious, spreadable jam.
In all seriousness – you NEED to make a beeline to the Golden Delicious section of the apple orchard this year to stock up. After one taste, you are going to want to make a big batch of this Apple Pie Jam to enjoy all year long.
This Apple Pie Jam is especially good slathered on crusty, buttered toast, but you could also warm it up and spoon it over vanilla ice cream.
How do you make Apple Pie Jam?
This Apple Pie Jam is very easy to make. Just core, peel and slice a couple of pounds of Golden Delicious apples, then cook the slices in some water until just tender.
Add sugar and a touch of butter to the pot – then simmer until hot and bubbly. Add a pouch of liquid pectin and boil for one minute – then remove the pot from the heat and stir in some apple pie spice.
After that, you're ready to can your Apple Pie Jam. This recipe makes six half-pint jars – plus a little extra for sampling.
Our Apple Pie Jam recipe is adapted from one that we found here on Taste of Home. All of the credit goes to Audrey Godell from Stanton, Michigan who originally shared this wonderful recipe with the magazine. We simplified the recipe a bit, swapping in apple pie spice for her choice of individual spices.
Can I use other apples in this Apple Pie Jam?
While we've only made this recipe as written and with the Golden Delicious variety of apples – I'm guessing that other firm, sweet-tart baking apples such as Braeburn, Cortland, or Empire would also work for this recipe.
Can I freeze this Apple Pie Jam?
We haven't tried it ourselves, but I don't see a reason why you couldn't. (If you try it, please leave a comment and let us know how it comes out!)
Can I use powdered pectin instead of liquid?
Again, we haven't tried doing so ourselves – but I suspect you can.  Here's a great article to reference when looking to substitute powdered pectin for liquid.
On a side note, we do recommend Sure-Jell Liquid Pectin. The first time we made this recipe, we used another brand of liquid pectin and the jam didn't set up as well (although we greatly enjoyed it as a topping over ice cream instead).
Can I reduce the sugar in this recipe?
We've only made this recipe as written – and it is a fairly sweet jam. The original recipe included comments from other readers who reduced the sugar to 3½ cups and saw good results.
Please note that once you start tweaking a canning recipe – reducing sugar and/or swapping types of pectin – the results may not be guaranteed.  We can only speak to our experience making the recipe as written below.
You may enjoy these other Canning recipes:
Print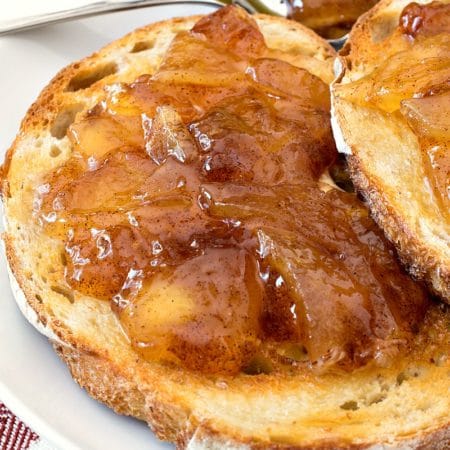 Apple Pie Jam
Author:

Prep Time:

30 minutes

Cook Time:

10 minutes

Total Time:

40 minutes

Yield:

6+ half pint jars

Category:

jams & jellies

Method:

canning

Cuisine:

American
---
2½ to 3 pounds Golden Delicious apples (4–5 large apples)
1 cup water
5 cups granulated sugar
½ teaspoon butter
1 3-ounce pouch Sure-Jell Liquid Pectin
2 ½ teaspoons apple pie spice
---
Instructions
Core, peel and slice your apples.  You should have 2 pounds of sliced apples to begin cooking.
Place the apples and water in a large, heavy bottomed pot or Dutch oven. Cover the pot and bring the apple and water mixture to a boil. Cook for 8 to 10 minutes until apples are tender, stirring frequently.
At this point you should have about 4½ cups of cooked apples. Drain any excess water if necessary. Most of the water in our pot was cooked away.
Add sugar and butter to the pot with the cooked apples. Stirring constantly, bring to a full boil over high heat. Stir in liquid pectin and continue to boil for another minute, again stirring constantly.
Remove the pot from the heat, then skim off any foam that may have formed with a spoon. Add apple pie spice and stir gently to combine, being careful to avoid breaking the cooked apple slices.
Ladle hot apple mixture into 6 or 7 sterilized half-pint canning jars, leaving a ¼-inch headspace. Remove air bubbles, adding more of the jam mixture if necessary. Wipe rims of the jar with a clean paper towel. Center canning lids on each jar and screw on band until fingertip tight.
Can using the waterbath method for 10 minutes.  Turn the heat off under your canner and allow jars to sit in the hot water for another 5 minutes. Remove jars from the canner and cool completely.
The jam will firm up as it completely cools. Serve slathered on buttered toast, or warm the jam a bit and spoon over vanilla ice cream.
---