This easy, delicious Strawberry Honey Butter combines fresh strawberries and sweet honey to create a luscious, fruity spread that's perfect for biscuits and bread.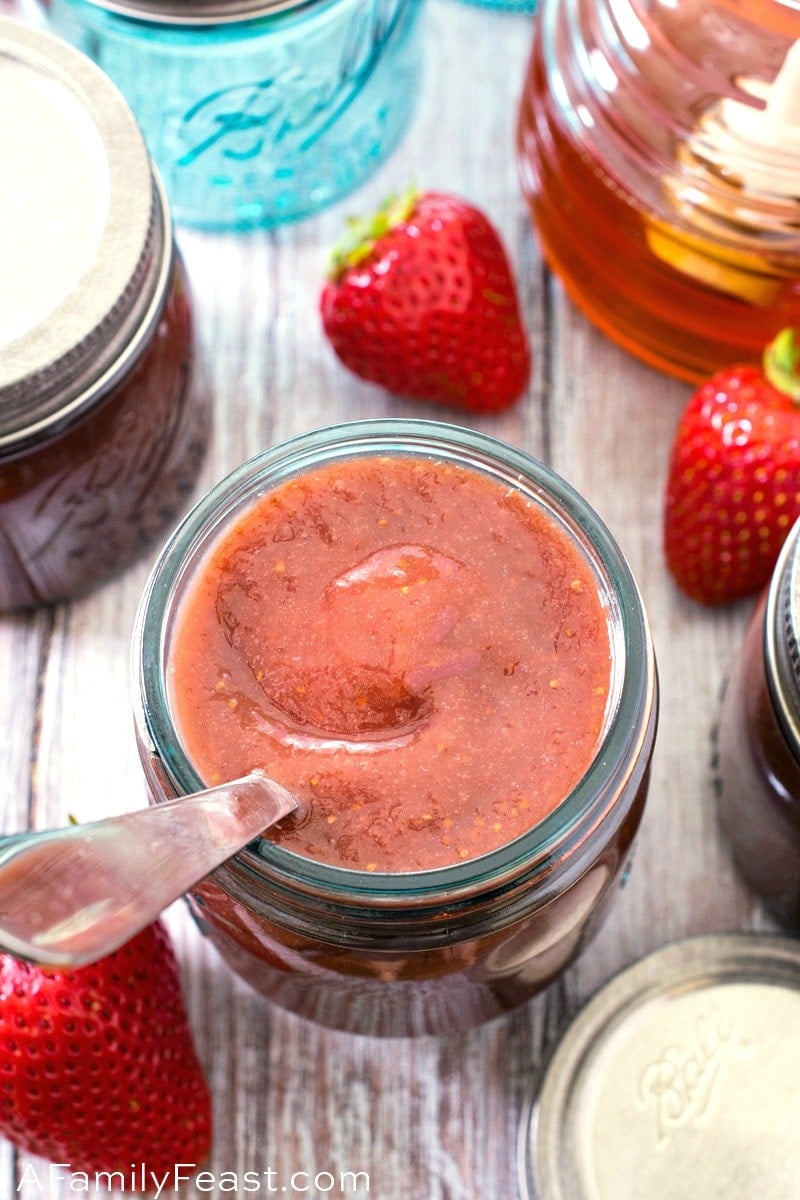 This post is sponsored by Ball® Fresh Preserving. All opinions are 100% mine.
See details below for your chance to win a 4-pack of new Ball® Aqua Vintage Jars.
If you've been a regular reader here at A Family Feast, then you know we are ALL about home cooking.
For us, homemade is best – not only because it tastes better, and you know exactly what ingredients are in your food, but we also feel that cooking (and serving) home-cooked foods to our family and friends is one of the best ways to show care and love to our family and friends.
I have to say, I also find it so incredibly rewarding to open up our pantry, take a peek inside, and see colorful jars of foods that we've prepared and canned ourselves from fresh seasonal ingredients and garden-grown vegetables and fruits. (Our family and friends always love to receive a jar or two as well!)
This summer, we're thrilled to be partnering with Ball® Fresh Preserving to share some wonderful and creative, kitchen-tested recipes that you can make and can at home yourself.
Ball® Fresh Preserving is a trusted brand in canning as well as a great resource for new and experienced home canners. Their website, BallHomeCanning.com, has a fantastic variety of recipes with flavor pairings and ingredient combinations, that I think you'll really enjoy making (and tasting) at home. You can also find promotional offers throughout the summer (all of June thru July 8th you can get a free Ball® Real Fruit Classic Pectin when you buy a 4 pack of Ball® Aqua Vintage Jars and upload your receipt)!
Today's recipe – this luscious, creamy Strawberry Honey Butter – combines fresh strawberries with sweet local honey, plus a splash of vanilla and lemon, to create a really wonderful spread for freshly baked biscuits and bread.
It's a super easy recipe – just puree the washed and hulled strawberries in a food processor, then cook it down with honey, sugar, vanilla and lemon juice until it creates a rich, thick, spreadable fruit butter.
This Strawberry Honey Butter is absolutely delicious, and the sweet strawberries are wonderfully complemented by the deep, rich honey flavor undertones. (You won't find this delicious spread at a store!)
We used Ball® Aqua Vintage Jars to can our Strawberry Honey Butter. Aren't they beautiful?
This year marks 135 years of the Ball® Jar with the release of their NEW Aqua Vintage Jars. These Collector's Edition mason jars feature a vintage design, color and logo originally produced between 1910 and 1935. Safe for canning, the Ball® Aqua Vintage Jars are available in Quart, Pint and Half-Pint Sizes. (See below for information about how you can win some of these Aqua Vintage Jars!)
Click here to purchase Ball® Aqua Vintage Jars.
For additional recipes and promotional offers, visit www.BallHomeCanning.com. #BallProudlyHomemade
For your chance to win a 4-pack of Ball® Aqua Vintage Canning Jars (pint-size), leave a comment below and tell me, "What food would you like to try canning first?"
*Giveaway Terms & Conditions:  Open to anyone 18 years of age or older with a valid US shipping address in the 50 United States or District of Columbia (No P.O. Boxes please!) Winner will be randomly selected via random.org on July 9, 2019. Winner will be contacted via email so please be sure to enter using a valid email address where we can reach you. Winner will have 48 hours to respond and confirm their shipping address, otherwise a new winner will be selected and so on.
Please note that comments are moderated so if you don't see your comment immediately published, don't worry – we have received it!  Duplicate entries will be deleted.
Print
Strawberry Honey Butter
Author:

Prep Time:

2 hours 25 minutes

Cook Time:

90 minutes

Total Time:

3 hours 55 minutes

Yield:

4 half-pint jars

Category:

Jams, Jellies & Spreads

Method:

Canning

Cuisine:

American
---
---
3 lbs. washed and hulled ripe strawberries
3/4 cup honey
3/4 cup granulated sugar
1 tsp. bottled lemon juice
2 tsp. vanilla
¼ tsp. salt
---
Instructions
Prepare boiling water canner. Heat jars in simmering water until ready to use, do not boil. Wash lids in warm soapy water and set aside with bands.
Puree strawberries in the bowl of food processor until smooth.
Combine strawberry puree with remaining ingredients in a deep pot set over medium heat. Bring mixture to a boil stirring frequently to prevent scorching, lower heat and simmer until mixture is very thick, about 60-90 minutes, stirring frequently. Any foam produced by strawberries will disappear with the cooking process. Strawberry butter is finished cooking when it holds shape on a spoon.
Using a jar lifter, grab one canning jar, place on a towel or wooden cutting board, then ladle hot butter into a hot jar leaving a ¼ inch headspace. Remove air bubbles  (this headspace tool is perfect for this). Wipe jar rim. Center lid on jar and apply band, adjust to fingertip tight. Place jar in boiling water canner. Repeat until all jars are filled.
Once water is boiling, process jars 10 minutes, adjusting for altitude. Turn off heat, remove lid, let jars stand 5 minutes. Remove jars and cool 12-24 hours. Check lids for seal, they should not flex when center is pressed.
---
Notes
Pairs well with: Biscuits or Scones
Keywords: Strawberry Honey Butter