Angel Food Cake is a light and tender white sponge cake made with egg whites, flour and sugar. It bakes up light and fluffy with a golden top.
Anytime we bake an Angel Food Cake, it brings back childhood memories – but this timeless dessert will never go out of style! In fact, once you realize how easy it is to bake this cake at home, you'll never buy the store-bought version ever again!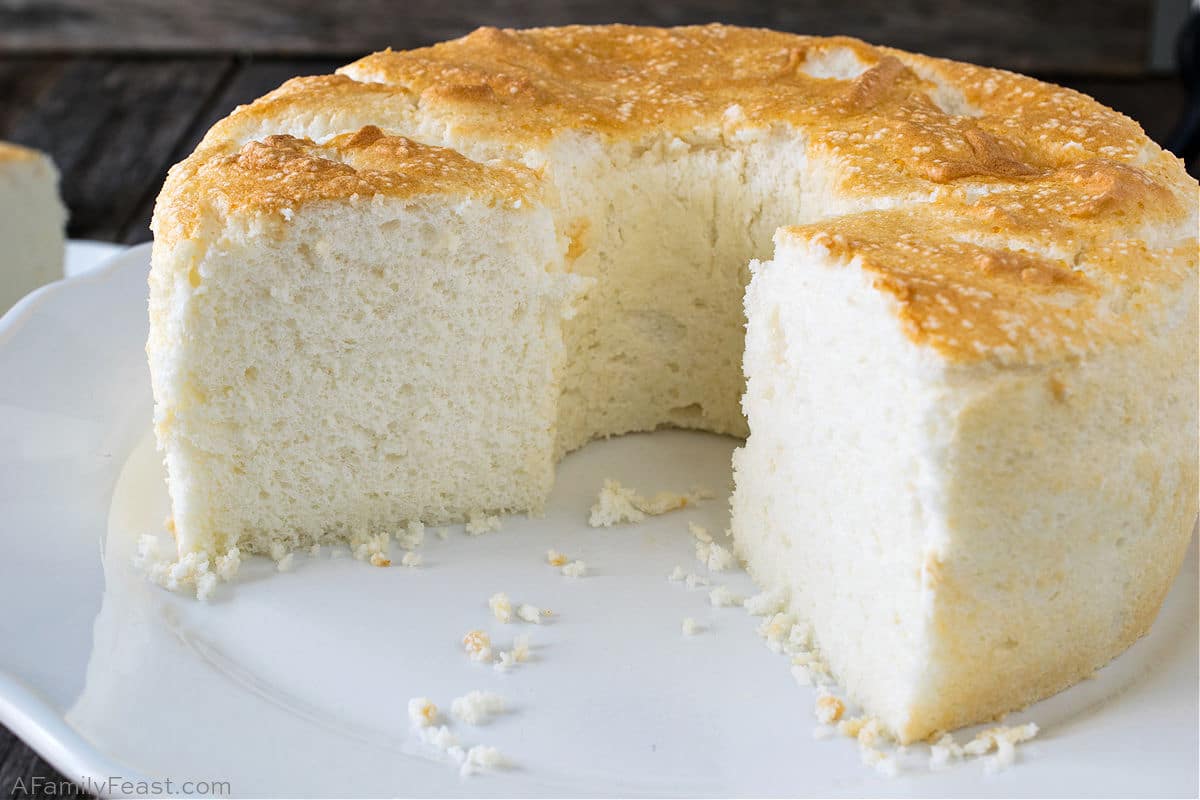 Tips and Tricks to make perfect Angel Food Cake
Carefully separate the eggs – Angel Food Cake gets its fluffy texture from whipped egg whites. As you separate the egg whites from the yolks, make sure you don't accidentally get any of the yolks in the whites. Starting with chilled eggs can make it easier to separate the egg whites from the yolks.
Allow the egg whites to come to room temperature – The egg whites will get extra fluffy if they are at room temperature before you begin to whip them.
Use a large mixing bowl – The egg whites will increase in volume as you whip them, so be sure to use a large mixing bowl.
Use cake flour – Cake flour has a lower percentage of protein (which develops into gluten) than an all-purpose flour, so it gives baked goods a more tender texture – which is exactly what you want to for this cake recipe. As you measure your cake flour, spoon it from the box into the measuring cup and don't pack it down.
Bake your Angel Food Cake in the proper pan – I was lucky enough to inherit my mom's Angel Food Cake pan, and I'm so glad we have it – it really is the perfect pan for this cake.
You'll want to get a pan like this (affiliate link) for several reasons:
First, as the cake bakes, the batter needs to climb up the sides and center tube of the pan so a smooth texture is the best. Don't grease your cake pan either – that will prevent the cake from rising as it bakes.
Second, the Angel Food Cake needs to be cooled upside down to prevent the sponge-like texture from flattening after it comes out of the oven – and an Angel Food Cake pan has feet on the edges that allow you to prop it upside down.
Finally, the smooth sides and center tube will allow you to easily loosen the sides and center of the cake after it has cooled. Don't try to use a bundt pan – the shapes and textures will make it difficult to remove the cake from the pan.
Use a fine granulated sugar in the batter – Domino is the brand of granulated sugar we use, and it's perfect for Angel Food Cake because of its finer texture. If you have sugar on hand (such as a store-brand) that is a coarser texture, use a food processor to grind the granules into a finer texture.
Bake at 360 degrees F. – Not 350, not 375 – but exactly 360 degrees! I can't think of any other recipe that specifically calls for an oven temp of 360 degrees – but it works perfectly for this cake. Be careful not to over-bake your cake – you want a light golden brown top.
Flavorings – Our Angel Food Cake has been flavored with a combination of vanilla, lemon and orange extracts for a hint of citrusy flavor that is delicious on its own, and goes wonderfully with a topping of sliced strawberries and whipped cream.  If you prefer, you can use all vanilla, a mix of vanilla and almond extract, or other favorite extract flavors based on the toppings you plan to serve with the cake.
Follow these tips and tricks, and you'll bake up the perfect Angel Food Cake!
You may enjoy these other cake recipes:
Print
Angel Food Cake
Author:

Prep Time:

20 minutes

Cook Time:

40 minutes

Total Time:

1 hour

Yield:

8 slices

Category:

dessert

Method:

baking

Cuisine:

American
---
12 large eggs
1 ¼ cups Domino granulated sugar* (we recommend Domino because it is a finer granulated sugar. If you have another brand on hand with coarser granules, pulse the sugar in a food processor until it is a finer texture.)
¼ teaspoon salt
1 cup cake flour
¼ cup warm water
½ teaspoon vanilla extract
½ teaspoon orange extract
½ teaspoon lemon extract
1 ½ teaspoons cream of tarter
For serving (optional)
2 pounds fresh strawberries
½ cup powdered sugar
1 pint heavy whipping cream
---
Instructions
Preheat oven to 360 degrees F. The odd oven temperature is necessary for this cake.
Before beginning, place oven rack in bottom third of oven. Also make sure you are using a clean angel food cake pan like this one. Lastly make sure all of your bowls, whisks, etc., are clean and dry.
Separate egg yolks from whites making sure that the whites do not have any yolk in them at all. Save the yolks for some other recipe, such as our homemade vanilla ice cream or crème brulee.
If the sugar is not already super fine, place in a food processor and run the motor until the sugar is fine.
Measure out the sugar and place half of it in a medium bowl. Whisk in the salt and cake flour and set aside.
In the bowl of a stand mixer with the whisk attachment, or in a large bowl with a portable beater, whisk the egg whites, water, three extracts and the cream of tartar for two minutes on medium speed.
Add the remaining super fine sugar and whisk on a high speed until stiff peaks form. (The volume will bring the mixture to the very top of the bowl if using a standard sized stand mixer. You may need to lift the whisk out and move the batter edges in once or twice so the mixtures gets whisked evenly.)
Once you have stiff peaks, remove from the stand mixer and sift the flour mixture in a little at a time, folding it in as you go with a rubber spatula, and being careful not to deflate the batter.
Spoon the batter into the un-greased clean angel food cake pan then gently swirl the pan around back and forth on your counter so the batter smooths out on the top but not so hard that you deflate it.
Bake for 35-40 minutes or until a toothpick inserted comes out clean and dry. Ours took exactly 37 minutes.
As soon as the cake comes out of the oven, place a cooling rack over the top and invert the cake. It will cool in this upside-down position over the rack and will not slide out of the pan. Cool for 2-3 hours in the pan.
Use a long thin bladed knife and run it around the inner edge of the flute and the outer edge of the pan to loosen the cake from the pan and along the bottom where is sits on the pan. Lift the cake out from the sides by pulling up from the flute.
Invert onto a plate covered in wax paper or parchment paper so the top doesn't stick to the plate or your hand, pull off the base and flute then back over again onto your serving dish, top side now facing up. The top is tacky and will peel off if you are not careful.
To prepare strawberries, remove tops and slice strawberries. Place in a bowl with ½ cup of powdered sugar and toss. The strawberries will create their own liquid.
Whip cream to soft peaks.
Cut cake into eight portions with a sharp serrated knife and serve with fresh strawberries and whipped cream.
---
Keywords: Angel Food Cake