Zucchini Alla Scapece has a surprisingly-good combination of sliced zucchini, garlic, mint and vinegar. This simple side dish is fresh and fantastic!
Got zucchini? If you are growing some in your back yard garden this summer – I bet you do!
This time of year, we're always on the lookout for new zucchini recipes to try, and we're loving this simply delicious Zucchini Alla Scapece.
What is Zucchini Alla Scapece?
It is thinly-sliced rounds of zucchini that are pan-fried, then tossed in a light dressing made with garlic-infused olive oil, vinegar, Dijon mustard, and topped with chopped fresh mint.
This dish originated in Naples, but it's a popular dish throughout all of Italy in the summer. The term scapece (pronounced skah-pech-ay) is believed to be related to the Spanish word escabeche – which means pickled or marinated. In a sense, the zucchini in this dish is marinated in a vinegar sauce.
Chef's Tip –

Make a big batch of this zucchini recipe. It's the kind of dish that tastes better as it sits and the flavors meld together. Serve as a side dish, add it to salads, or you can even use it as a topping on pizza!
Key ingredients and Substitutions
Zucchini – Fresh zucchini, right from the garden or market is a must for this recipe. Choose small to medium-sized squash, which are more tender than the larger ones. Summer squash could also be substituted if you'd like.
Extra virgin olive oil – Use the best quality extra virgin olive oil you can.
Fresh garlic – The garlic has to be fresh as it will be used to infuse the olive oil with flavor. Avoid the jarred garlic for this recipe.
White wine vinegar – Known for its mild, fruity flavor, white wine vinegar is the best option for this recipe. Red wine vinegar can be swapped in if necessary, but don't use regular white vinegar as it has too harsh of a flavor.
Fresh mint leaves – Don't be afraid to use mint in a savory dish like this Zucchini Alla Scapece. It adds a bright and distinctively-fresh flavor to this dish and goes so nicely with the zucchini. Italian flat-leaf parsley can be swapped in if you prefer.
Chef's Tip –

Lay the zucchini out flat on a cooling rack and place it in a low oven to dry for about an hour. This will help the slices get golden and slightly crisp as they fry. In Italy, they dry the squash in the sun.
How do I make Zucchini Alla Scapece?
Slice the zucchini into quarter-inch slices (a mandolin like this makes slicing very easy) and lay out in a single layer on a cooling rack. Bake in a low oven for an hour to dry.
Make dressing by frying fresh garlic in olive oil. Remove from the heat and mix in vinegar, sugar and mustard. Strain and cool for later.
Fry the zucchini slices in grapeseed oil until golden, then strain on paper towels to remove any excess oil.
Place fried zucchini into a serving bowl and pour on the dressing. Garnish with fresh mint leaves and serve.
Chef's Tip –

If you prefer, you could bake or grill the zucchini slices.
 Frequently asked Questions
Can I make Zucchini Alla Scapece ahead of time? Yes – you can make the entire recipe ahead of time. Just note that the zucchini will soften a bit in the dressing. Or, if you prefer freshly-made, dry the zucchini in the oven and mix the dressing ahead of time – then fry the zucchini just before serving.
How do I store leftovers? Store leftovers in the refrigerator for up to several days.
Can I add other vegetables? In Italy, sometimes this recipe is made with eggplant and zucchini together, or just with eggplant.
You might like these other Zucchini recipes:
Print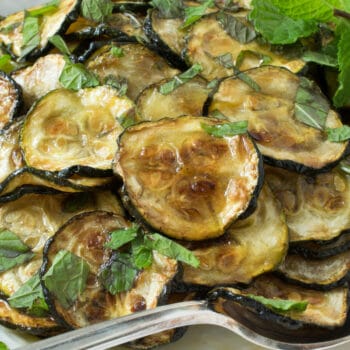 Zucchini Alla Scapece
Author:

Prep Time:

15 minutes

Cook Time:

1 hour 15 minutes

Total Time:

1 hour 30 minutes

Yield:

4 servings

Category:

side dish

Method:

bake, fry

Cuisine:

Italian

Diet:

Vegetarian
---
1 ½ pounds zucchini (3 medium), sliced ¼-inch thick
2 tablespoons extra virgin olive oil
2 large garlic cloves, coarsely chopped
1 teaspoon kosher salt
2 tablespoons white wine vinegar
½ teaspoon granulated sugar
½ teaspoon Dijon mustard
1-inch light seed oil such as grapeseed or safflower seed oil, for frying
20 fresh mint leaves, coarsely chopped
Salt and pepper, to taste
---
Instructions
Preheat oven to 200 degrees F and line two sheet trays with racks.
Use a mandolin and slice the three zucchinis into quarter-inch slices and lay out flat on the sheet trays.
Bake for one hour, then remove from oven.
While zucchini is in the oven drying, in a small saute pan, heat olive oil over medium heat and once hot, add the garlic and salt and cook until lightly golden.
Add vinegar, stir then remove from heat and whisk in the sugar and mustard.
Pour this through a fine sieve over a cup or bowl and discard the solids. Set aside for later.
In a large skillet or saute pan, add one inch of the seed oil and over medium high heat, bring up to 325 degrees F.
Add half of the zucchini slices and with tongs and a strainer or spider move them around and fry for 4-5 minutes, turning as you fry to get both sides golden. Remove to paper towels to drain.
Repeat for rest of zucchini.
Place fried zucchini in a serving bowl, drizzle on the dressing and top with the mint leaves and serve.
Salt and pepper if needed.
---
Notes
Serve at room temperature.
Keywords: Zucchini Alla Scapece, zucchini with garlic and mint