My husband Jack recently returned from a trip, claiming to have the recipe for THE BEST mushroom soup he's ever had! Here is Jack in his own words, sharing the story behind today's fantastic Wild Mushroom and Black Garlic Soup:
A few weekends ago, I attended a food video workshop in Madison, Wisconsin with some fellow food bloggers. (In case you are wondering, yes – that means more videos of our recipes will be coming!)
After the first day of class, we all met up for dinner at a local restaurant called Merchant. All of their food was excellent, but the shining star of the meal for me was the Wild Mushroom and Black Garlic Soup that was served alongside my entrée.  Hands down – this soup ranked as one of the top five best soups I have ever had – and definitely the number one best mushroom soup ever. Others at the table agreed.
This soup was so good – I asked our waitress if it would be possible to get the recipe. Surprisingly, the chef obliged, and our waitress came back with a hand-written recipe from the kitchen.  (It was written for a four-gallon batch of Wild Mushroom and Black Garlic Soup – but the recipe we share below yields about one gallon or 8 to 10 servings.) 
To make this Wild Mushroom and Black Garlic Soup – the ingredients are surprisingly simple and the method is quick and easy to prepare. This soup has such a wonderful depth of flavor, I expected to see that the mushrooms would be roasted or sautéed first, but a variety of uncooked, wild mushrooms were simply added toward the end of the recipe and simmered for about fifteen minutes before the soup was puréed.  (This approach gives this soup an earthy flavor that I think would have been lost if the mushrooms were sautéed ahead of time.)
Black garlic – which is garlic that has been fermented – also gives this soup a very unique flavor.  (You can find it online, at Asian specialty markets, and at some Trader Joe's supermarkets.)
The other surprise in this Wild Mushroom and Black Garlic Soup recipe was the addition of fresh basil – which was also puréed in at the end of the recipe. I have to say, I never would have thought to add basil to a mushroom soup recipe. It was a fantastic complement to the flavors of mushrooms, garlic, and the other herbs and seasonings in this wonderful soup.
P.S. Thank you again to Merchant Madison for sharing your awesome soup recipe with us.
Print
Wild Mushroom and Black Garlic Soup
A delicious mushroom soup recipe from Merchant restaurant in Madison, Wisconsin.
Prep Time:

10 minutes

Cook Time:

25 minutes

Total Time:

35 minutes

Yield:

1 gallon (8-10 servings)
Ingredients
6 tablespoons butter

1 cup onion, diced

2 teaspoons kosher salt

1 teaspoon freshly ground black pepper

½ cup all-purpose flour

1 tablespoon fresh thyme leaves removed from stems

1 large bay leaf

2 quarts vegetable broth (homemade or store bought)

2 pounds mushrooms coarsely chopped or sliced, see note below*

2 tablespoons black garlic sliced, see note below**

1 cup heavy cream

¼ cup loosely packed fresh basil

¼ cup loosely packed fresh flat-leaf parsley
Instructions
In a large Dutch oven or heavy bottomed pot, melt butter over medium heat and add onions.

Sauté onions for a full ten minutes, stirring often. They will begin to brown.

Keep heat at medium and add salt, pepper, flour, thyme and bay leaf and stir to create a roux.

Cook the roux for four minutes, stirring often.

Add the vegetable broth one third at a time, whisking as you add.

Once the mixture is creamy and all of the roux mixed into the broth, add the mushrooms and garlic.

Bring to a slight boil, reduce to a medium simmer and cook for 15 minutes, stirring often so it does not stick to the bottom.

Remove and discard the bay leaf.

Add cream and heat just to get the soup back to temperature and then add the fresh basil and parsley.

Using an immersion blender or a regular blender, purée completely until creamy.

Adjust salt and pepper to taste as needed and serve.
Notes
*Note: Mushrooms should be half Cremini (baby Bella) and half other edible mushrooms. I used a combination of Oyster, King Oyster, Shiitake and Hen of the Woods. Each should be cleaned as appropriate. For Shiitake, remove and discard stems. If the Oyster and Hen of the Woods have dirty root ends, cut off and discard. Once cleaned, you should have two pounds total. If you only have the Cremini available, then use all Cremini. I would not recommend regular white button mushrooms as they do not have a strong enough flavor for this soup.
If you only have dried mushrooms available to you, reconstitute and drain out any water.
**Note: Black garlic can be found online, at Asian specialty markets (in prepackaged bags), and at some Trader Joe's supermarkets. Black garlic is strong and concentrated and is actually just regular garlic that has been put through an fermentation process. If you cannot find black garlic, feel free to roast your own. Then just squeeze the cloves to extract the now-soft garlic.
Disclosure: This post contains affiliate links.
You may also like: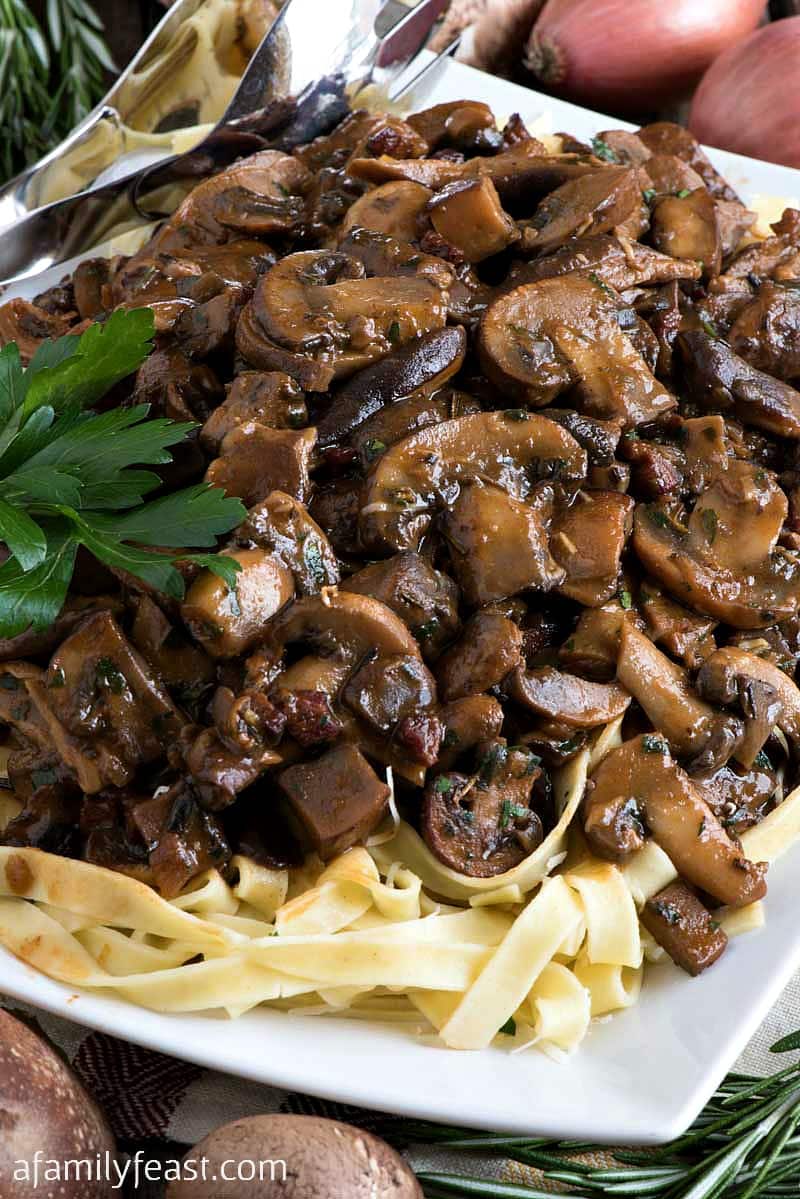 Black Garlic Bulgogi Beef Crostini