Wild Mushroom and Black Garlic Soup – Seriously…this the best mushroom soup you'll ever have. Even better – it's simple to make!
This is Jack. I recently returned from a trip where I was given a recipe for THE BEST mushroom soup I have ever had! And today, I'm sharing it with all of you.
A few weekends ago, I attended a food video workshop in Madison, Wisconsin with some fellow food bloggers. (In case you are wondering, yes – that means more videos of our recipes will be coming!)
After the first day of class, we all met up for dinner at a local restaurant called Merchant. All of their food was excellent, but the shining star of the meal for me was the Wild Mushroom and Black Garlic Soup that was served alongside my entrée.  Hands down – this soup ranked as one of the top five best soups I have ever had – and definitely the number one best mushroom soup ever. Others at the table agreed.
This soup was so good – I asked our waitress if it would be possible to get the recipe. Surprisingly, the chef obliged, and our waitress came back with a hand-written recipe from the kitchen.  (It was written for a four-gallon batch of Wild Mushroom and Black Garlic Soup – but the recipe we share below yields about one gallon or 8 to 10 servings.)
To make this Wild Mushroom and Black Garlic Soup – the ingredients are surprisingly simple and the method is quick and easy to prepare. This soup has such a wonderful depth of flavor, I expected to see that the mushrooms would be roasted or sautéed first, but a variety of uncooked, wild mushrooms were simply added toward the end of the recipe and simmered for about fifteen minutes before the soup was puréed.  (This approach gives this soup an earthy flavor that I think would have been lost if the mushrooms were sautéed ahead of time.)
Black garlic – which is garlic that has been fermented – also gives this soup a very unique flavor.  (You can find it online, at Asian specialty markets, and at some Trader Joe's supermarkets.)
The other surprise in this Wild Mushroom and Black Garlic Soup recipe was the addition of fresh basil – which was also puréed in at the end of the recipe. I have to say, I never would have thought to add basil to a mushroom soup recipe. It was a fantastic complement to the flavors of mushrooms, garlic, and the other herbs and seasonings in this wonderful soup.
P.S. Thank you again to Merchant Madison for sharing your awesome soup recipe with us.
Print
Wild Mushroom and Black Garlic Soup
Prep Time:

10 minutes

Cook Time:

25 minutes

Total Time:

35 minutes

Yield:

1 gallon (8-10 servings)
---
---
---
---
Disclosure: This post contains affiliate links.
You may also like: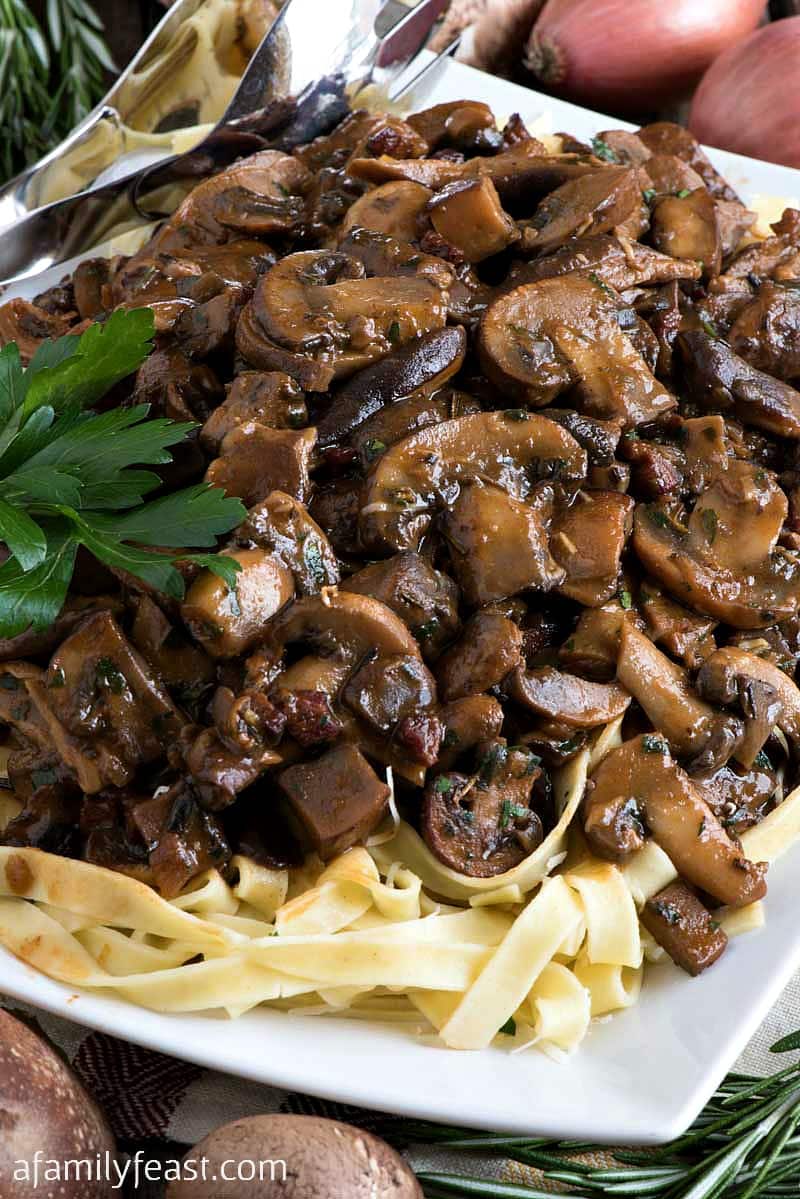 Black Garlic Bulgogi Beef Crostini