This time of year, soups and stews are on the menu at our house almost every week. In addition to being super delicious, I love the convenience of cooking up a big pot of stew – like today's Veal and Portobello Mushroom Stew – then enjoying leftovers for days!
This hearty, fantastic Veal and Portobello Mushroom Stew is adapted from one of our favorite cookbooks – The New England Soup Factory Cookbook. The authors are the owners of a popular Boston-area restaurant known for their amazing soups – sometimes made with eclectic ingredients, but more often made from commonly-found ingredients and combined in a uniquely-delicious way!
This Veal and Portobello Mushroom Stew falls into the latter category, with chunks of veal and Portobello mushrooms combined with fennel and balsamic vinegar.
Don't knock it until you've tried it (so the saying goes) – the fennel and balsamic vinegar totally makes this dish! Those unexpected flavors work very well together and this Veal and Portobello Mushroom Stew is a total winner! Enjoy!
Print
Veal and Portobello Mushroom Stew
Prep Time:

30 mins

Cook Time:

3 hours

Total Time:

3 hours 30 minutes

Yield:

6-8 servings
---
Description
*A note about the cooking time: We had some very nice prime veal in the freezer that we used for this dish – so the cooking time was only two hours. However, if you use a tougher cut of veal stew meat, the time may be closer to three hours.
---
1½

pounds veal stew meat (*See note above)

1 cup

all-purpose flour, divided

1 teaspoon

kosher salt

½ teaspoon

freshly ground black pepper

3 tablespoons

olive oil, plus more if needed

1 cup

diced fennel (white bulb end), about one small head

1 tablespoon

garlic minced

½

pound cipollini onions, or small boiling onions cleaned of stems and skins. (If large cut in half.)

1

pound large Portobello mushroom caps cut into one inch pieces (use the large mushroom caps and not the baby portabella)

1 ½ cups

merlot wine

1 ½ cups

chicken or vegetable stock

½

pound fresh Roma or San Marzano plum tomatoes dice fine

1

14.5-ounce can stewed tomatoes, large pieces cut into bite sized chunks

1

bay leaf

1 teaspoon

dry oregano

1 teaspoon

dry basil

½ teaspoon

fennel seeds
Salt and pepper to taste

1½ teaspoons

balsamic vinegar
---
Instructions
Dredge the veal pieces in a half cup of the flour, salt and pepper.
Heat a large heavy bottomed pot or Dutch oven over medium high and add the three tablespoons of oil. Once smoking hot, add veal and sear in two batches. Remove seared meat to a bowl.
Add more oil if needed and add diced fennel, garlic, cipolinni onions and mushrooms. Saute for five minutes to brown.
Reduce to medium and add remaining half cup of flour and stir with a wooden spoon for about a minute.
Add merlot and stir to combine, scraping pan bottom.
Increase heat to high and add stock, fresh tomatoes, stewed tomatoes, bay leaf, oregano, basil and fennel seeds. Bring to a boil then reduce to low.
The mixture will be thick and may stick unless you use a heat diffuser under the pot. Once the heat diffuser is in place, cover and cook on low for 2-3 hours* (see note above) or until meat is tender. Stir often to make sure it doesn't stick.
Once the meat is tender, taste for salt and pepper and after adjusting seasoning, add balsamic vinegar and stir. Discard bay leaf and serve.
---
(Disclosure: This post contains affiliate links.)
You may also like: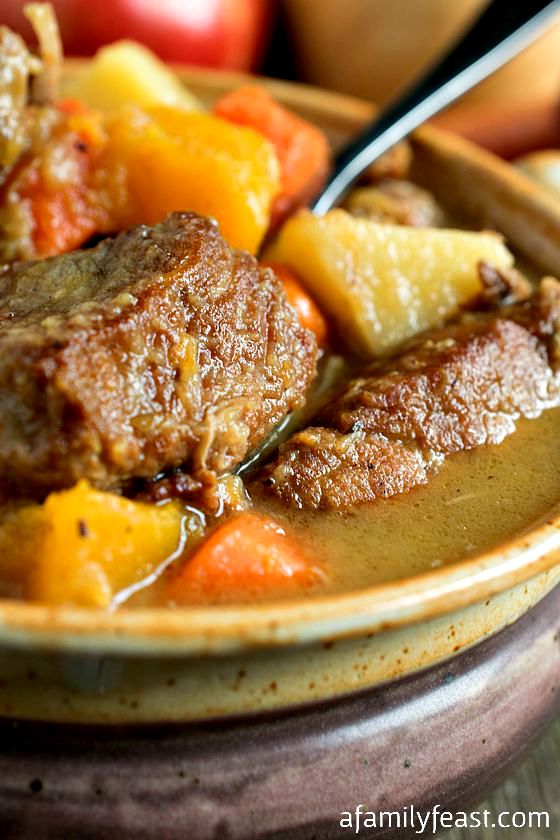 Slow-Cooker Tex-Mex Chicken Stew