I always know that we have a winning recipe on our hands when our friends and family take a bite of a dish that we've cooked and immediately ask, "When will THIS be on your blog?" That question is usually a very good sign that they like the recipe so much – they want to try making it at home themselves!
Such is the case with this Tomato Eggplant Gratin! After taking the photos you see here in today's post, we spent the afternoon and evening at our neighbors' house following their daughter's birthday party. My husband Jack brought over the leftovers of this Tomato Eggplant Gratin to share – and everyone loved this simple summertime dish!
We alternated large, thick slices of ripe Big Beef tomatoes (any large, fresh beefy tomato variety will work) in a casserole dish with some equally thick slices of fresh eggplant that were lightly fried ahead of time. We topped the tomatoes and eggplant with some fresh basil, then repeated with another layer of tomato and eggplant slices and more basil. Then the whole casserole was covered with a generous topping of crispy, light Panko breadcrumbs seasoned with Romano cheese, salt and pepper – and then baked until golden brown on top.
This delicious Tomato Eggplant Gratin is very easy to make and the flavors are pure summer garden magic! Our friends are looking forward to making this dish at home themselves – and I'm sure you'll love it too!
Print
Tomato Eggplant Gratin
Prep Time:

1 hour

Cook Time:

40 mins

Total Time:

1 hour 40 minutes

Yield:

4-6 servings
---
2

pounds large, fresh, meaty ripe tomatoes (if at all possible search farmstands or farmer's markets for fresh vine-ripened plump, juicy Big Beef, Big Boy or Heirloom variety tomatoes)

4 teaspoons

kosher salt, divided

1

pound eggplant

2 tablespoons

all-purpose flour

½ cup

extra virgin olive oil, divided

20

leaves fresh basil torn by hand

1 cup

Panko or regular bread crumbs

1 cup

grated Romano cheese

½ teaspoon

kosher salt

½ teaspoon

freshly ground black pepper
---
Instructions
After coring, slice each tomato into very thick slices, about a half inch or so. Lay each slice on a rack set over a sheet pan. Sprinkle both sides with 2 teaspoons of the kosher salt. After 30 minutes flip each piece and let sit another 30 minutes to drain. You should have about ½ cup of water drained off from the tomatoes when done. Pat dry with paper towels and set aside.
While tomatoes are draining, slice the skin-on eggplant into slices equal in thickness to the tomatoes. Salt both sides of each slice with the 2 teaspoons of the kosher salt and let sit on the cutting board for 30 minutes. Flip and let sit for another 30 minutes. This process will remove some liquid along with any bitterness. After an hour, rinse each piece in cold running water and then drain slightly but keep damp. Then sprinkle and rub in the two tablespoons of flour onto each side. Use more flour if needed to cover both sides. This will help the eggplant fry without absorbing too much oil.
Heat a large sauté pan with ¼ cup of the oil over medium high to high. Once very hot, place half the eggplant slices in and fry about 1 ½ minutes on each side until golden. Remove to a plate and cook the second batch in the remaining oil. At the end, there should be some oil left in the pan, do not discard.
Preheat oven to 350 degrees F.
In a 1 ½ quart casserole dish drizzle a little of the oil from the pan to coat the bottom and begin layering alternate slices of tomato and eggplant around to fill, leaning them on each other like a fanned out deck of cards.
Then place half the basil and repeat with the remaining tomato, eggplant and basil.
In a medium bowl, mix bread crumbs, Romano cheese, salt and pepper and stir to combine.
Pour this mixture over the top of the tomato and eggplant slices. Then take the remaining oil from the pan and drizzle over the top. (If there is not enough oil, use more olive oil to coat the top of the crumb mixture, but don't drench it.)
Bake uncovered for 30 minutes or until golden brown and a probe thermometer inserted into the center reads 140 degrees F.
---
You may also like:
Baked Stuffed Parmesan Tomatoes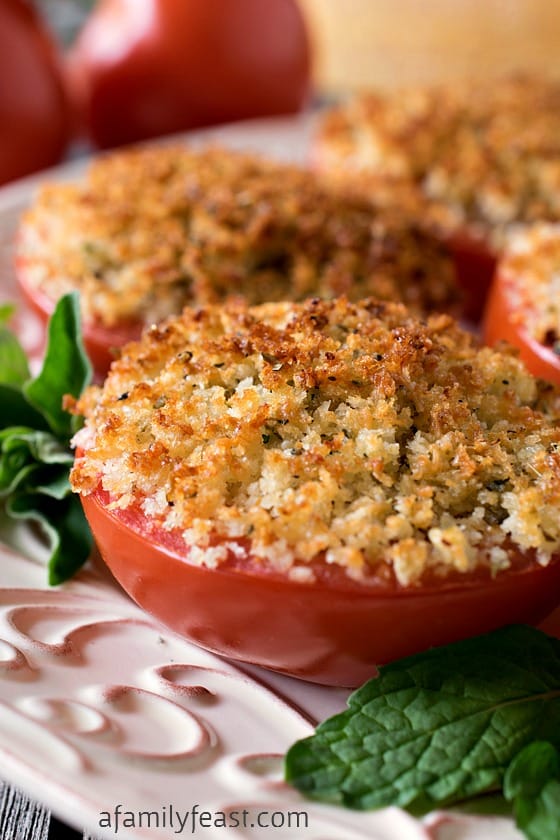 30+ Recipes for your Garden Tomatoes
Grilled Italian Vegetable Napoleons with Basil Oil