Homemade Tapioca Pudding is an easy, creamy, delicious vintage dessert!
I have fond, childhood memories of my mother making homemade Tapioca Pudding for dessert on special occasions.  I loved the creamy, vanilla custard with little tapioca pearls throughout!
These days, Tapioca Pudding has gained new popularity as a gluten-free dessert.  (Just be sure to check those labels!)
While you can buy pre-made tapioca pudding – sold in little cups in the refrigerated section of your supermarket, or even canned – homemade tapioca is so much better!  It's easy to make, as well as creamy and delicious!
How do I make Tapioca Pudding?
We started with small tapioca pearls that require a 30-minute soak in boiling water to soften before you start to cook. (See the Notes in the recipe card below for other options.)
Once the tapioca has softened, add milk and salt to the saucepan and heat until steamy. Then whisk in sugar and vanilla (we provide instructions to use either vanilla extract or a vanilla bean) and heat until thickened to about the same consistency as pancake batter.
Remove the tapioca mixture from the heat.  Add a few spoonfuls of the tapioca liquid to a bowl with beaten eggs – being sure to quickly whisk the eggs as you add each spoonful. (This step is called tempering and it raises the temperature of the eggs so they don't start cooking as you add them to the hot tapioca liquid.)
Then, finishing cooking the tapioca until thickened and the tapioca pearls are soft and gelatinous. Spoon into serving bowls.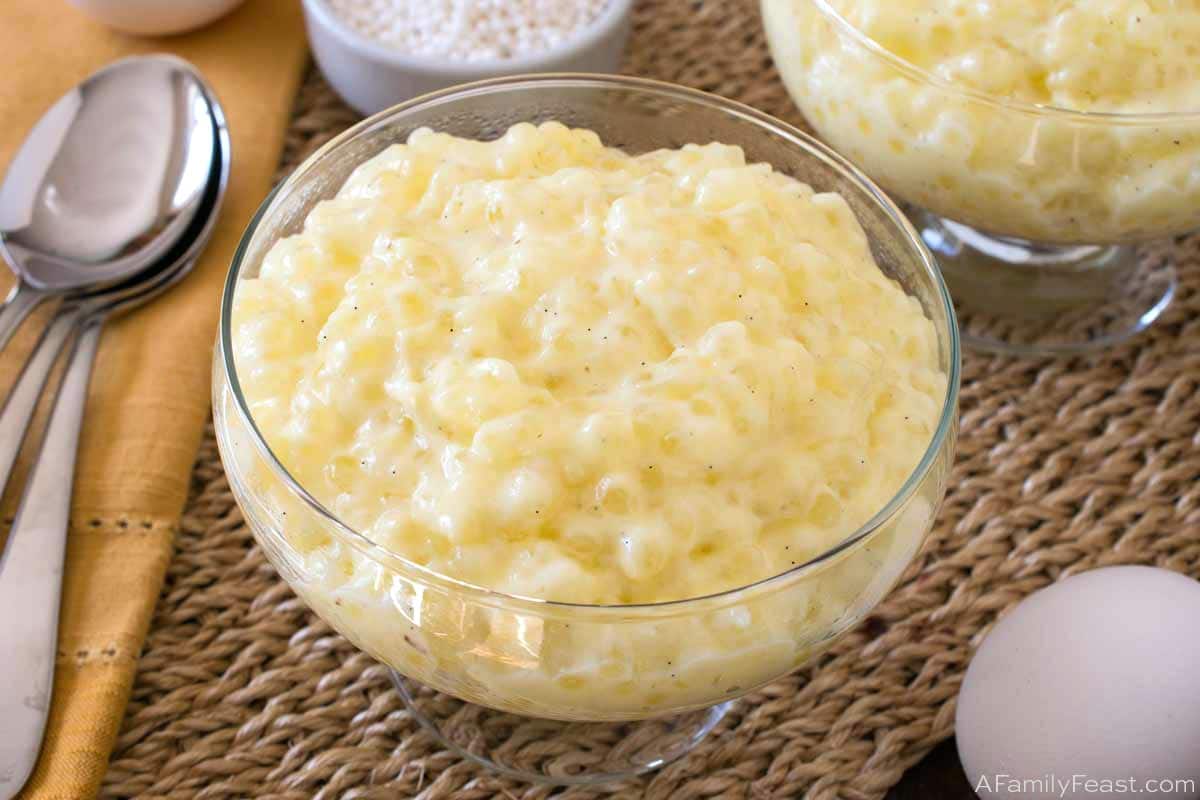 Do I serve Tapioca Pudding warm or cold?
The choice is yours. You can serve tapioca warm right out of the pan, or make it ahead of time and spoon it into individual serving dishes before chilling until ready to serve.
Because I like it best served warm, I will still make my tapioca ahead of time, then reheat slightly before serving. All you need to do is place the cooked tapioca in a saucepan, add a splash of milk, and reheat over low heat.  Gently stir the tapioca as it heats so it evenly warms throughout and the added milk is incorporated.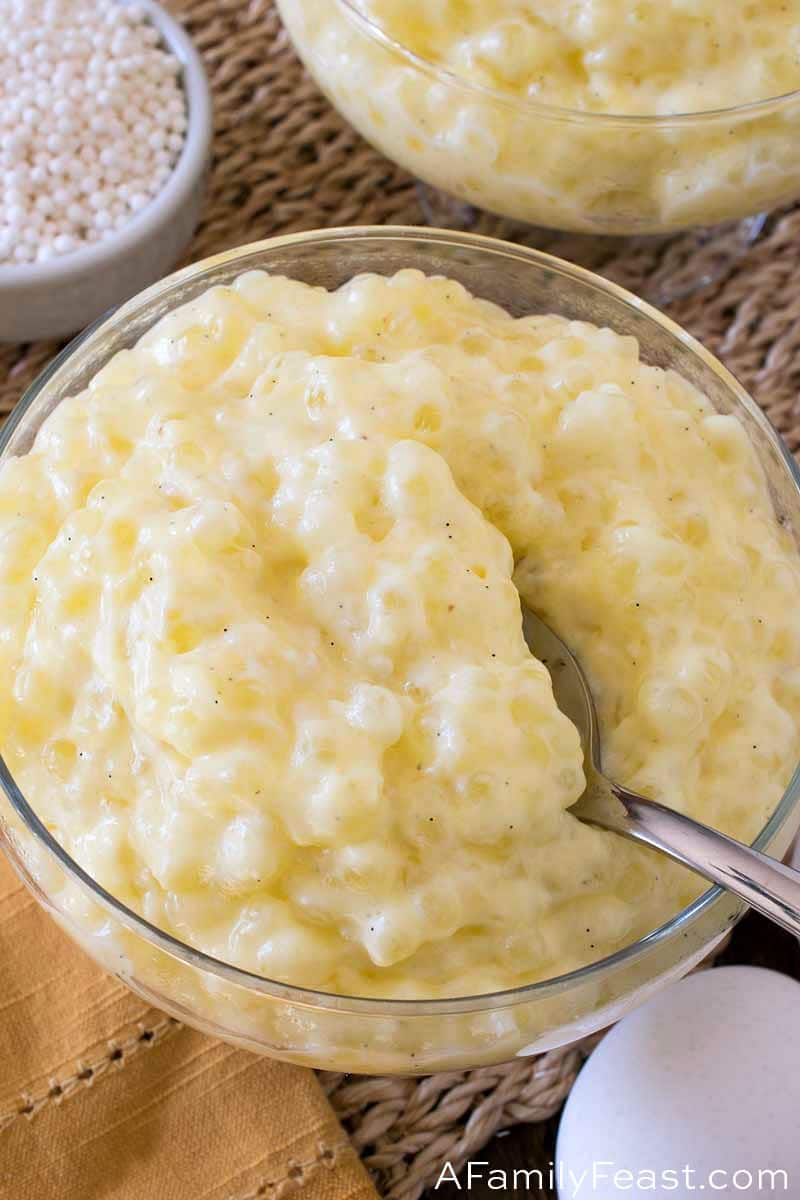 You may like these other custard dessert recipes:
Print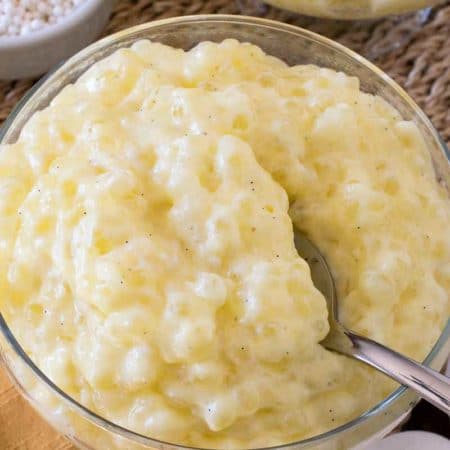 Tapioca Pudding
Author:

Prep Time:

45 minutes

Cook Time:

30 minutes

Total Time:

1 hour 15 minutes

Yield:

6 servings

Category:

dessert

Method:

stovetop

Cuisine:

American
---
¾ cup small tapioca pearls, not instant or minute tapioca. *see Notes below
1 cup water
4 ½ cups whole milk
½ teaspoon salt
¾ cup granulated sugar
1 vanilla bean, split down center and seeds removed and set aside with pod, **see Notes below
3 whole eggs, beaten in a medium bowl
---
Instructions
In a medium non-stick sauce pan, bring water to a boil, remove from heat and stir in tapioca granules. Let sit untouched and uncovered for 30 minutes while you measure out your remaining ingredients.
After 30 minutes, stir the granules with a wooden spoon or heat proof spatula to break up any that stick together. Do not drain any residual water.
Add milk and salt over medium heat and bring to a point where it starts to steam and bubble but do not boil.
Whisk in sugar, vanilla bean seeds and vanilla bean pod and cook over medium heat for 15 minutes, stirring frequently. The mixture will thicken as it cooks and be thick similar to pancake batter but not quite at its finished thickness yet.
For now, turn off burner.
Slowly add spoonfuls of the hot tapioca to the beaten eggs whisking vigorously as you add. This is to temper the eggs so they do not scramble when added to the pudding.
After adding about two cups of the hot pudding to the eggs, whisk the now tempered eggs back into the pudding and return to medium heat.
Cook for five more minutes stirring continually then remove from heat and discard the vanilla pod.
If you are using vanilla extract instead of a vanilla bean, add that in at this time.
Serve warm or cooled.
To store, place plastic wrap tightly over surface of pudding so that a skin does not form over the top.
---
Notes
*There are several brands of small pearl tapioca some suggesting soaking for 30 minutes with others suggesting soaking overnight. I found that soaking in hot water for 30 minutes worked for all brands. (Instant or 'minute' tapioca doesn't require any pre-softening.)
**I use a vanilla bean in this recipe but a good quality vanilla extract can be used instead. If you use extract, stir in 1 ½ teaspoons at the end after the finished tapioca comes off the heat.
Keywords: homemade tapioca pudding