Sweet and Tangy Cocktail Meatballs are tender turkey meatballs in a fantastic sweet and tangy sauce! Perfect for game day parties!
This recipe for Sweet and Tangy Cocktail Meatballs is sponsored by Peapod.  All opinions are 100% mine.
Hosting a Super Bowl party this weekend? If so – you really must add these Sweet and Tangy Cocktail Meatballs to the menu!
These easy turkey meatballs are packed with flavor, and that sauce?!? It's so good, you'll want to eat it with a spoon.
You can prepare these Sweet and Tangy Cocktail Meatballs ahead of time. Then, about an hour or so before your guests arrive, just place them in a slow cooker to heat through and keep warm through the entire game. (How easy is that?)
I think the best game day party menu should be filled with lots easy and delicious foods. After all, I want to watch the game – not slave over a stove!
And to make our party prep even easier, we order all of our groceries, snacks and beverages from Peapod grocery delivery.
Peapod carries thousands of items – including all of your game favorites. You can order the ingredients for today's Sweet and Tangy Cocktail Meatballs recipe, a deli platter of cold cuts and cheeses, party supplies and more!
Enjoy the game!
Print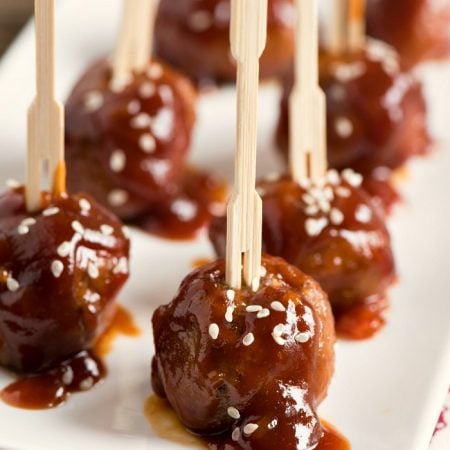 Sweet and Tangy Cocktail Meatballs
Author:

Prep Time:

15 minutes

Cook Time:

28 minutes

Total Time:

43 minutes

Yield:

28 meatballs

Category:

appetizer
---
Meatballs
½ cup seasoned bread crumbs
1 whole egg
¼ cup red onion, grated (use large holes of a box grater and grate against the grain of the onion)
1 tablespoon jarred Hoisin sauce
1 teaspoon jarred chili paste (we used Sambal Oelek brand)
½ teaspoon kosher salt
¼ teaspoon freshly ground black pepper
1 pound ground turkey (white and dark meats)
Sauce
1 tablespoon butter
1/3 cup finely minced shallots
1 teaspoon fresh ginger, grated
1 teaspoon jarred chili paste
2 tablespoons tomato paste
2 6-ounce cans pineapple juice
½ cup brown sugar
½ cup jarred Hoisin sauce
2 tablespoons rice vinegar
1 tablespoon corn starch
1 teaspoon water to make a corn starch slurry
Optional – Sesame Seeds to garnish each meatball
---
Instructions
Preheat oven to 425 degrees F.
Line a sheet tray with parchment paper and spray the paper with non-stick cooking spray.
Mix all meatball ingredients except the turkey in a medium bowl then gently mix in the ground turkey to combine. Try not to over work the mixture.
Using a small scoop that you dip in water between each meatball, scoop out 28 meat balls onto your cutting board.
Wet your hands between rolling each meatball and roll each one into a ball, placing them onto the prepared sheet pan.
Bake for 12 minutes and remove from the oven.
While meatballs are cooking, melt butter in a medium sauce pan and add shallots and ginger. Sauté this for two minutes over medium to medium high heat.
Add garlic chili paste and tomato paste and sauté over medium for two more minutes.
Add pineapple juice, brown sugar, Hoisin sauce and rice vinegar and bring to a boil. Lower to a fast simmer and simmer for ten minutes.
Mix the corn starch with the water and make a thick slurry.
Add this to the sauce and stir.
Add the meatballs and simmer for ten more minutes.
At this point, they can be served immediately, however placing them in a slow cooker for a few hours on low will soften the meatballs a bit and infuse the flavors better.
Sprinkle optional sesame seeds over served meatballs if serving on a platter.
---
Keywords: meatballs. ground turkey
You may also like these game day recipes made with groceries from Peapod:
Slow Cooker Tex-Mex Chicken Stew