Our bumper crop of garden tomatoes is finally (and sadly!) starting to wind down with the cooler weather. So we've been canning some of our favorite tomato recipes that we make every summer – including our popular tomato jam.  After passing out a few jars to our neighbors and friends, I suggested to my husband Jack that we try making a spicier version – just to change things up a bit! And so – Jack set out to create this Spicy Thai Ketchup!
Interestingly – we originally started out using our tomato jam recipe as the base for today's recipe – but after adding in some Thai red curry paste, chili garlic sauce, red bell and Thai bird chili peppers, fresh ginger, lime juice, and seasonings – the consistency of this fantastic sauce was really more like that of a home ketchup than our original jam.
Even if you're not a fan of spicy foods – don't be put off thinking that this Spicy Thai Ketchup is super spicy – because it's not! It has some gentle heat from the curry paste and a bit of a kick from the Thai bird chili peppers – but this ketchup still has some sweetness from the sugar we added, plus the natural sweetness of the fresh tomatoes helps mellow out the spicy flavors.
This Spicy Thai Ketchup is great on burgers or hot dogs or any other foods you'd serve with plain ketchup. Or – mix this sauce with some mayonnaise and use it as a zesty dipping sauce for vegetables or French fries!
Print
Spicy Thai Ketchup
Prep Time:

15 mins

Cook Time:

3 hours

Total Time:

3 hours 15 minutes

Yield:

4-5 cups
---
5

pounds tomatoes, any variety

1

4-ounce jar Thai Red Curry Paste (available in most supermarkets)

¼ cup

chili garlic sauce (available in most supermarkets)

1

small red bell pepper, seeded, stemmed and diced

1

–

2

Thai bird chili peppers, seeded, stemmed and diced (or other hot peppers if this is not available)

8

one-inch round slices fresh peeled ginger, about 1/8 inch thick (about the size of a quarter)

½ cup

fresh lime juice, including pulp (about

3

–

4

limes)

1 teaspoon

dry coriander

1 teaspoon

cumin

1 teaspoon

kosher salt

1 cup

granulated sugar
---
Instructions
If using cherry or grape tomatoes, place directly in a large non-stick pot, skin and all.
If using other varieties, core then skin the tomatoes by dropping in boiling water for 30 seconds then remove to ice bath. If using large round tomatoes, cut in half horizontally and over a strainer that has been placed over a bowl, scrape seeds into strainer then place tomato half into large non-stick pot. If using plum, cut in half vertically and follow the same step. Once done, use a wooden spoon to mush the seeds into the strainer. Discard seeds and place liquid in bowl with tomatoes.
Place all other ingredients into the pot with the tomatoes and bring to a boil, reduce heat to a fast simmer and cook for up to three hours. The mixture will have reduced by two thirds or more to a thick jam/ketchup-like consistency.
The mixture will need to be stirred often, especially for the last hour. For the last hour, I recommend using a heat diffuser (like this one) so indirect heat is applied. Because the mixture is thick, it will stick if the temperature is too high and it is not stirred often towards the end of the three hours. Your diligence will be rewarded.
Once it has reached a thick jam like consistency, use an immersion blender (Brushed Chrome) and puree to fine.
If canning, follow standard canning steps to can, otherwise refrigerate.
---
Disclosure: This post contains affiliate links.
You may also like: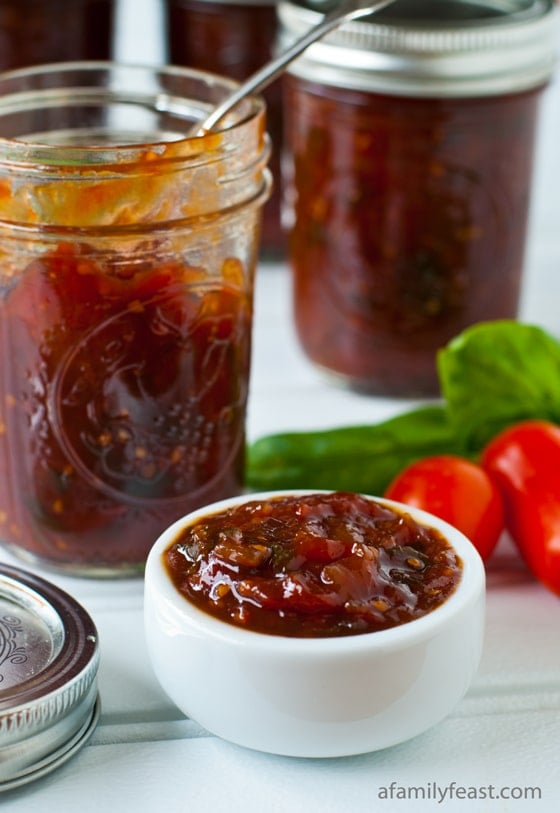 30+ Recipes for your Garden Tomatoes