This Sour Cream Pudding Cake bakes up light and spongy on top with a rich, sweet, syrupy, caramel, raisin and walnut sauce on the bottom.  It's heavenly!
Long before we started writing A Family Feast – and long before so much information was easy to find online – I used to clip recipes from newspaper or magazines. I'd save them in a binder with a plan to try making them some time in the future.
Back then, one of my favorite places to look for recipe inspiration was the Boston Globe Magazine. Every Sunday, it would feature a collection of recipes by food columnists Sheryl Julian and Julie Riven. Let me tell you – these ladies were rock stars in the kitchen! Over the years, every recipe I clipped and later tried has been a delicious winner!
This Sour Cream Pudding Cake recipe is from one of those articles I clipped (almost 20!) years ago. The feature was all about pudding cakes – easy, almost soufflé-like desserts that form a sauce on the bottom as it bakes (just like this very popular recipe).
This Sour Cream Pudding Cakes starts with a thick sour cream batter mixed with raisins and walnuts. Then a water and brown sugar mixture is poured over the top. As it bakes – in true pudding cake style – the cake part rises to the top while the liquid settles to the bottom and creates a sweet sauce.
Like other pudding cakes, this Sour Cream Pudding Cake is best served warm. It may not look like much – but it tastes absolutely divine! This cake is very sweet and very rich – so a little goes a long way.
The original recipe suggests serving this Sour Cream Pudding Cake with a sprinkle of confectioners sugar on top. I personally think it is sweet enough right out of the baking dish – but it's your choice!
Adapted from the Boston Globe Magazine which credits the recipe to the Pillsbury Complete Book of Baking.
Print
Sour Cream Pudding Cake
Prep Time:

15 mins

Cook Time:

50 mins

Total Time:

1 hour 5 minutes

Yield:

8+ servings
---
Description
An 8" round, 4" deep casserole or soufflé dish is the perfect size for this recipe. The cooking dish should be deep, as the cake puffs up high in the pan before settling as it cools.
---
1 cup

all-purpose flour

2/3 cup

granulated sugar

2 teaspoons

baking powder
Pinch of salt

¾ cup

sour cream

2 tablespoons

canola oil

1 cup

raisins

½ cup

chopped nuts

¾ cup

brown sugar

1 ½ cups

boiling hot water
Confectioners sugar, to dust each portion (optional)
---
Instructions
Preheat oven to 350 degrees F
Have an 8" round, 4" deep casserole or soufflé dish standing by, ungreased.
In a large bowl, combine flour, sugar, baking powder, salt, sour cream and oil.
Stir to mix then add raisins and nuts.
Pour into the casserole dish.
In a separate bowl, combine the brown sugar and boiling water.
Pour this over the batter in the casserole dish and bake in the center of your oven for 45-55 minutes or until golden brown.
Let pudding cool for 15 minutes then spoon into dishes, spooning the liquid over each portion and finally dust with confectioners sugar if desired.
---
Notes
To reheat this pudding cake, set the cooked and cooled cake in a roasting pan or large, deep skillet. There should be 1-inch of space all around the pan. Carefully pour boiling water into the pan to come halfway up the sides of the dish of the pudding cake. Allow the cake to sit for 10 minutes in the hot water. Serve immediately.
Disclosure: This post contains affiliate links.
You may also like: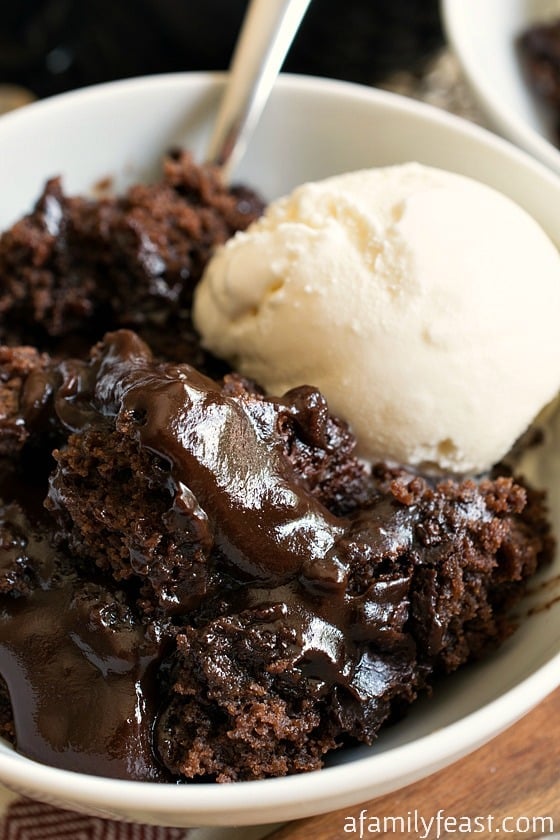 Sour Cream Coffee Cake Muffins
Sour Cream Streusel Coffeecake