One of the most popular recipes on our site is a Hot Fudge Pudding Cake recipe that we shared after a family vacation to Hershey, Pennsylvania. The recipe – with its warm gooey center and distinctively crunchy sugar top – is a long-standing classic dessert recipe originally shared by Hershey's Kitchen. So many of our readers have told us that the recipe is a family favorite – and it's certainly one of ours too!
So with Cinco de Mayo celebrations coming, we thought it was the perfect opportunity to play around a little with the recipe by adding some spices and seasonings – and our Mexican Hot Fudge Pudding Cake is the very delicious result!
We kept to the same classic recipe (after all, why mess with perfection!) – but we added some Saigon Cinnamon
and some Mexican Chili Powder
which both add the perfect amount of spiciness and a gentle heat that is a perfect complement to the warm, rich, gooey chocolate in this cake!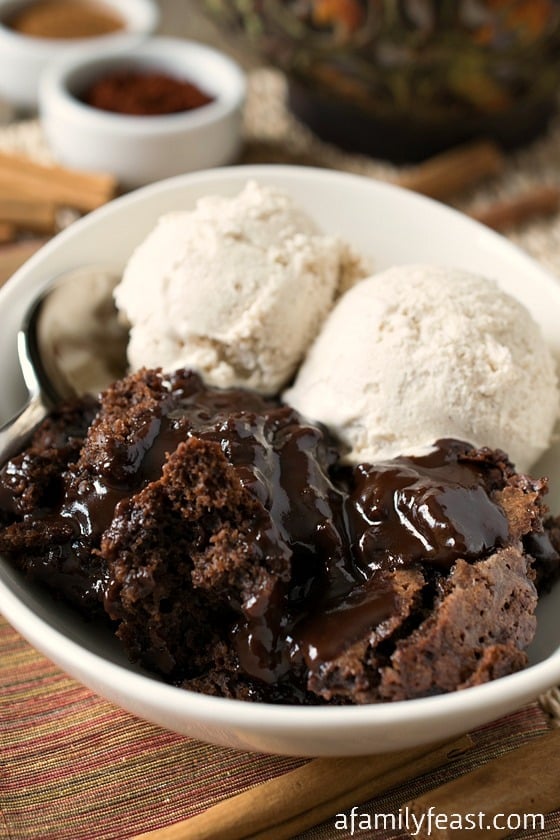 We served our Mexican Hot Fudge Pudding Cake with a scoop of our No-Churn Cinnamon Ice Cream.  Enjoy!
Print
Mexican Hot Fudge Pudding Cake
Prep Time:

15 mins

Cook Time:

35 mins

Total Time:

50 minutes

Yield:

8 servings
---
Description
Although regular cinnamon may be substituted for the Saigon Cinnamon we listed in this recipe, try if possible to use the Mexican Chili Powder if you can. The Mexican Chili Powder (found at our local supermarket) had a sweeter and more mellow spiciness than the regular chili powder we had in our spice cabinet and is best suited for this recipe.
---
1¼ cups

granulated sugar, divided

1 cup

all-purpose flour

½ cup

Hershey's Cocoa, divided

2 teaspoons

baking powder

¼ teaspoon

salt

1½ teaspoons

Saigon Cinnamon (or regular cinnamon)

¾ teaspoon

Mexican Chili Powder

½ cup

milk

1/3 cup

unsalted butter, melted

1½ teaspoons

vanilla extract

½ cup

packed brown sugar

1¼ cups

hot water
Cinnamon Ice Cream, if desired for serving
---
Instructions
Preheat oven to 350 degrees. Heat a pot of water on the stove to very hot (just under a simmer).
In the bowl of a stand mixer, combine ¾ cup of the granulated sugar, flour, ¼ cup of the cocoa, baking powder, salt, Saigon Cinnamon and Mexican Chili Powder. Stir in milk, melted butter and vanilla and mix until smooth.
Pour the batter into an ungreased 2-quart dish (as shown in our photos) or a 9-inch square baking pan and spread evenly.
In a small bowl, stir together the remaining ½ cup granulated sugar, remaining ¼ cup cocoa and brown sugar, and mix well. Sprinkle this mixture evenly over the batter in your dish or pan. Pour the hot water over the top – but do not stir!
Bake 35-40 minutes if using a dish (or 30-35 minutes if using the 9×9 pan) – or until the center is almost set. Remove your dish from the oven and allow it to stand for 15 minutes.
After 15 minutes, spoon the cake into individual serving bowls – making sure to spoon the fudgy sauce from the bottom of the pan over the top of the cake. Add a scoop of cinnamon ice cream if desired and serve immediately.
---
Disclosure: This post contains affiliate links.
You may also like: