Slow Cooker Pot Roast is fork-tender beef, potatoes, onions and carrots, with a silky gravy. This easy recipe is a delicious way to feed a hungry crowd!
Growing up, I remember my mom making a pot roast for dinner all the time. It was an affordable way to feed a hungry family. And, to this day, it's one of those classic, comfort food meals that just sends me right back home.
While my mom made her pot roast on the stove – she would have loved the ease and convenience of making a Slow Cooker Pot Roast like this recipe. After a quick sear, it's pretty much a "fill and set" recipe – so you can head out for the day, then arrive back home with a delicious dinner waiting for you.
Why you'll love it
With just a little bit of prep, this Slow Cooker Pot Roast is pretty much a "dump and go" recipe. Fill your crock pot, set the timer, then let the slow cooker do all of the work!
This easy recipe makes delicious, fork-tender beef and vegetables – enough to feed eight people for dinner, or a smaller family with plenty for leftovers the next day.
Key Ingredients and Substitutions
Beef chuck roast – Choose a boneless roast weighing between two to three pounds and that has fat marbling throughout the meat. Chuck roast is the ideal cut of beef for a slow cooker pot roast because it's very flavorful, budget-friendly, and it gets fork-tender after a low and slow cooking process.
Beef stock – Either store-bought or homemade beef stock is fine for this recipe.
Vegetables – We included a combination of onions, celery, garlic, carrots and little potatoes. It's best to use medium-sized little potatoes (about 1″-1 1/2" in diameter ), not the super small potatoes.
Seasonings – Beef goes wonderfully with fresh thyme and bay leaves. If you only have dried thyme, use about a half teaspoon. We also added Worcestershire Sauce – an all-purpose seasoning sauce that adds great flavor to any pot roast recipe.
Gravy Browning and Seasoning – You'll find this at the store in the spice aisle under the Kitchen Bouquet or Gravy Master names. Just a little goes a long way – but it's a great way to give your gravy a nice golden brown color, plus it adds some extra seasonings too.
Chef's Tips
Pat the beef dry with paper towels before coating with salt and pepper.
Use vegetable oil to sear, not olive oil. Vegetable has a higher smoke point, while olive oil can scorch with high heat.
Do not add the gravy color and seasoning until the end per the recipe. If added at the beginning, it will turn the vegetables dark.

How do I make it?
Sear your chuck roast on all sides. If you have a multi-cooker, you can do this step right in your 5-quart slow cooker. If not, heat oil in a large skillet until shimmering hot, then sear the beef.
Place beef, vegetables, herbs and seasonings, and beef stock in a 5-quart slow cooker.
Slow cook on low for 8-12 hours, or on high for 4-6 hours.
Remove meat and vegetables to a platter. Thicken the cooking liquid to create a gravy.
Serve chunks or slices of pot roast, cooked vegetables and the gravy immediately.
Frequently asked Questions
Will the potatoes get mushy in a slow cooker? We were afraid of this too – thinking that the little potatoes might overcook if they were in the slow cooker for the entire cooking time. The good news: The little potatoes were perfectly cooked in the same amount of time that the beef was tender and ready.
How do I make my pot roast more flavorful? Just follow our recipe! 🙂 In all seriousness, choose a quality chuck roast, cook with a good beef stock, deglaze the pan with a little Worcestershire sauce, use fresh herbs such as thyme and bay leaves, and use gravy seasoning at the end to enhance the flavor of the sauce. Also, thicken your gravy with a roux (made with butter and flour) instead of a slurry (which is just corn starch and water). All of these tips will ensure a flavorful pot roast in the end.
Why is my pot roast tough?  A tough pot roast could be caused by a few things:
You didn't sear the beef before slow cooking (searing helps keep the juices inside the meat).
It was cooked at too high a heat and dried out.
It simply wasn't cooked long enough. Some cuts of beef – such as chuck roasts – need a long, slow, cooking time to get fully tender.
Finally – the cut of beef may have been of lesser quality. A chuck roast is a cut of beef located just behind the neck of the animal and runs down to the front legs and back to the rib cage. Depending on where the chuck roast is cut from, the quality (and tenderness) will vary. If the cut is closer to the section of the animal that works harder (such as the legs) it tends to be a tougher cut. A center cut chuck roast is usually the best – look for fat marbling throughout the piece. One solid piece of chuck with no fat will most likely be tough. Buy from a reputable butcher shop if you can.
Can you make a pot roast in the oven? Absolutely. Use the same method to sear and prepare, then place your chuck roast into a Dutch oven. Cover and roast in a 300 degree F oven for 3-4 hours until tender.
Can I make this pot roast ahead of time and reheat? You sure can (in fact, we did this ourselves)! Prepare your slow cooker pot roast as written, then cool the cooked meat and vegetables as quickly as possible* to room temperature before refrigerating overnight. The next day simply heat back up in a pan on the stove, or on high in your slow cooker. (This is actually how we cooked this for photography reasons so that we could take pictures during daylight hours to utilize natural light!) *To cool, Jack places the slow cooker crock in a sink of ice cold water, being careful not to slosh water into the dish. Be careful however with ceramic slow cooker inserts as a very hot pot touching very cold water could crack the ceramic. To be safe, transfer ingredients to a metal bowl or pan, then set into the ice cold sink water to cool. The heat from the food will transfer to the cold water. The water will warm up and the food cool down pretty quickly.
You may enjoy these other pot roast recipes:
Print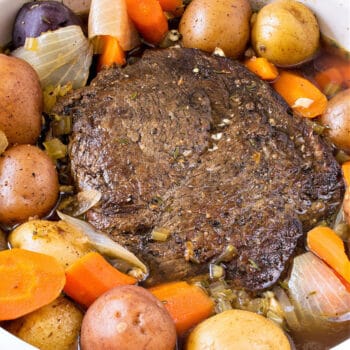 Slow Cooker Pot Roast
Author:

Prep Time:

30 minutes

Cook Time:

10 hours

Total Time:

10 hours 30 minutes

Yield:

8 servings

Category:

entree

Method:

slow cooker

Cuisine:

American
---
2–3 pounds boneless beef chuck roast
1 ½ teaspoons Kosher salt
1 teaspoon freshly ground black pepper
2 tablespoons vegetable oil
1 teaspoon Worcestershire sauce
2 quarts beef stock or broth
1 large yellow onion cut into six wedges, about 1 pound
1 ½ large stalks of celery diced small
3 medium cloves of garlic, smashed and coarsely chopped
2 pounds fresh carrots peeled and cut into 2-inch pieces
2 pounds little potatoes left whole, various varieties
2 sprigs fresh thyme left on the stems
2 bay leaves
4 tablespoons butter
6 tablespoons all-purpose flour
½ teaspoon gravy browning and seasoning, such as Kitchen Bouquet
---
Instructions
Pat the roast dry with paper towels then sprinkle the salt and pepper on all sides.
In a heavy bottomed pan such as a cast iron skillet or Dutch oven, over high heat, add the oil and once shimmering hot, add the beef and cook for 4-5 minutes on every side, top and bottom to sear.
Remove to a plate, add the Worcestershire sauce and then immediately pour in a few cups of the beef broth to deglaze the pan. Remove from heat and set aside.
In your 5-quart slow cooker, place the onions, celery, garlic, carrots, potatoes, thyme and bay leaves.
Place the roast over the vegetables and pour in the liquid from the skillet along with enough beef broth to come up about ¾ up the side of the meat, which should be the whole two quarts of stock or broth. If you don't use all of the stock, save for the end when making the gravy.
Cover slow cooker and set timer for eight hours on low or four hours on high. If cooking on low, check at the eight-hour mark and cook up to four additional hours until the meat is tender. If cooking on high, check at four hours and cook for one or two hours if needed.
While the pot roast is cooking, melt the butter in a small sauce pan over medium low and once melted, stir in the flour and cook for four minutes, stirring often. Remove from the heat and hold for later in this recipe.
After the meat and vegetables are removed, pour the liquid into a strainer over a sauce pan and discard the solids (pieces of celery, bay leave and thyme).
Add the butter flour mixture to the liquid and cook to thicken over medium heat. Taste and adjust seasonings. Add the gravy flavor color to the sauce to get your desired color. I liked ours to be golden, so ½ teaspoon was plenty.
To serve, remove large pieces of beef for serving that guests would then cut into bite sized pieces at the table. Serve with the potatoes, carrots, onions and the gravy. You could also slice the roast and serve slices but we like the large rustic pieces better.
---
Keywords: Slow Cooker Pot Roast, Beef Pot Roast