Made with red or golden beets (or a mix of both colors like we do), this easy Roasted Beets side dish is simple to prepare and delicious!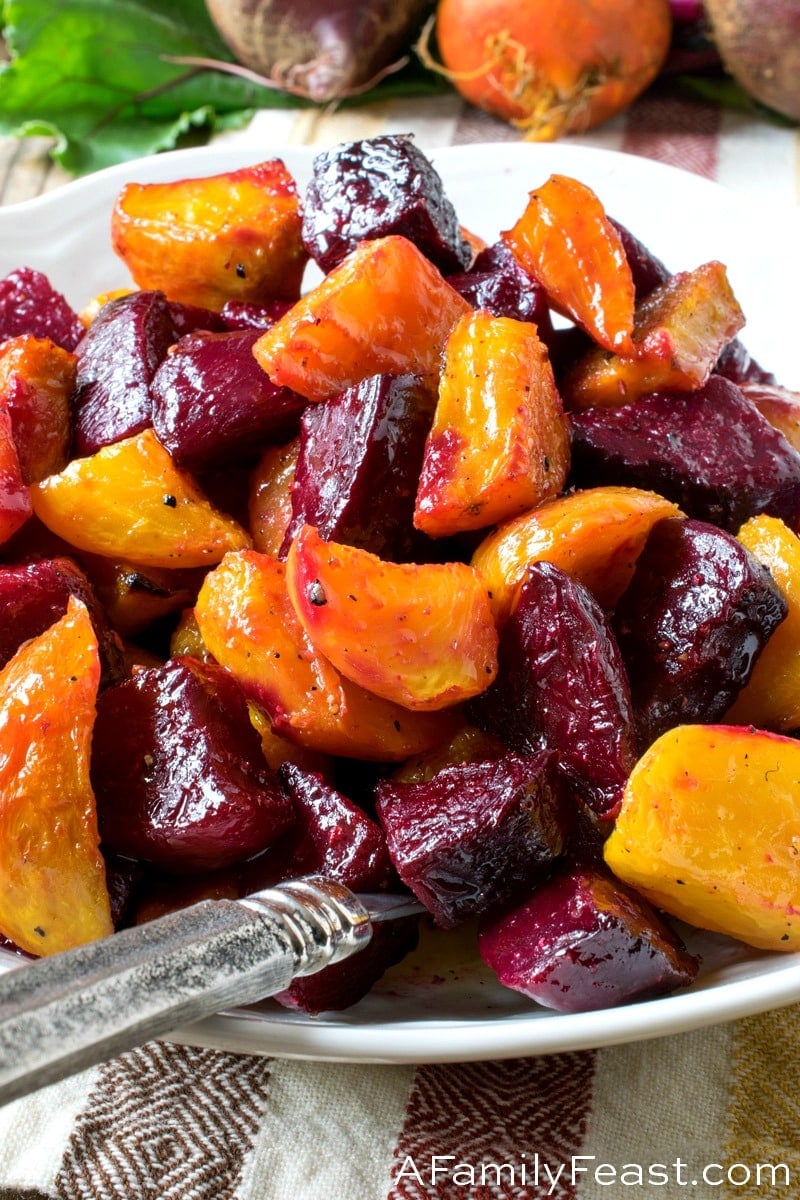 Beets are one of those vegetables where – it seems – people either love them or hate them. As a child, I wasn't much of a vegetable eater, but I loved beets!
Back then – the beets I ate were the kind out of a can or jar – but today, Roasted Beets are our method of choice when preparing this flavorful root vegetable.
Roasted beets are incredibly sweet and earthy with a uniquely delicious flavor. Nowadays, you can find both red and golden beets at most supermarkets – and if you are lucky enough to find beets with the greens still attached, those are edible too! (See this beet greens recipe here.)
How do you prepare roasted beets?
First of all, you can make this Roasted Beets recipe with just red beets, just golden beets, or a mix of the two like we did.  One thing to keep in mind though – if you cook the red beets together with the golden beets, the red juices will color the golden beets a pinkish, orange color, but it doesn't impact the flavor at all.  In our recipe below, we've take a few extra (but easy) steps to ensure that your finished dish showcases the gorgeous colors of each variety of fresh beet.
Our Roasted Beets recipe actually starts by cutting the beets into one-inch pieces, then pre-boiling them in water (use separate pots for each color) just until they start to soften – about twenty minutes. This step can be done ahead of time, refrigerating the pre-cooked beets up to a day or two before you plan to serve them.
Then, about fifteen minutes before your meal, place your beets on a large sheet pan lined with foil, keeping each color separated so the red juices don't discolor the golden beets.  Next, roast your beets in a hot oven with a drizzle of extra virgin olive oil, plus salt, pepper and a little garlic powder on top.
Before serving, drizzle the beets with butter, then toss both colors together to combine.
These Roasted Beets are another side dish we served a few weekends ago when hosting a dinner party for friends. The menu included both Pan Seared Halibut with Lemon Caper Sauce and Farro Risotto with Mushrooms and Tuscan Kale recipes from earlier this week, plus our Shirazi Salad as a starter and our Vietnamese Iced Coffee Granita for dessert. (It was quite the feast!)
You may also like these other beet recipes:
Disclosure: This post contains affiliate links.


Print
Roasted Beets
Author:

Prep Time:

30 minutes

Cook Time:

40 minutes

Total Time:

1 hour 10 minutes

Yield:

4-6 servings

Category:

vegetables

Method:

roasting
---
Description
You may want to considering wearing food-safe gloves when handling red beets to avoid staining your fingers.
---
2 bunches red beets
2 bunches golden beets
4 tablespoons extra virgin olive oil
1 teaspoon kosher salt
½ teaspoon freshly ground black pepper
¼ teaspoon garlic powder
2 tablespoons butter, melted
---
Instructions
Trim the leaves off and the bottom off from the golden beets and peel. Then cut into one-inch pieces. (See notes below.) Place in a medium sauce pan. Cover with water, salt the water then bring to a boil. Boil just until a fork can pierce a piece but still be somewhat hard, about 20 minutes.
Put on plastic or latex gloves and repeat the same steps for the red beets placing them into a separate sauce pan with salted water. Boil just until a fork can pierce a piece but still be somewhat hard, about 20 minutes.
Preheat oven to 450 degrees F ten minutes after the beets have been boiling.
Drain the beets separate from each other and pour out onto each half of a sheet tray not touching in the center.
Drizzle the oil over all of the beets and sprinkle on the salt, pepper and garlic and roast for approximately 15 minutes or until tender and just starting to brown.
Remove the red beets to a serving bowl and drizzle on half the butter. Repeat for the golden beets pouring them over the red beets in the bowl and drizzle on the rest of the butter.
Serve immediately.
---
Notes
Start with the golden beets by trimming the top and bottoms. Then place cut down and with a peeler, peel down towards the board. Then lay it on its side and peel around as you turn the beet.
Throughout the entire cooking process, keep the golden beets separate from the red beets.