This Harvard Beets recipe is a classic New England side dish that has been around for generations. You'll love the sweet and sour sauce!
I've been a beet lover all of my life.  Even as a kid – I loved them! But it was only recently that I ate Harvard Beets for the first time. And clearly – I've been missing out!
About a month ago – while brainstorming Fall vegetable recipe ideas – my husband Jack mentioned the idea of sharing a Harvard Beets recipe here on A Family Feast. He kept talking about how much he loves them – and now, I love them too!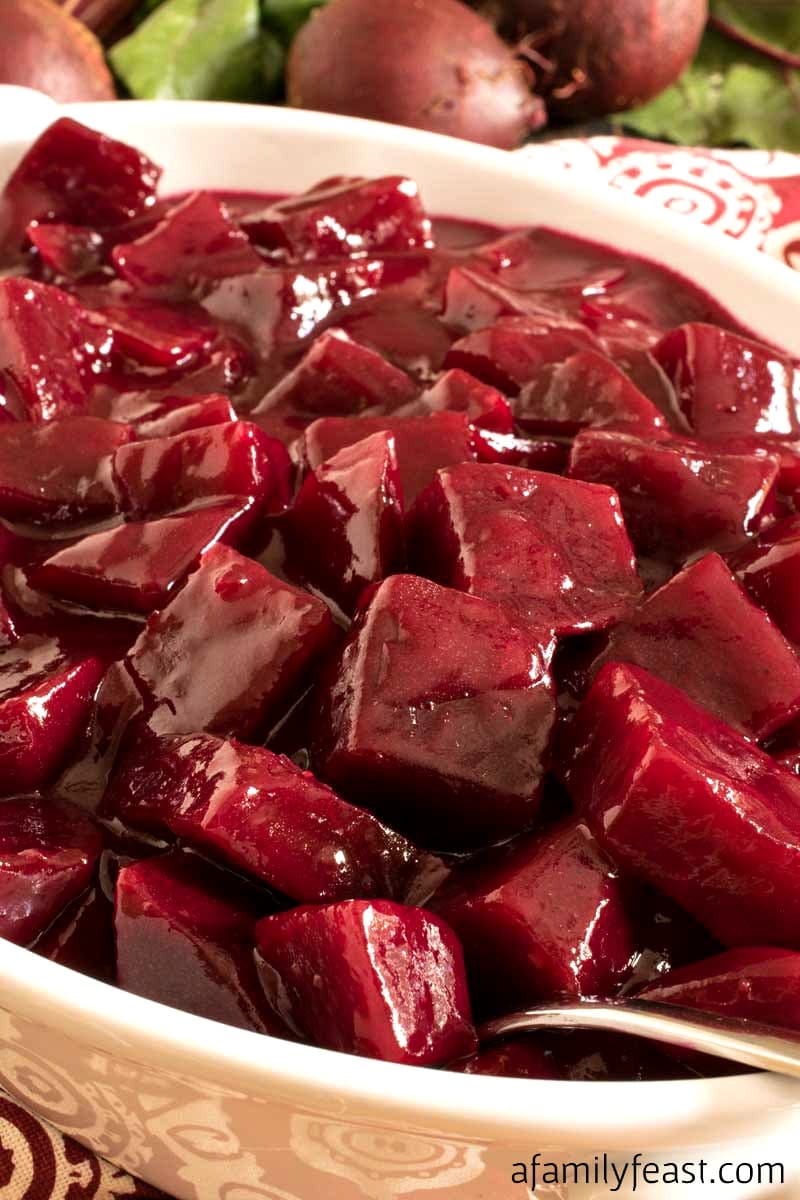 Harvard Beets are simply beets cooked with sugar, vinegar and butter (plus a few other seasonings). The combination of the sugar and vinegar creates a fantastic sweet and sour sauce that is a wonderful complement to the flavor of the beets. The butter – which gets melted in at the end – adds a luxurious, silky texture to the vibrant, rich sauce.
Harvard Beets are a traditional New England recipe, dating back hundreds of years.  There are two schools of thought as to where the name comes from: Yankee Magazine writes that some history buffs attribute the name to the deep red color of the Harvard Crimson football team at Harvard University. Others say that the dish originated in an English pub called "Harwood" and overtime – through  some name mispronounciations – the name became Harvard Beets.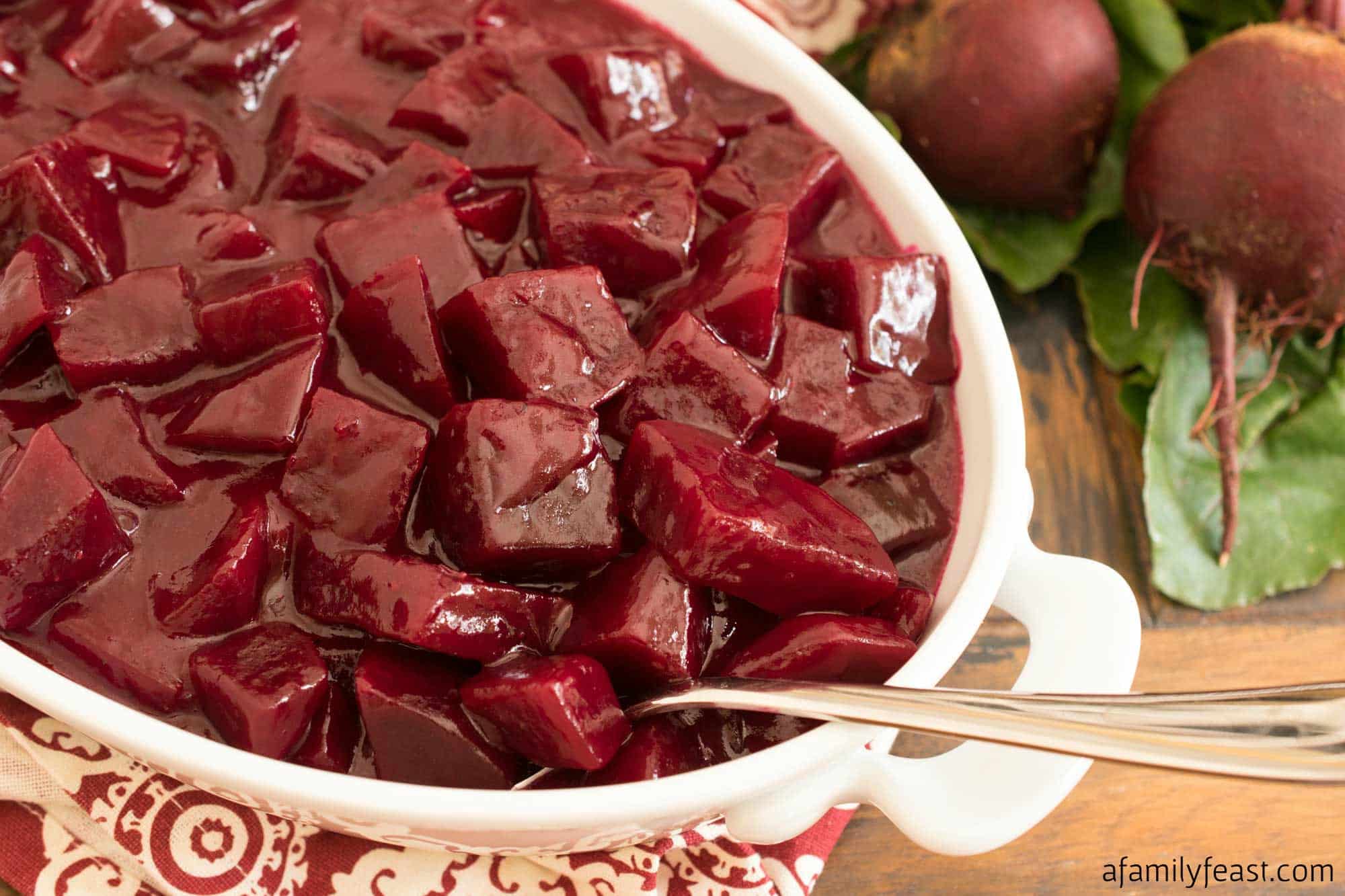 Either way – this dish is fantastic! We recommend making your Harvard Beets with fresh beets, but canned beets would also do in a pinch. In researching this recipe, we also read that some people cook up a big batch of Harvard Beets when their fresh garden beets are harvested in the Fall – then freeze them in smaller portions to reheat and enjoy all winter long.  (We haven't tried that ourselves – but we love the idea!)
Harvard Beets would be a delicious addition to your Thanksgiving menu – or any special holiday meal!  The sauce will 'stain' the other foods on your plate, so we like to serve our Harvard Beets in individual serving dishes as shown.
Enjoy!
Print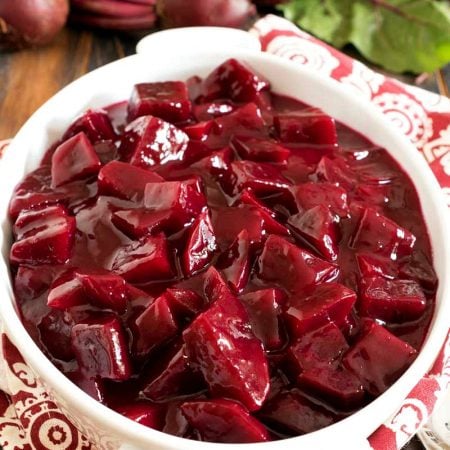 Harvard Beets
Prep Time:

15 minutes

Cook Time:

20 minutes

Total Time:

35 minutes

Yield:

6-8 servings
---
2 ½ pound fresh red beets, trimmed, peeled and cut into bite sized pieces
1 teaspoon kosher salt for cooking water
1 cup granulated sugar
¼ cup white vinegar
½ cup cider vinegar
½ teaspoon kosher salt
½ teaspoon fresh ground black pepper, ground fine
½ cup water saved from cooking the beets
2 tablespoons corn starch
6 tablespoons butter
---
Instructions
Place beets in cold water and bring to a boil. Once boiling, add the one teaspoon of salt. Cook for 15 minutes. Ladle off and save ½ cup of cooking water and drain off the rest.
Place beets back in pot along with the sugar, both vinegars, salt and pepper. Stir over medium heat.
Add corn starch to the ½ cup of beet water and stir into beets. Cook for five minutes over medium heat then stir in butter until butter has melted into the sauce.
Remove from heat and serve.
---
You may also like: