Petite Marmite is a delicious, flavorful soup made from a variety of meats and vegetables. The term "petite marmite" translates in French to "little cooking pot." Traditionally, this classic soup was served in the vessel in which it is cooked – so this dish really gets its name from the pot it cooks in rather than the ingredients inside.
Other cultures have their own variations of Petite Marmite with different meats and vegetables but the basic approach is the same. Making this soup with chicken, beef, bone marrow, cabbage, and other vegetables and seasonings are traditionally French.
Our recipe today is loosely adapted from one of my husband Jack's favorite soup cookbooks called "The Culinary Institute of America Book of Soups." We stayed true to the original and used bone marrow (which can be found at most supermarkets and butchers). It really adds a wonderful flavor and richness to the broth in this soup – not to mention the great nutritional benefits that come from eating bone broth. (You can leave the marrow bones out if you wish, but if you do include them in your Petite Marmite – be sure to soak the marrow bones overnight before you start making the recipe.)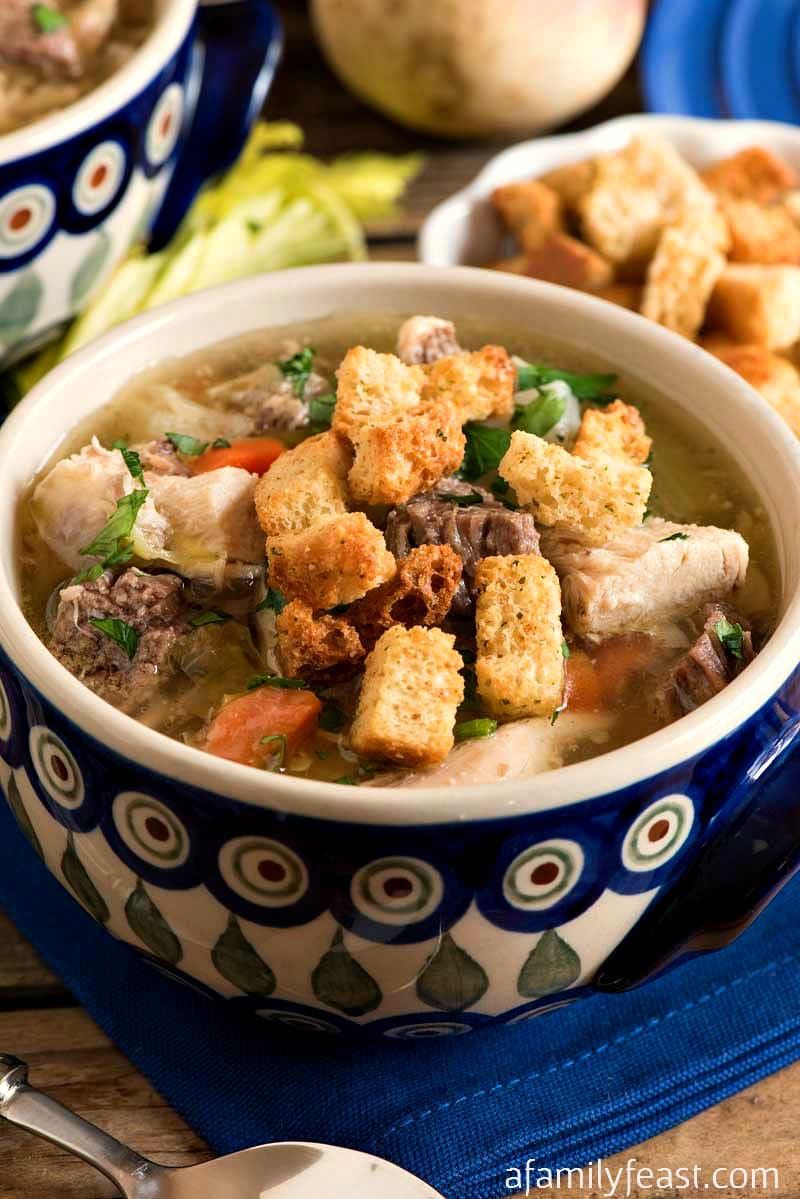 Petite Marmite is traditionally served with crispy, toasted croutons on top – and the salty crunch of the croutons is the perfect complement to the rich flavors in this soup.
Enjoy!
Print
Petite Marmite
Prep Time:

45 mins

Cook Time:

2 hours 30 mins

Total Time:

3 hours 15 minutes

Yield:

8-12 servings
---
Description
Note: Any combination of meats can be used including venison, oxtails, pheasant, turkey, ham hocks, pork or lamb. Keep the total weight of the meat the same as in this recipe.
---
3

pounds marrow bones, about

3

–

5

bones soaked overnight in cold water

1

small whole chicken, about

three

pounds

1

small bottom round roast, about

2

pounds

3 quarts

chicken stock, see our homemade version here or use cartons

1

bay leaf

¼ teaspoon

dry thyme

4

black peppercorns

4

parsley stems

1

peeled garlic clove

2

celery stalks diced, about

one cup

2

leeks, white part only, cleaned of sand, about

2 cups

diced

1

large onion diced, about

1 ½ cups

1

large white turnip, or purple topped turnip diced, about

one cup

¼

head green cabbage chopped, about

2 cups

1

large carrot, peeled and diced, about

½

to

1

cup
Salt and pepper to taste
Croutons, to serve with soup
Chopped fresh parsley, to serve over each portion
---
Instructions
If you haven't already done so, soak marrow bones in cold water overnight and then discard soaking water before cooking.
Place soaked marrow bones in a pot and cover with fresh water. Bring to a boil and simmer fast for 45 minutes. As the water comes to a boil, skim off the foam and discard.
Take each bone out and with a knife of spoon, remove the marrow to a bowl. Reserve marrow for the end of the recipe.
Place bones back in the pot and bring to a boil and cook until reduced to one cup. Discard bones and reserve the broth.
This step should be started at the same time the marrow bones are cooking. With a pair of kitchen shears, cut chicken in half from front to back. This step is just so the chicken and beef sit nestled in the pot. Discard giblets but use the neck.
Trim as much fat from the beef as possible and if large, cut in half.
Place the chicken, chicken neck and beef in a 10-quart soup pot and cover with the 3 quarts of chicken stock.
Slowly bring to a simmer and set timer for two hours. Skim off foam as the pot comes to a boil.
After the two hours, remove the beef and chicken to a large platter using a strainer and tongs, leaving the liquid in the pot.
Add the reserved bone broth to the stock.
After the meat is cool enough to handle, pick out any gristle from the beef and pick out all skin and bones from the chicken. Keep the beef and chicken separate.
In a piece of cheese cloth, place bay leaf, thyme, peppercorns, parsley stems and garlic clove and pull up into a purse shape. Tie off with butcher's twine. This is called a sachet bag.
Dice the beef into bite sized pieces and add to the stock along with the celery, leeks, onion, turnip, cabbage, carrot and the sachet bag.
Dice the reserved bone marrow if large pieces and add to the pot.
Bring to a boil and reduce to a simmer and simmer 15 minutes.
Cut the chicken into bite sized pieces and add to the pot, and simmer five minutes.
Remove and discard sachet bag.
Adjust seasoning if needed and serve with croutons and chopped fresh parsley.
---
Disclosure: This post contains affiliate links.


You may also like: