Like this recipe we shared earlier in the week, credit (or blame – depending on how you want to look at it! 😉 ) for today's Hash Brown Crusted Salmon recipe goes to another cooking show that my husband Jack and I were recently watching.
On the Food Network show, Diners, Drive-Ins and Dives, Guy Fieri was visiting a 'joint' (as he likes to call it) that served up a salmon filet encased in a coating of shredded potatoes. Next, the coated salmon filet was fried in butter – giving the exterior of this decadent salmon dish the look of crispy hash browns.
We are huge salmon fans at our house – and that hash brown crusted salmon on television looked amazing! So of course, Jack had to try recreating it at home – and his version of the recipe is below.
By the way…we found the recipe featured on television right here – in case you'd like to try the original from Rick's Press Room in Meridian, ID. In our version, we simply topped our Hash Brown Crusted Salmon with some sour cream, but the original recipe served this dish with a lemon butter sauce that also looks amazing!  Enjoy!
Print
Hash Brown Crusted Salmon
Prep Time:

15 mins

Cook Time:

10 mins

Total Time:

25 minutes

Yield:

4 servings
---
1½

pound salmon filet (buy the thicker head end of the filet and not the narrow tail end)

2 ounces

(about

½

to

¾

cup) shallots

1 teaspoon

fresh thyme

1/3 cup

heavy cream

¼ teaspoon

kosher salt
Few grinds black pepper

1

pound new red or russet potatoes, peeled and shredded on large holes of cheese grater

3 tablespoons

butter
Sour cream, to serve on the side
---
Instructions
Remove skin from salmon by running a knife between skin and flesh (lay skin down, keep knife flat and start on one end. Grab skin and pull as you work knife from one end to the other, keeping blade flat).
Remove ½ pound of the fish and set aside. (This will be pureed so OK to use scraps, end pieces, trimmings, etc.)
Take the remaining one pound of salmon and cut into two equal pieces. Then lay each piece on its side and cut in half horizontally so you have four pieces which are now half the thickness of the full piece. Set these pieces aside.
In the bowl of a food processor, place shallots and thyme and pulse to chop the shallots fine.
Add the 1/2 pound of salmon scraps and pulse to puree the salmon in with the shallots.
Add the cream and pulse again to combine. Add salt and pepper and pulse one last time and remove.
Divide the mixture in half and spread on the tops of all four pieces of salmon.
Take shredded potatoes and wrap in paper towels and squeeze out as much water as possible. Press half the shredded potatoes into pureed salmon.
Flip each portion and repeat with the salmon mixture and potatoes so both sides get coated with the salmon puree and shredded potatoes.
Heat a large sauté pan oven medium heat and add butter.
Once butter has melted, gently place all four pieces of salmon into the butter.
Cook for about four minutes until browned and with a fish spatula or other large spatula, flip and cook on the other side. The potatoes should be golden brown and the salmon should be almost cooked through.
Note: We like the salmon slightly under cooked but if your preference is to cook through, lower heat and continue to cook, being careful not to over brown the potatoes.
Serve with a dollop of sour cream.
---
You may also like: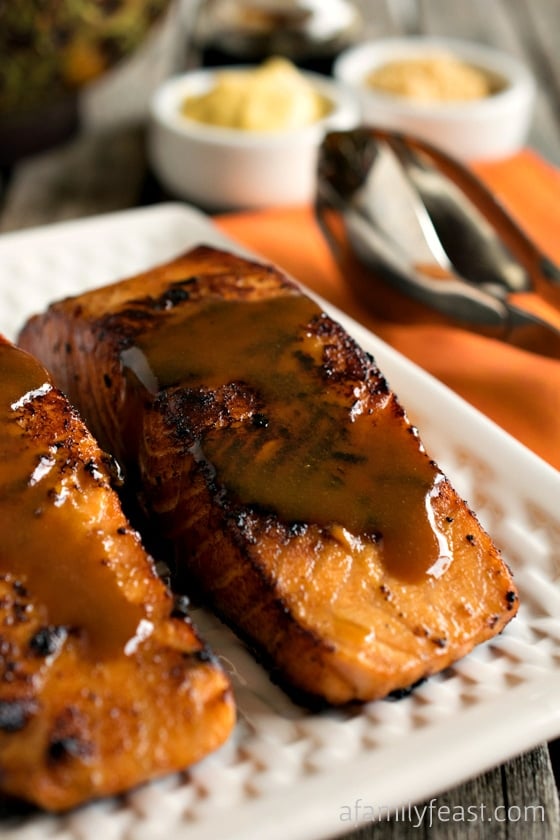 Roasted Salmon with Tomato-Olive Relish