Make this classic Parker House Rolls recipe for the holidays!
Parker House Rolls are soft, fluffy dinner rolls with a touch of sweetness and a twice-buttered top that has been sprinkled generously with sea salt. They are a perfect addition to any special meal – especially around the holidays!
Named after the historic Parker House hotel in Boston where these heavenly dinner rolls are believed to have first been served, the traditional Parker House Rolls are best recognized by their "folded" shape which also helps keep the inside of the rolls soft and tender.
Each individual roll is made by folding a piece of bread dough in half, then nestling the rolls tightly together into a flat baking pan. The tops of the rolls are buttered and the rolls are allowed to proof and double in size in the pan before baking.
Once baked and golden, the tops of the Parker House Rolls are buttered once again, then generously salted with flaked sea salt.
You'll definitely want to serve your Parker House Rolls warm out of the oven. The rolls are pulled apart – giving them an almost rustic look. But after one bite of these classic rolls – they are so delicious, you'll understand why they became an instant classic among diners at the Parker House!
Side note: Some Parker House Roll recipes show the dough formed into round balls and then simply scored on top – and it's totally fine to do that. (In fact, this is a wonderfully versatile bread dough so you can shape the rolls in many other ways.) But, to be authentic, the roll should be formed into a folded dough.
Disclosure: This post contains affiliate links.
Print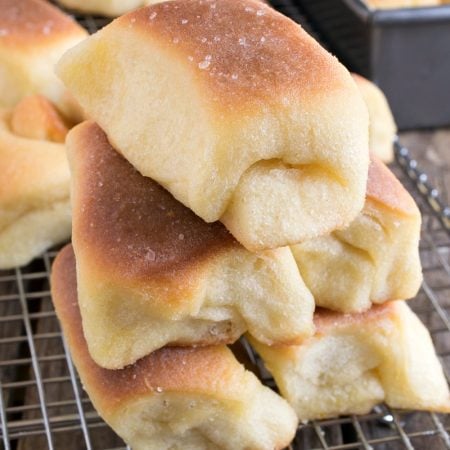 Parker House Rolls
Prep Time:

3 hours 30 minutes

Cook Time:

30 minutes

Total Time:

4 hours

Yield:

3 dozen rolls
---
Description
Parker House Rolls are soft, fluffy dinner rolls with a touch of sweetness and a twice-buttered top that has been sprinkled generously with sea salt.
---
¼ ounce dry yeast (one packet)
¼ cup warm water 110 degrees F.
1 cup milk heated to 80 degrees F.
¼ cup butter, room temperature
3 tablespoons honey
1 ½ teaspoons kosher salt
1 large egg, room temperature
2 ½ cups all-purpose flour
1 cup bread flour
Oil for bowl
6 tablespoons butter, melted
Flaked sea salt
---
Instructions
Dissolve yeast with warm water in a small bowl. Let sit five minutes.
Heat milk in a sauce pan or microwave to 80 degrees F.
In the bowl of a stand mixer, add warm milk, butter, honey and salt and beat with a whisk. (Can be done by hand as well).
Add egg and beat again.
Switch to a dough hook and add all purpose flour and yeast mixture and beat to combine. Add bread flour and beat again to combine.
Lower speed to medium and knead for five minutes. Or knead by hand on your counter.
Place in oiled bowl, covered and proof until double in size.
Pour dough out onto a lightly floured surface and cut dough into four pieces.
Working one piece at a time, roll into a rectangle 12X6 inches.
Cut the strip the long way into three equal strips. Cut each strip into three equal pieces so you end up with nine mini rectangles.
Butter a 9X13 inch baking pan or dish using some of the six tablespoons of butter.
Melt the remaining butter for a further step.
Brush just one half of each piece with butter then fold the dry half over the buttered half but let the top half hang over the bottom by a half inch.
Start layering each piece in the pan starting with the folded side touching the pan edge and layering the rest down the long side of the pan. Each long row will have nine pieces.
Repeat for remaining dough so you end up with four rows of nine.
Cover and proof until doubled in size, about an hour.
Preheat oven to 350 degrees F.
Butter the top of the rolls then bake for about 30 minutes until golden.
As soon as they come out of the oven, butter the tops with the remaining butter and sprinkle sea salt over the top.
Cool slightly then remove from pan and serve warm.
---
You may also like: