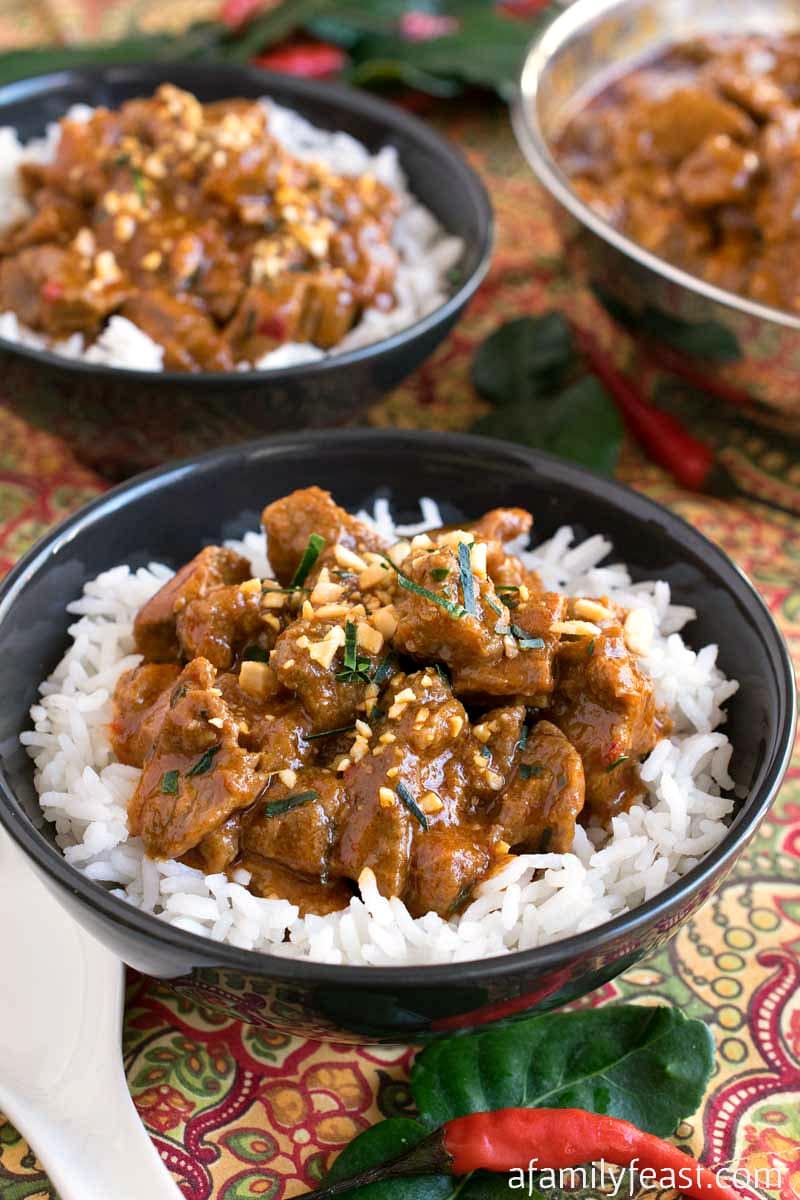 A few weeks ago, Jack and I had the huge pleasure of attending a behind-the scenes tour of America's Test Kitchen new offices and studios located in Boston.  It was part of a larger, outside 'Boston Eats' festival with cooking demos, cookbook signings, plus samples of (so much) delicious food prepared by Boston-area chefs.
During the studio tour, we watched a cooking demo where this fantastic Panang Beef Curry recipe was prepared. Jack and I loved it so much, we immediately set out to make it at home.
Like every recipe from America's Test Kitchen, the instructions were easy to follow and the results were absolutely delicious!
Ideally, this Panang Beef Curry is made with boneless short ribs – but since they can be difficult to find at the supermarket, a chuck roast can be used instead. Chunks of beef are cooked until super tender, then added to a wonderful sauce made with coconut milk, red curry paste, fish sauce, sugar, Thai chiles, and Kaffir lime leaves.
As the recipe states: The Kaffir lime leaves put the 'bang' in Panang – so don't make this Panang Beef Curry recipe without it!  This fragrant ingredient adds a distinct flavor that is both citrusy and piney – it's difficult to describe, but very delicious.  You can find them online here, at an Asian market (sometimes found in bags in the freezer section), and at some Whole Foods markets.
This flavorful Panang Beef Curry is served over rice with a sprinkle of crushed peanuts on top plus some additional thinly-sliced kaffir leaves as garnish.
Here are a few more photos from our day touring America's Test Kitchen, and the delicious Panang Beef Curry is below: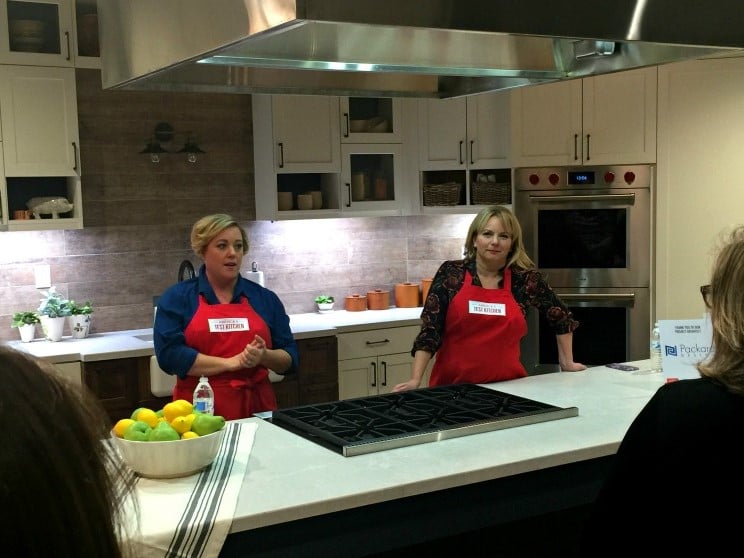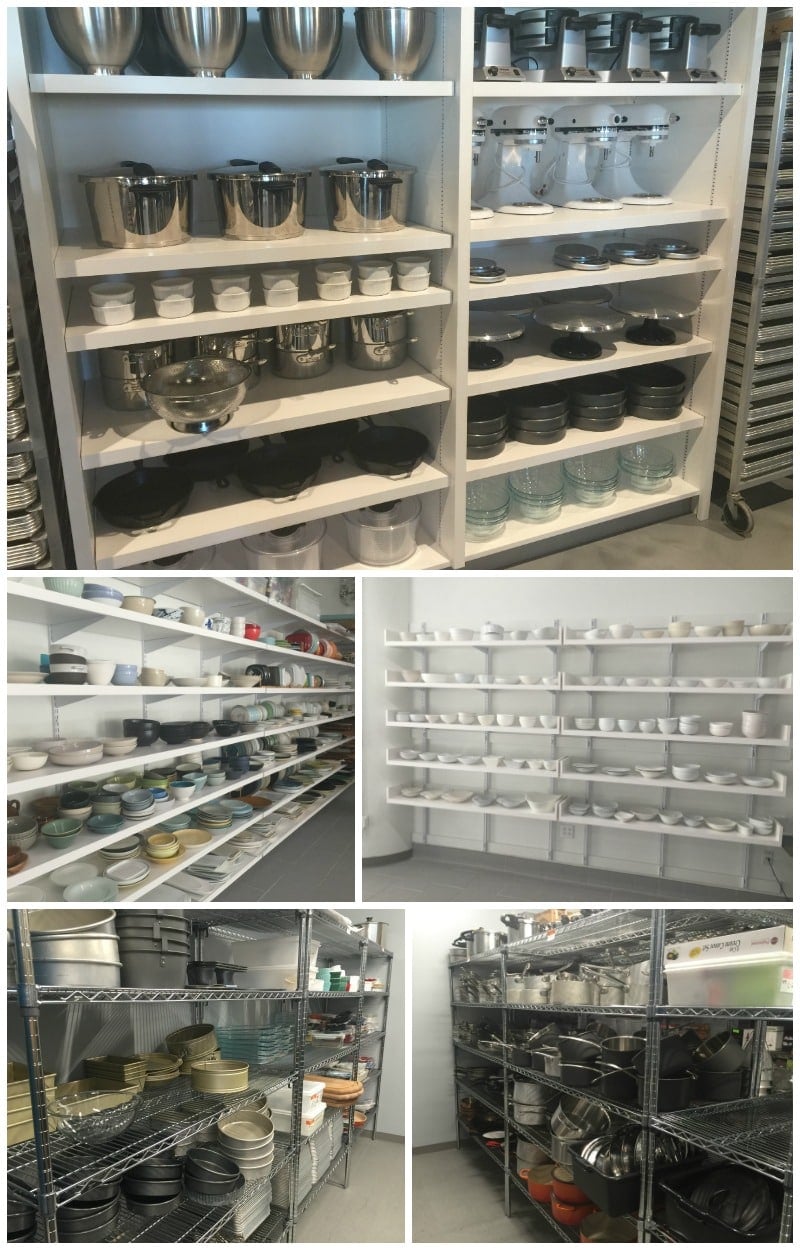 Disclosure: This post contains affiliate links.
Print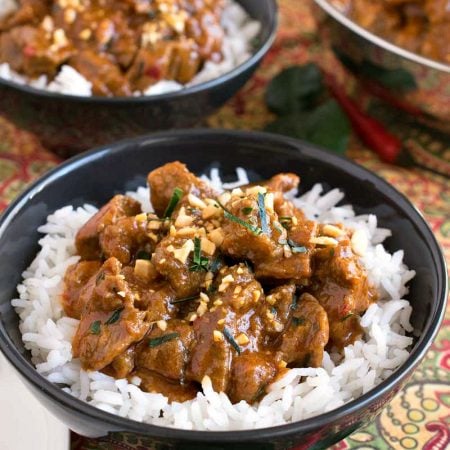 Panang Beef Curry
Author:

Prep Time:

20 minutes

Cook Time:

2 hours

Total Time:

2 hours 20 minutes

Yield:

4-6 servings
---
Description
A few notes:
*Boneless short ribs are often hard to find at the supermarket. A good quality chuck roast can serve just as well for this recipe. Buy three pounds and by the time you trim off gristle and fat, you will have a little over two pounds to cook.
**Kaffir lime leaves are a necessity for this dish. Without them, the dish is just not the same. Kaffir lime leaves are available at Asian supermarkets (sometimes frozen or fresh) however we bought them on line and they arrived quickly and were of excellent quality. (Click here to buy on Amazon.)
---
2 pounds boneless short ribs trimmed, or a 3-pound chuck roast *see note above
2 tablespoons vegetable oil
4 tablespoons Thai red curry paste, divided
1 14-ounce can unsweetened coconut milk
4 teaspoons fish sauce
2 teaspoons sugar
1 Thai red Chile (optional), chopped (seeds removed or not depending on how hot you like it)
6 Kaffir lime leaves, middle vein removed and sliced very thin **see note above
1/3 cup unsalted dry-roasted peanuts, chopped fine
1 cup dry white rice (2 cups once cooked)
---
Instructions
Cut the beef into small half-inch to 1-inch sized pieces. Place them into a medium to large sauce pan, cover with about an inch of water and bring to a boil. Cover, lower to a simmer and simmer slowly. If using boneless short ribs, cook 60-75 minutes until fall apart tender. If using chuck, cook for 30-45 minutes more until tender, adding a little more water if needed. Once cooked, discard water and hold beef for next step after rice.  (Full disclosure: Jack couldn't bear discarding the beef water, so he cooked it down and made some beef broth for lunch!)
Begin preparing the rice. (The beef should be done cooking right about the same time as the rice.)
In a large nonstick skillet over medium heat, add oil and once shimmering, add 2 tablespoons curry paste. Cook for 5-8 minutes until the paste turns dark red, almost brown.
Add coconut milk, fish sauce, sugar, and the Thai chile if using. Add two more tablespoons curry paste along with cooked beef and mix to combine.
Bring to a rapid simmer, stirring occasionally until sauce thickens and is reduced by half, about 12-15 minutes. Oil will start to appear on top, which is what you want.
Add the sliced lime leaves and simmer for 1-2 more minutes until fragrant.
Transfer to a serving bowl or platter and sprinkle on the chopped peanuts along with a few more finely sliced lime leaves. Serve with white rice.
---
You may also like:
Basil Chicken in Coconut Curry Sauce