After more than 11 years in our house – we're about to start a kitchen makeover! We thought it would be fun to have you – our wonderful readers – follow along. (I love taking a sneak peek inside other peoples' homes – don't you?)
And as food bloggers who spend a LOT of time in the kitchen, Jack and I are VERY excited to finally tackle some of the kitchen updates we've been planning for years!
As you can see here, our kitchen has very good 'bones' to start with. The room has 9 foot ceilings giving the kitchen a nice, spacious feeling and also allowed us to install tall, 42-inch upper cabinets which are great for storage! The room is long and slightly narrow and while we'd love to widen the room, structurally it isn't possible to expand in any direction because of the surrounding staircases and rooms off all sides of the kitchen. So – our makeover will be mostly cosmetic changes – but changes that will make a huge difference!
When Jack and I started working with our builder (all those years ago) to plan our new home – our budget was tight.  And – if you've ever done a new construction house yourself, then you know that the builder gives you a list of standard options that come with the house as-priced, as well as a lengthy list of upgrades which add more to the price of the home.
So back then, we made the decision to go with maple cabinets which were an upgrade (and our rationale was that it would be less expensive in the long run to spend a few more thousand dollars for the upgraded cabinets while building the house, than starting with the builder-grade oak cabinets and later completely replacing them).
The Merillat® Classic maple cabinets that our builder installed have held up very well over the years and have a lot of life left in them, so we're keeping them through this kitchen makeover. We're also keeping the current blue tile backsplash you can see in the photos.
Our builder-grade vinyl flooring you see above (which was NOT an upgrade) has seen much better days! Even with regular mopping and waxing, the shine is permanently gone and we have some ground-in dirt that we can never completely clean.
For years Jack and I have debated whether tile or hardwood would be the way to go for a new kitchen floor! And everyone seems to have a strong opinion one way or another…some people prefer tile flooring for its ease of cleanup.  But some people we know with tile in their kitchen tell us it's difficult to clean (especially the grout lines) and hard on your feet and back if you spend a lot of time in the kitchen.  Jack and I also didn't find a tile that we both loved – I wanted a rustic wood-look tile but Jack wasn't completely sold on any that we saw – and considering that most of the first floor of our house is hardwood, we decided to think a lot more seriously about hardwood flooring for the kitchen.
We also had a great experience installing hardwood flooring from Lumber Liquidators in our home office last fall (we – and by "we" I really mean "Jack" – installed that gorgeous Brazilian cherry  floor in the photo above by himself, and it is easier than you might think!) – so we knew we could do the installation work ourselves in the kitchen too.  We also found a gorgeous Acacia handscraped hardwood flooring at Lumber Liquidators that we loved and it goes beautifully with our maple cabinets.
Our next Kitchen Makeover post shares a lot more about the hardwood flooring we ultimately chose to install, and we show you some of our installation pictures too – so click on over! But I do have to give a HUGE shout-out to Chris – the store manager at the Plymouth, MA Lumber Liquidators location – who has been extremely helpful, knowledgeable and patient when it came to answering all of our questions every time we visited his store (and we've visited quite a few times!).  Chris really helped us feel confident that the floor we chose will be durable and beautiful. (I'm so excited to see it installed!)
The other big update in our kitchen will be new countertops.  As you can see, our builder-grade formica countertops (which were also not an upgrade) have started to show some major wear-and-tear.  In the photo above, you can see where we accidentally burned and melted some of the countertop next to our stove as we boiled water to cook some blue crab a few years ago. And we have a number of other scratches and stains from putting hot pans on the counters too.
And above here, you can see that the heat and moisture from our dishwasher has started to cause the formica to warp and peel as well.
So we've been looking to install something much more durable like granite or quartz countertops. For years, we've talked about granite, but a few months ago we saw this gorgeous Cambria® quartz (in a color and pattern that Jack and I both loved) that will look great with our existing cabinets and the flooring we've selected.
Quartz is lower maintenance too (no sealing required), and because we are looking to expand the size of our kitchen island with a larger overhang for seating, we were told that quartz might be a better choice because it wouldn't require additional support under the countertop like using granite would.  So – I think we're close to finally deciding that quartz is the way to go! (We'll show our final countertop decision in a later Kitchen Makeover post.)
And some of the other updates we're planning include:
Swapping out the recessed lights over the island and adding pendant lights
Installing a larger undermount kitchen sink
And – if our budget allows – a new range. (I know – the stove you see below here looks brand new and it IS only two years old. But with all of the cooking and entertaining we do, we'd love a professional-grade stove and larger ovens.  (Our budget toward the end of our project will determine if we do the appliance upgrade now or later!)
We hope you've enjoyed seeing our early kitchen makeover plans!  And stay tuned for more of our posts showing the progress in our kitchen.
Disclosure: Lumber Liquidators has generously provided us with hardwood flooring for our kitchen makeover.  However, all opinions stated here are 100% ours, and both Jack and I would gladly share a positive mention of our shopping experience even without their partnership in this project.
You may also like:
Our Kitchen Makeover: New Hardwood Floors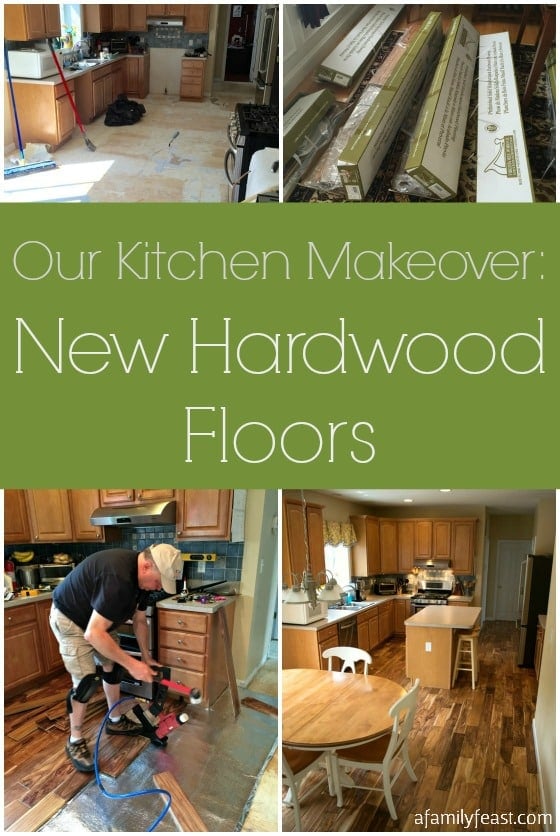 Our Kitchen Makeover: After Photos