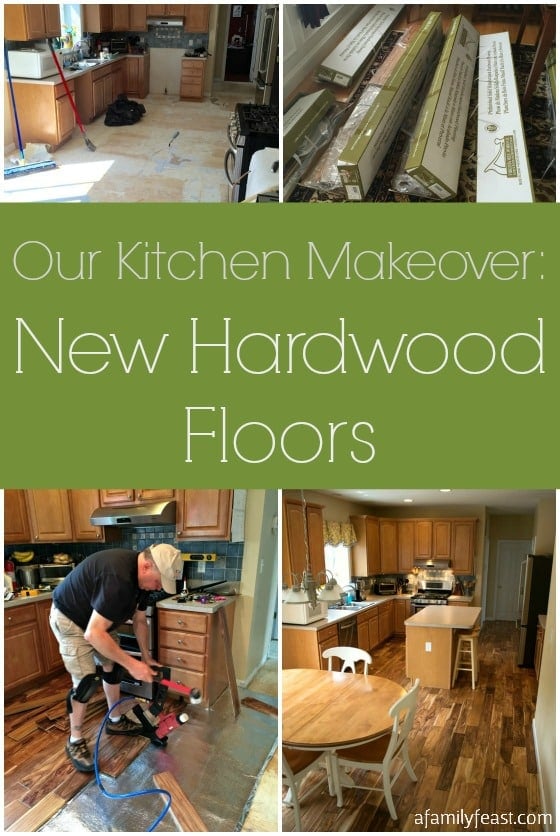 Thank you to Lumber Liquidators for partnering with us on our kitchen makeover. We are beyond thrilled with our new hardwood floors!
We're back today with the first progress report on our Kitchen Makeover – and my husband Jack and I have made some huge changes by installing new hardwood floors!
As we mentioned earlier, we wanted (needed) to replace our old, builders-grade vinyl flooring which was well-worn and impossible to clean after more than 11 years in our house (including almost 3 years of cooking all the food you see here on A Family Feast).
After years of debating whether to go with tile flooring or hardwood in our kitchen – we decided on hardwood. Not only did we love the look of hardwood, but we also had a great experience installing hardwood flooring from Lumber Liquidators in two other rooms in our house – so we knew we could do the work ourselves in the kitchen as well.
Thanks to the folks at our local Lumber Liquidators store, we found the perfect floor for our kitchen.  Whether you are looking for hardwood, laminate, tile or something else, chances are Lumber Liquidators will have something you'll love! We visited the Lumber Liquidators store in Plymouth, MA more times than I can remember. (Mostly because it took my husband Jack and I awhile to agree on flooring that we both liked!)
Chris, the Lumber Liquidators store manager was a huge help to us through the entire process.  He was always able to answer our questions and guided us both in selecting a hardwood floor that was durable and could stand up to very heavy traffic in our kitchen.
We selected a gorgeous hand-scraped acacia floor. It is from a short-leaf acacia tree which is an extremely hard wood and super durable. We chose the "Tobacco Road" finish – and it has a ton of natural color variation from the tree.  With both dark and light coloring (a rustic style that is very popular and 'on-trend' these days) it coordinates beautifully with our existing maple kitchen cabinets and really warms up the look and feel of our kitchen.
Lumber Liquidators also has all of the tools and supplies you'll need to do the installation yourself – or they can recommend a local flooring installer if floor installation DIY isn't your thing.
Below are a few photos of our floor installation process – plus the finished results of course!
Before you begin laying your hardwood floor, you need to let the boxes of flooring acclimate to the climate in your home.  You can see above, we spread the boxes of flooring out in our dining room (right off our kitchen) for about two weeks.
After pulling up our old vinyl flooring, we laid down an underlayment that provides padding, sound proofing, and insulation under the wood floor.
We wrote some "secret messages" on the underlayment under the floor that will be rediscovered someday – years down the road by some future owner of our house. 🙂
And here is Jack working very hard to lay down the flooring. (Yes – I'm so lucky – not only is my husband a great cook, he's also very skilled working on DIY projects around the house!)
We are thrilled with the look of the new floors!
As a reminder, here's the Before photo…
And with our new hardwood floors in place – our kitchen has been transformed!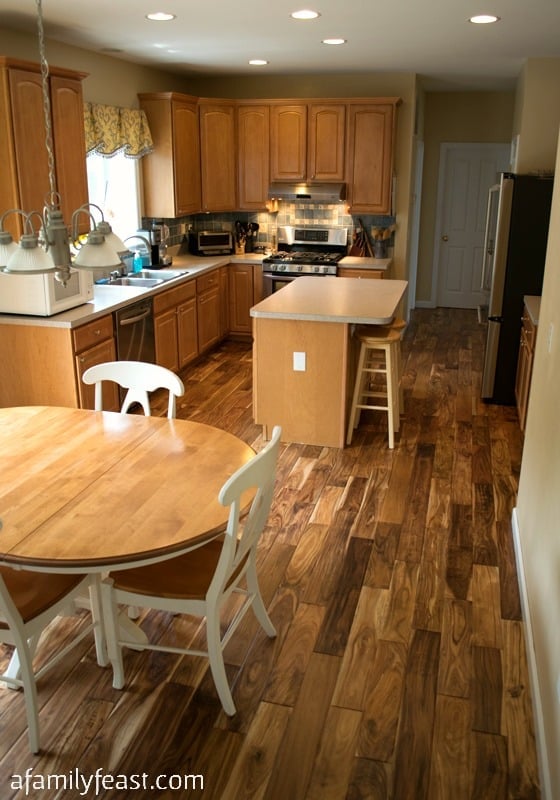 Coming up next in Our Kitchen Makeover: Appliance research and inspiration, new countertops and sink, as well as new lighting fixtures.  We'll share those photos in the coming weeks!
Disclosure: Lumber Liquidators has generously provided us with hardwood flooring for our kitchen makeover.  However, all opinions stated here are 100% ours, and both Jack and I would gladly share a positive mention of our shopping experience even without their partnership in this project.
You may also like:
Our Kitchen Makeover: After Photos