I made this Onion Jam Crostini with Herbed Goat Cheese using SPLENDA® Sweeteners as part of a sponsored post for SocialStars #SplendaSweeteners #SweetSwaps

In the neighborhood where we live – as soon as warmer weather makes an appearance – everyone is outside! After a long winter, it has been so nice to visit again with neighbors and get together with friends for impromptu cookouts and barbecues!
With that spontaneous entertaining in mind, my husband Jack and I usually keep some foods on hand that can be used to pull together a delicious dish to serve to our guests, or to bring along to a neighbor's house as our contribution to the festivities!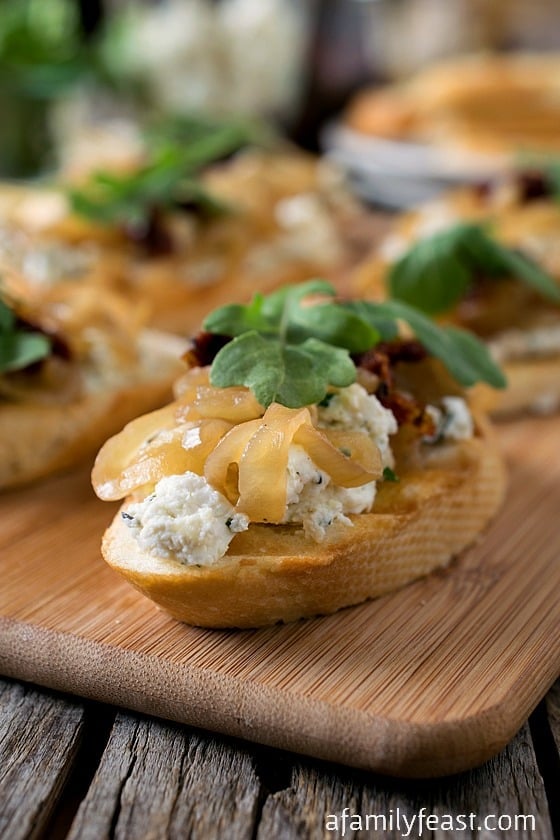 This Onion Jam Crostini with Herbed Goat Cheese is a perfect example of a super delicious and impressive appetizer you can quickly pull together when you need it!
It all starts with our easy and delicious onion jam – a sweet and zesty mixture made from Vidalia onions. We cook the onions with some butter and SPLENDA® Brown Sugar Blend over low heat until they are reduced and caramelized, and the jam also has a zesty kick from the addition of white balsamic vinegar, freshly grated ginger, plus other seasonings! We cook up a batch of this fantastic jam – then store it in the refrigerator. It's great used to make these Onion Jam Crostini with Herbed Goat Cheese, as a topping on burgers, or even as a simple side served with grilled meats!
Swapping in SPLENDA® Brown Sugar Blend like we did in this recipe is a great option when you're looking for ways to add sweetness but want less added sugar. It offers the same sweetness as regular brown sugar, but without all the calories! All SPLENDA® Sweeteners are versatile, and they can be used in baking, cooking, and beverage mixing.
Now, getting back to this fantastic Onion Jam Crostini with Herbed Goat Cheese…just slice up a baguette, add some goat cheese that has been blended with some fresh herbs, and top with our delicious onion jam, sun dried tomatoes and arugula.
Your friends will be very impressed with this Onion Jam Crostini with Herbed Goat Cheese – and it's the perfect light and delicious appetizer for any gathering!
Visit the Sweet Swaps program here for hundreds of ways to save calories by swapping full sugar for SPLENDA® Sweeteners. For more information visit SPLENDA® on their website, Facebook, Twitter, Pinterest or Instagram.
Print
Onion Jam Crostini with Herbed Goat Cheese
Prep Time:

30 mins

Cook Time:

3 hours

Total Time:

3 hours 30 minutes

Yield:

18-24 crostini
---
3

large Vidalia or sweet onions, cut into thick full slices, about

6 cups

½ cup

brown sugar

½ cup

white or dark balsamic vinegar*

½ cup

butter (

one

stick)

½ teaspoon

grated fresh ginger

½ teaspoon

kosher salt

¼ teaspoon

ground coriander

1 teaspoon

freshly ground black pepper

1 teaspoon

extra virgin olive oil

2 tablespoons

finely minced shallots

1 teaspoon

chopped fresh thyme

1 tablespoon

chopped fresh parsley

8 ounces

goat cheese

1

baguette cut into slices on the bias
Oil to brush baguette slices

¼ cup

sun dried tomatoes in oil, drained and julienned
Arugula, for garnish
---
Instructions
In a large pot with a tight fitting lid, place onions, brown sugar, balsamic vinegar, butter, ginger, salt, coriander and pepper. Cover and bring to hot, then reduce heat to low. Cook covered over low heat for one hour. Remove lid and cook over low for two more hours or until onions are tender and liquid has evaporated.
If onions cook before liquid evaporates, drain and discard liquid. Cool onions to room temperature then place them on your cutting board and coarsely chop.
While onions are cooking, place olive oil, shallots, thyme and parsley in a small sauté pan and cook over medium low for about five minutes or until shallots are soft. Remove to a small bowl and add goat cheese and stir to combine. Set aside.
Heat a ribbed grill pan, brush the bread slices with oil and grill just to reveal nice grill marks.
Spread the cheese evenly between the slices. Then spread the onions mixture over the cheese, dividing evenly.
Finally top with sun dried tomato slices and garnish with the arugula before serving.
---
Notes
You have a choice in balsamic vinegar. If you use white balsamic, the onion jam will come out light in color. If you use the dark balsamic, the jam will be darker in color. The taste does not change much.
You may also like these other delicious recipes made with SPLENDA® Sweeteners: