In honor of Mother's Day this coming weekend, we're sharing this family recipe for Nanny's Black Midnight Cake! My husband Jack and his brothers and sisters all have really fond memories of their mother (Nanny to us) baking this delicious cake – a dark, chocolate layer cake with a rich dark chocolate frosting.  It's perfectly sweet and super moist and light, and if you are a chocolate lover – this is the cake for you!
Jack and his siblings (as well as a few cousins who had an uncanny knack of always showing up for dinner whenever Nanny made this cake for dessert!) would fight over who got the biggest piece of cake – it's so good!  Years later, the younger kids in our family all love this cake too!
In fact, a love of cooking seems to run in our family and we have some budding chefs among Nanny's grandchildren! This past weekend, some of the kids got together at our house to bake Nanny's black midnight cake for an early Mother's Day lunch and here are some of the photos from our cooking adventures: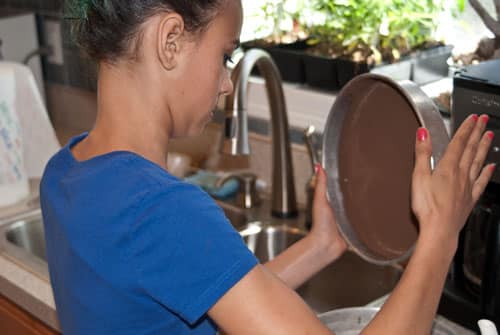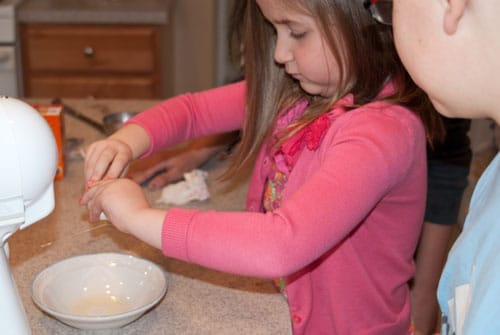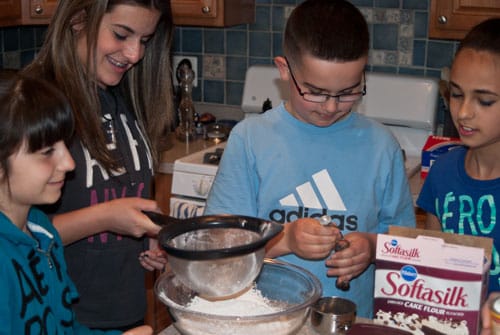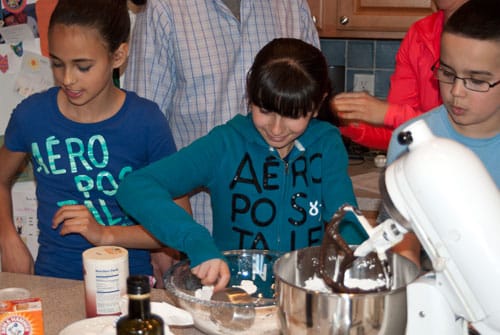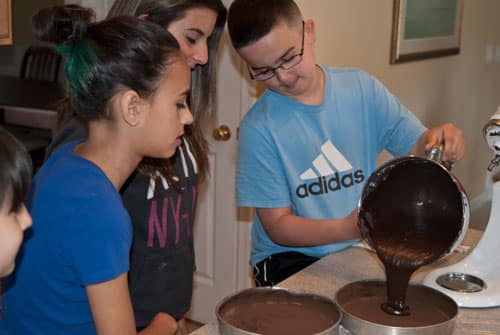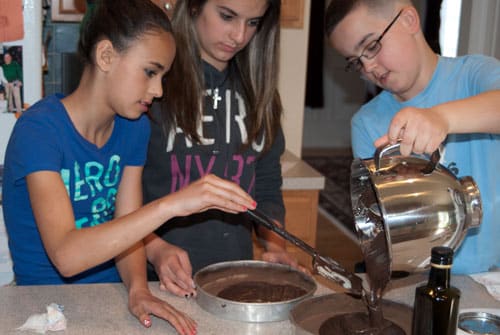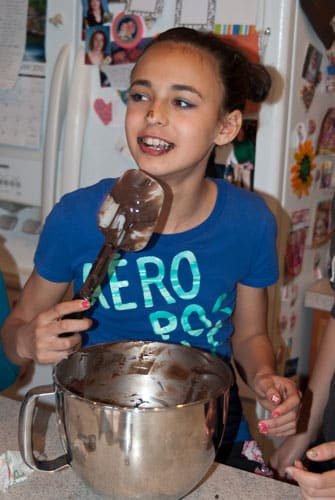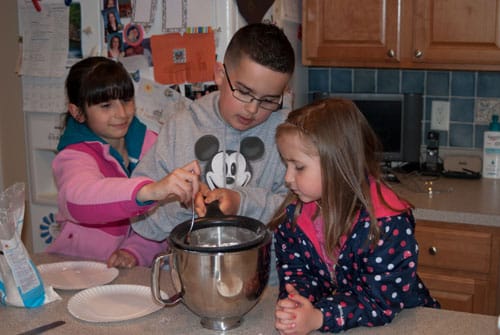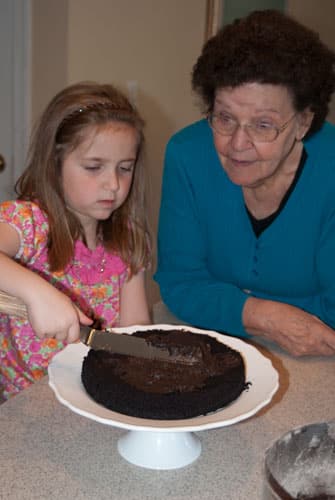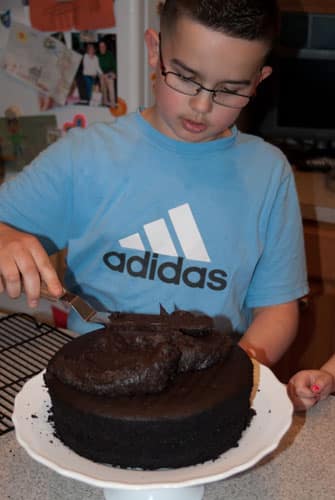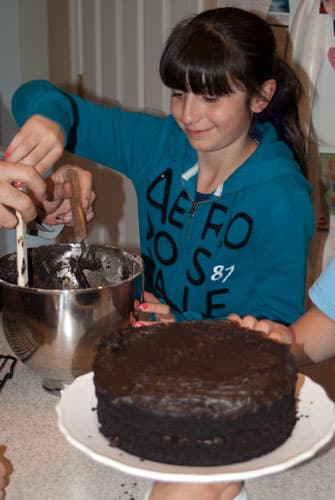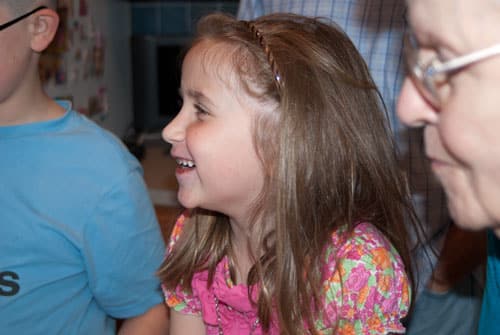 They did a fantastic job baking this cake – don't you agree?  And Nanny loved the cake too – of course!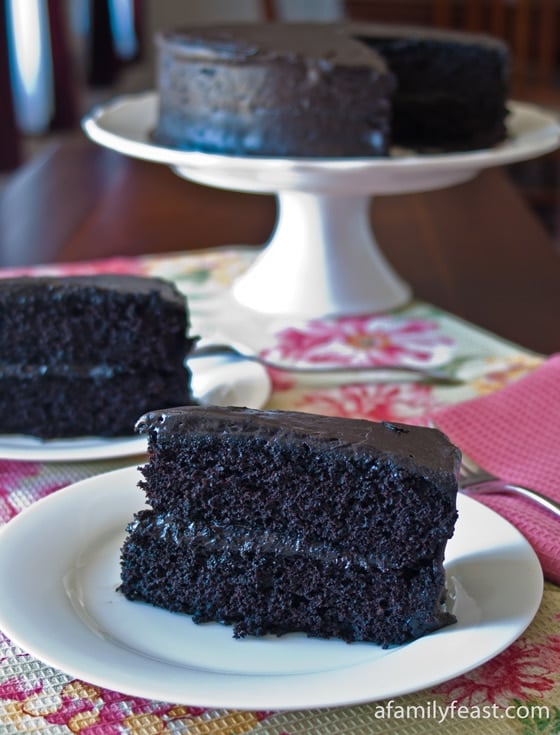 This black midnight cake recipe is adapted from one originally published in the Betty Crocker Cookbook
many years ago with some updates of our own, as well as additional inspiration thanks to this recipe from Hershey's.  We've updated it to include some coffee as well as a pinch of cayenne in the batter – both ingredients really enhance the flavor of the chocolate!  We also used olive oil in the batter which helps to make the finished cake moist and light.
Print
Nanny's Black Midnight Cake
Prep Time:

15 mins

Cook Time:

40 mins

Total Time:

55 minutes

Yield:

8-10 servings
Ingredients
For the Cake:
2/3 cup dark cocoa powder (we used Hershey's Special Dark Cocoa to get that deep dark color)
1 cup hot brewed coffee
1 pinch cayenne
1/3 cup shortening
1/3 cup olive oil
1 2/3 cup sugar
3 eggs
1/3 cup buttermilk
1 teaspoon vanilla
2 cups cake flour
1 teaspoon salt
1 ¼ teaspoon baking soda
½ teaspoon baking powder
Butter for greasing the pans
Two parchment circles, cut the size of the bottom of your cake pans
Cocoa for dusting the pans
For the Frosting:
1 ½ sticks butter, softened
1 cup dark cocoa (we used Hershey's Special Dark Cocoa to get that deep dark color)
4 ½ cups confectioners' sugar
½ cup buttermilk
2 teaspoon vanilla extract
Instructions
To Prepare the Cake:
Preheat oven to 350 degrees.
In a small bowl, dissolve cocoa powder and cayenne with hot brewed coffee and set aside.
In the bowl of a stand mixer with paddle attachment, cream shortening, oil and sugar until well combined.
Add eggs and beat until light and creamy, about 1-2 minutes. This process beats air into the mixture. Scrape paddle and bowl and beat once.
Slowly add in coffee/cocoa mixture, buttermilk and vanilla and beat until batter is smooth. Scrape paddle and bowl and beat once.
In a separate bowl, sift flour, salt, baking soda and baking powder. Add dry ingredients to wet and beat on low speed to incorporate. Scrape down bowl and beat until all ingredients are well combined.
Butter the bottom and sides of two cake pans and place a round parchment circle in each. Butter the top of the parchment then sprinkle the whole inside of the parchment and pan with cocoa powder, shaking out excess. Pour batter evenly between two pans and place in center of oven.
Bake 30-40 minutes or until tooth pick inserted in center comes out clean. Depending on your oven, you may need to rotate cake pans half way through. The use of olive oil in this recipe requires it to cook a few minutes longer than most cakes.
Cool pans on wire racks for ten minutes then carefully invert out of pan onto rack to cool further.
To Prepare the Frosting;
Sift cocoa powder with confectioner's sugar in a large bowl. In the bowl of a stand mixer or hand mixer, cream butter until smooth. Add sugar and cocoa powder mixture along with buttermilk and vanilla and beat until smooth and creamy. Add additional buttermilk or whole milk if frosting is too thick.
Place a small dollop of frosting on a cake dish to hold the cake from sliding and place one cake on the frosting. Frost the top of that layer. Place the second cake on the first and frost the entire cake, top and sides.
You may also like: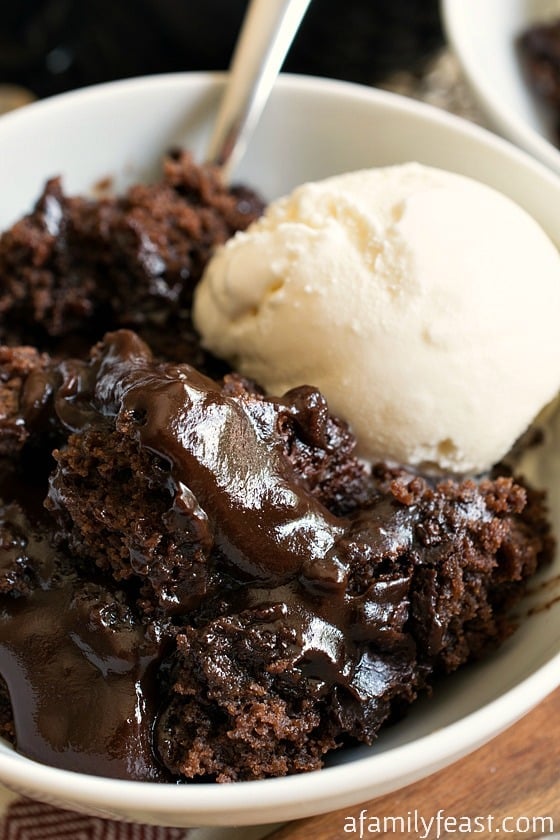 No-Bake Chocolate Cheesecake Pie