Mom's Meatloaf recipe is a delicious dinnertime classic!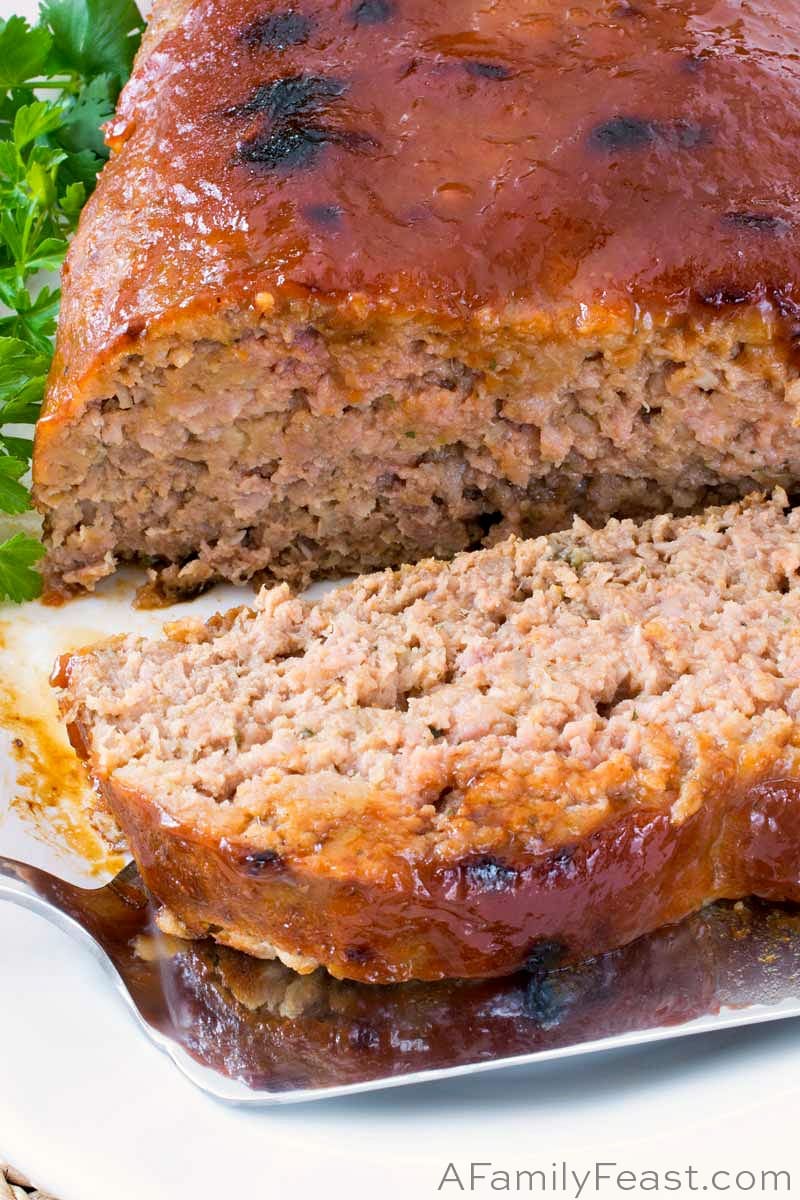 Like most couples, my husband Jack and I have different ways of doing things – and that extends to how we prepare certain classic recipes. Meatloaf is a perfect example of this.
Every family has their own unique way of making meatloaf, and there are so many variations! Some are served with gravy (which is how Jack had it growing up), others with a savory, seasoned topping, while others are just baked plain with no toppings.
Growing up, I distinctly remember my mom's meatloaf made by seasoning ground beef with a package of Lipton's onion soup mix, breadcrumbs, and a few eggs before placing it in a loaf pan to bake.  (With six hungry kids in our family, my mom was all about getting good food on the table quickly and easily – and without breaking the bank!)
Our recipe today is a variation of my Mom's Meatloaf – a delicious, savory meatloaf topped with a sweet tomato ketchup crust.
Mom's Meatloaf – Made Even Better!
Admittedly, we made a few changes – using a mix of ground beef and ground pork, both for flavor and a softer texture.
And, rather than breadcrumbs, we soaked cubes of country white bread in milk –  a method Jack uses to make soft, tender Italian-style meatballs too. (Use white bread that has some texture like a country white and try to avoid highly processed white bread. The heartier, textured bread will help bind the meatloaf.)
And – instead of the packaged soup mix – we used our own Homemade Onion Soup & Dip Mix to season Mom's Meatloaf.
We also partially-baked the meatloaf in a loaf pan, then inverted it onto a parchment-covered rack placed over a foiled-lined sheet pan before brushing ketchup all over the top for the rest of the cooking time. This allows excess fat to cook out of the meatloaf as it bakes – plus clean up is easy!
More Meatloaf Tips and Tricks
Before placing Mom's Meatloaf in the oven, cook a tablespoon of the meat mixture in a small sauté pan and taste. Add more of the onion soup mix as needed.
Use an oven-safe probe thermometer to check the internal temperature of your meatloaf. For a mix of ground beef and pork, the internal temperature must be 155 degrees F to kill any possible bacteria and be safe to eat.
Once you poke the meatloaf to test for doneness, leave the probe in, so the juices don't leak out. (This probe thermometer with a connected external monitor is perfect for this.) If you only have an instant-read thermometer, and need to cook the meatloaf for longer, make a plug out of foil (see photo in recipe below) and plug the hole before placing the meatloaf back in the oven. Preventing the juices from flowing out really makes a difference!
The meat-to-egg ratio for meatloaf is always one egg per pound of ground meat.
Press the meatloaf mixture firmly into the loaf pan. Then use a knife to press out all of the air pockets – this will help make a smooth even shape with even firm slices after it is baked.
My Mom's Meatloaf is great served right out of the oven for a meal. But, I love it even more the following day in a meatloaf sandwich made with thick slices of whole grain bread, mayo and some lettuce and tomato. YUM!
You may enjoy these other meatloaf recipes:
Print
Mom's Meatloaf
Author:

Prep Time:

15 minutes

Cook Time:

1 hour 30 minutes

Total Time:

1 hour 45 minutes

Yield:

8 servings

Category:

entree

Method:

baked

Cuisine:

American
---
2 cups country white bread cubed, crust removed, (about 3–4 slices), also see Tips & Tricks above
1 cup whole milk
1 pound ground beef (we used 80/20)
1 pound ground pork
2 whole eggs
4 tablespoons onion soup mix, see recipe here
1 tablespoon Worcestershire sauce
¼ cup ketchup
---
Instructions
Preheat oven to 350 degrees F.
Line a sheet tray with foil and top with a rack then place a folded piece of parchment over the rack. Set aside.
Spray a standard loaf pan with kitchen pan spray. Set aside.
Place the bread and milk in a small bowl to soak.
In a large bowl, add the beef, pork, eggs, onion soup mix and Worcestershire sauce.
Pour the bread and milk into a strainer and squeeze out as much of the milk as you can and discard the milk. Then add the squeezed-out bread to the beef mixture.
Use a wooden spoon or your hands and combine the mixture.
Add the meat mixture in spoonfuls to the prepared loaf pan making sure there are no air bubbles. Use a knife or your spatula to make sure the mixture is firmly against the bottom and sides. The pan will eventually get inverted so you want the surface against the loaf pan to be neat and smooth.
Place the loaf pan on the prepared sheet pan and bake 25 minutes.
Remove and move oven temperature to 425 degrees F.
Use pot holders and flip the meatloaf out of the loaf pan upside down onto the parchment and brush on the ketchup over the top and sides. What was face up is now face down.
Once the oven is back to temp, place back in the oven for 55 to 60 minutes or until the internal temperature reaches the safe temperature of 155 degrees F and the top gets charred and caramelized.
Test with a probe thermometer but if not up to temperature yet, and you need to remove probe, use a tinfoil plug to plug the probe hole so all of the juices don't leak out. See this photo:
Let rest five minutes where the temperature will continue to rise to 160 degrees F.
Carve into eight slices and serve.
---
Keywords: Mom's meatloaf, beef and pork meatloaf