Today's Mediterranean Haddock is so delicious – I've asked my husband Jack to make it for dinner again very soon! It's a simple fish recipe – with incredible flavor – and ever since Jack made this Mediterranean Haddock to share here on A Family Feast, I've been craving it!
It starts with filets of haddock that are lightly dredged in seasoned flour and beaten egg, then fried just until lightly golden in color. Then – it's placed in a sauté pan with an incredible sauce made from shallots, garlic, white wine and chicken stock, lemon juice, pepperoncini and kalamata olives and heated until the fish is cooked through. (I'm literally licking my lips as I type this!)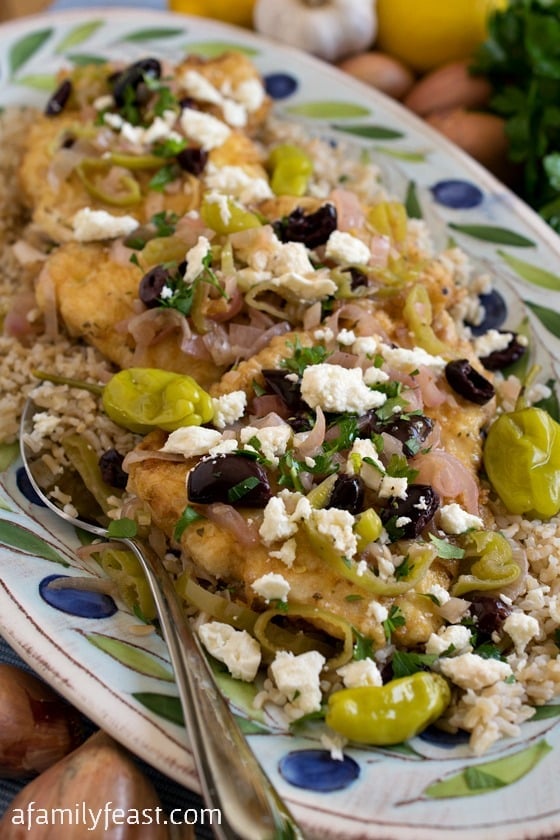 This Mediterranean Haddock – with its wonderful zesty and briny flavors is perfect served over white basmati rice, which also soaks up some of that fantastic sauce. A final sprinkle of feta cheese and chopped fresh parsley – and dinner is served!
This recipe is one that Jack originally developed years ago during his food service management days – and it was a customer favorite back then. So – after tasting this Mediterranean Haddock (and falling in love with it) I jokingly accused him of holding out on me because he never cooked this dinner for me before! But – I'm happy he finally did, and I think you'll love this dish too!
Print
Mediterranean Haddock
Prep Time:

20 mins

Cook Time:

20 mins

Total Time:

40 minutes

Yield:

4 servings
---
Description
Note: If you've purchased haddock with the skin on, lay filet on cutting board, skin side down. With a long sharp flat knife, start from the tail end and run the knife horizontally between the flesh and the skin. Once the knife has started, pull the skin with your left hand while you wiggle the knife slightly putting pressure to the right as you glide the horizontal blade to the end. The filet stays relatively in the same position while the skin is pulled out to the left. Sounds difficult, but it is fairly easy to do.
---
1

to

1½

pounds haddock or other white fish, skin removed

4 tablespoons

unsalted butter

½ cup

sliced shallots

1 tablespoon

chopped garlic

¼ cup

white wine

1 cup

low sodium chicken stock
Juice from

half a

large lemon

½ cup

sliced pepperoncini

¼ cup

pitted sliced Kalamata olives

¼ cup

olive oil

¼ cup

canola oil

1 cup

flour

½ teaspoon

kosher salt

¼ teaspoon

freshly ground black pepper

2

eggs, beaten

2 ounces

crumbled feta cheese

2 tablespoons

chopped fresh parsley
Cooked basmati rice, for serving (optional)
---
Instructions
If your haddock filets are small, leave them whole. If you have one large filet, cut into three or four pieces. (Our filet was 1¼ pounds and we cut it into four servings.) Set the fish aside.
In a large sauté pan over medium high, melt butter and add shallots, and garlic. Sauté for three minutes then add wine. Cook until wine is almost evaporated then add stock and lemon juice. Simmer this on medium high for about 5 minutes or until the mixture has reduced by one third. Move the pan to low heat, add pepperoncini and olives. Keep on low heat while you fry the fish.
In a cast iron skillet or similar pan, heat olive and canola oil until hot, about 350 degrees F. (Use a candy thermometer to ensure you have the correct temperature.)
While oil is heating, place flour, salt and pepper in a pie plate and stir.
Place beaten eggs in a second pie plate.
Dip each piece of fish first in the flour, then in the beaten egg. (This sounds backwards but it works well)
Gently lay all three coated pieces of fish in the hot oil and cook for about 2 minutes on one side and about 2 minutes on the other side, using a fish spatula to gently flip. (I used two spatulas and gently turned so they wouldn't splatter). The fish should be golden brown on both sides.
With the fish spatula, place each piece into the sauce and discard the oil that the fish was cooked in.
Spoon the sauce over the fish and cook for 2-3 minutes until fully cooked.
The sauce will not be thick, but rather thin and watery.
Place cooked rice on your serving platter and gently lay each piece of fish over the rice.
Pour the entire contents of the pan over the fish and rice, letting the liquid soak into the rice.
Top the entire dish with the crumbled feta cheese and chopped parsley and serve.
---
You may also like: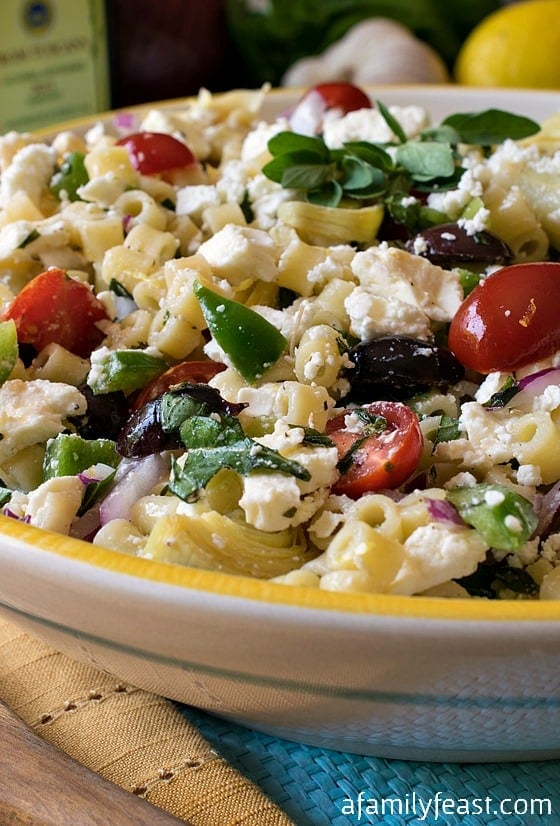 Zesty Chicken with Shallots, Capers and Olives