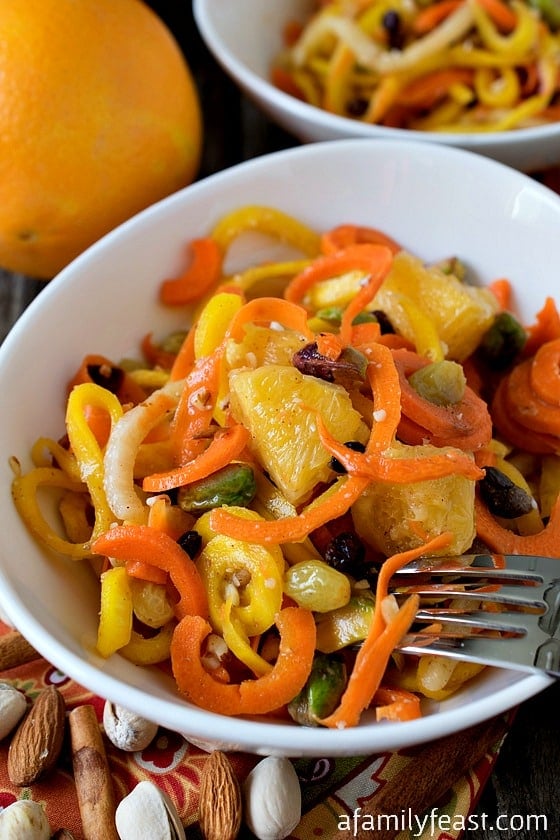 A few times a year, Jack and I get together with our friends Sandi and David. We take turns hosting each other for dinner at our homes – and our last visit was dinner at their house.
Sandi and David are wonderfully creative vegetarian cooks (you can see a few more of their delicious recipes here) – and this Marinated Spiced Carrot Salad was the first course they served during our last visit.
This salad is made with a mix of seasonal root vegetables and fruit – carrots, beets, jicama, and oranges – plus golden raisins and currants for texture, and pistachios and crushed almonds for some crunch. Everything is tossed together in a marinade of orange juice, brown sugar, and honey for sweetness, plus some cinnamon, cardamom and ginger for the perfect spicy warmth.
Then the marinated spiced carrot salad is refrigerated for at least a day before serving – allowing all of the flavors to meld and the vegetables to tenderize.
This marinated spiced carrot salad can be changed up depending on what produce you find at your store – in fact the version of this salad we had at Sandi and David's house included purple carrots and some delicious monster-sized Concord grapes which we unfortunately didn't find at our local market. Feel free to get creative as you make this delicious salad!
Print
Marinated Spiced Carrot Salad
Prep Time:

24 hours 30 mins

Total Time:

24 hours 30 minutes

Yield:

6-8 servings
---
Description
Note: We used a spiralizer to cut the carrots, beets and jicama but that is totally optional. A potato peeler works just as well and in fact, that is how we had this served to us. (We were just dying to try our new gadget.) Also note that this salad is best if it marinates for a day or two. The carrots soften up a bit and absorb some of the marinade. Finally, as long as you end up with 1 ½ pounds of peeled vegetables, it doesn't matter what combination you use. You could use all regular carrots and it would still taste great, just not as colorful.
---
¾

pound carrots (the commonly found orange variety)

½

pound yellow beets or purple carrots

¼

pound jicama or other hard fresh vegetable, or simply increase the amount carrots

1

whole navel orange

½ cup

currants

¼ cup

golden raisins

1/3 cup

shelled pistachios

¼ cup

whole almonds

¾ cup

orange juice

¼ cup

brown sugar

1 ½ tablespoons

honey

½ teaspoon

cinnamon

1/8 teaspoon

ground cardamom
Pinch of dry ginger
---
Instructions
Start with a large bowl to place the salad ingredients after they are prepped.
Using a spiralizer or carrot peeler, prepare carrots, beets and jicama and add to the bowl.
Peel orange and cut into half sized segments, removing as much pith and seeds as possible and add to the bowl.
Add currants, raisins and pistachios to the bowl.
Crush almonds in mini food processor (see here) or chop by hand and add to the bowl.
Add orange juice, brown sugar, honey, cinnamon, cardamom and ground ginger.
Stir and seal in a container mixing around now and then while it marinates. Marinate for 24-48 hours before serving. (Strain excess juice if necessary before serving.)
---
Disclaimer: This post contains affiliate links.
You may also like:
Tuscan Kale Salad with Oranges, Currants and Feta