A moist and delicious Almond Orange Cake made with olive oil, ground almonds, and the zest of oranges and lemon.
We're wrapping up our Dinner Party Series today with this recipe for Almond Orange Cake.  Our friends Sandi and David ended a perfect meal with this moist and delicious cake infused with almonds and both orange and lemon zest for an intensely good citrus flavor.  And some gorgeous candied orange slices make a beautiful garnish – plus they are delicious to eat!
Adapted from this recipe, the flavors in this almond orange cake seem to intensify if you let the cake sit for a day or so before serving.  So we recommend that you can make it in advance of when you are planning to serve it.
We hope you've enjoyed our Dinner Party Series as much as we enjoyed this meal when we first ate it!  Along with being my long-time friend, Sandi is also a fellow blogger, and although she writes about original handmade jewelry and fashion here, they are such good cooks, I think Sandi and David should consider writing a food blog as well!
Print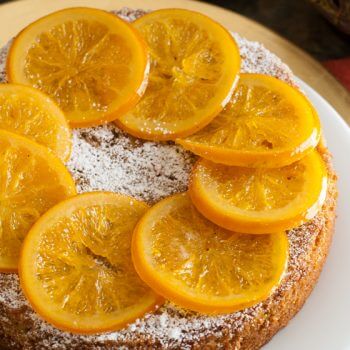 Dinner Party Series – Part 4: Almond Orange Cake
Prep Time:

30 mins

Cook Time:

1 hour 45 mins

Total Time:

2 hours 15 minutes

Yield:

8-10 servings
---
1

small to medium orange

1

lemon

6 ounces

whole raw almonds

1 cup

all purpose flour

1 tablespoon

baking powder

4

eggs

½ tablespoon

salt

1 ½ cups

sugar

2/3 cups

extra virgin olive oil
Confectioner's sugar to top
Optional – Additional orange used for candied orange garnish
---
Instructions
Preheat oven to 325 degrees.
Place the whole uncut orange and lemon in a sauce pan and cover with water. Bring to a boil and then reduce to a simmer covered. Simmer for 30 minutes, drain and discard water and cool the whole fruit.
Place almonds on a sheet pan and bake for 10-15 minutes to toast stirring once halfway through. Remove from oven and cool completely.
Increase oven to 350 and grease a 9" springform pan.
When almonds are cool, place them in the food processor and pulse until completely ground. Remove from food processor and set aside. Leave processor out for next step.
When fruit is cool, cut lemon in half, remove pulp and seeds and discard, saving outer rind. Place lemon rind in processor. Remove seeds from orange and place rind and pulp in with lemon rind. Pulse until mixture is almost a paste.
In a small bowl, mix flour and baking powder.
In the bowl of a stand mixer with whip attachment, add eggs and salt and beat until foamy. Add sugar and mix to combine.
Change to a paddle attachment and gentle mix flour mixture into egg mixture.
Add in orange/lemon mixture, almond mixture and olive oil and beat on low speed until incorporated.
Pour batter into greased spring form pan and bake for one hour or until tooth pick inserted comes out clean. (our cake took an hour and 15 minutes). Remove to a rack to cool.
After the cake has cooled slide knife around edges to loosen outer ring. Then lay a knife horizontally and insert between cake bottom and pan bottom and loosen. Dust with confectioner's sugar and serve.
Additionally you can garnish with candied oranges. In a large skillet, combine 1 ½ cups of water and ½ cup of sugar and bring to a boil. Add one naval orange sliced horizontally into ¼ inch slices and cook over medium heat, turning slices occasionally, until the liquid is reduced to syrup and the orange slices are translucent, about 30 minutes. Transfer the orange slices to a rack to cool. Reserve the syrup for another use. Once the orange slices are cool, layer them on top of the cake after you dust it with powdered sugar.
---
See the rest of our Dinner Party Series here:
Part 1:  Tuscan Kale with Orange, Currants and Feta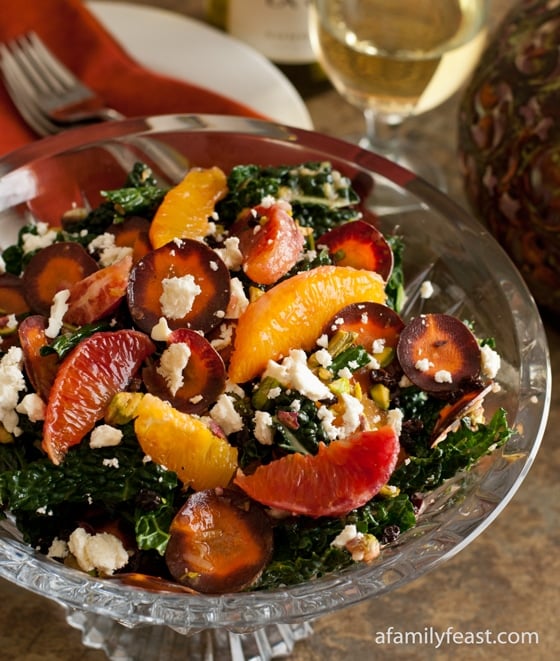 Part 2:  Roasted Root Vegetables