Innkeeper's Pie is a vintage recipe with a pie crust filled with vanilla cake and a layer of chocolate fudge underneath. Add a sprinkle of chopped, toasted walnuts on top before baking.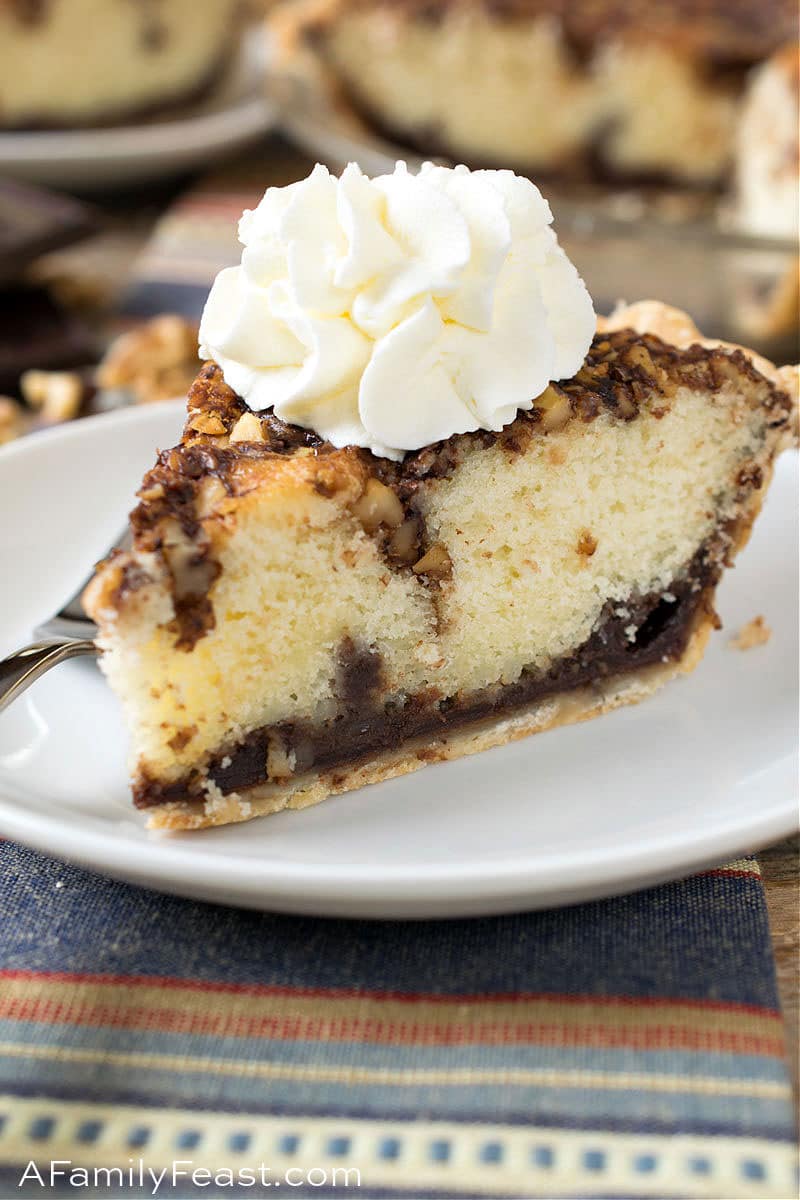 Innkeeper's Pie is another delicious recipe we recently discovered in the Maine Bicentennial Community Cookbook (affiliate link), which was published this year in celebration of Maine's 200th anniversary of statehood.
What is Innkeeper's Pie?
It's a very delicious pie – that is really more of a vanilla cake baked in a pie crust, which bakes up with a fudgy layer of chocolate on the bottom and a sprinkle of nuts on the top. It's one of those interesting recipes where, when it's assembled, the chocolate is placed on top of the batter with the nuts. Then, as it bakes, the cake and chocolate essentially 'swap places' and the fudge layer ends up on the bottom, near the crust and underneath the cake.
It bakes up wonderfully moist – and I can definitely see why this Innkeeper's Pie recipe is a long-time favorite.
Innkeeper's Pie history
This Innkeeper's Pie recipe was submitted by Katie Murphy of North Yarmouth, Maine, who wrote, "This pie often shows up at community potluck suppers."
It was served at The Pocket Watch Shop in North Yarmouth, Maine. The shop owner, Valda Verrier operated the gift shop and tea room for decades out of her beautiful, remotely located 1906 home.
In 1962, the Verrier house was moved on a flatbed truck to a new location close to town, where the shop operated until the early 1970's. The recipe was preserved by the North Yarmouth Historical Society.
Innkeeper's Pie is also sometimes called a Colonial Innkeeper's Pie (as named in a 1959 Betty Crocker Cookbook), and the Pennsylvania Dutch Funny Cake is similar as well. That pie gets the name, from what I read, because people found it 'funny' that a cake was baked in a pie crust. But, if you recall reading our Boston Cream Pie recipe – back in the day, the terms 'pie' and 'cake' were used interchangeably because both were baked in a round pan.
No matter what you call it – Innkeeper's Pie is a delicious dessert that would be a great addition to the dessert table at any occasion.  Serve it with whipped cream on top if you'd like.  Enjoy!
You may enjoy these other pie recipes:
Print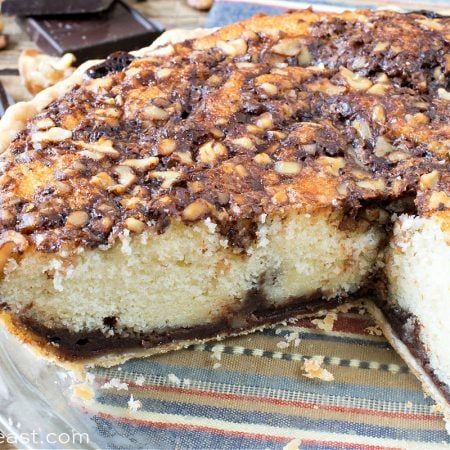 Innkeeper's Pie
Author:

Prep Time:

30 minutes

Cook Time:

45 minutes

Total Time:

1 hour 15 minutes

Yield:

8 slices

Category:

dessert

Method:

baking

Cuisine:

American
---
1 9-inch pie crust, unbaked
½ cup chopped walnuts, toasted (pecans or pine nuts could also be substituted)
Chocolate layer
½ cup water
1 ½ ounces unsweetened chocolate
2/3 cup granulated sugar
¼ cup butter
1 ½ teaspoons vanilla
Cake layer
1 cup all-purpose flour
1 teaspoon baking powder
½ teaspoons salt
¼ cup butter, softened
¾ cup granulated sugar
1 large egg
½ cup whole milk
½ teaspoon vanilla
1 cup of heavy cream to whip and serve over each slice, or buy already whipped cream.
---
Instructions
Preheat oven to 350 degrees F.
Lay the pie dough into a 9-inch pie plate and fold the edges in to make the edge double thick, then using your knuckles or thumbs, flute the edge. Place back in the refrigerator after forming until later in this recipe so the dough stays firm.
Chop the nuts fine and toast in a small saute pan over medium heat. Set aside.
In a medium sauce pan, bring the water to a boil, then shut off the burner and add the chocolate. Stir with spoon until melted.
Add sugar and bring back to a boil. As soon as it boils, remove from heat and stir in the butter and vanilla. If the butter doesn't melt, heat the pan back up for a few seconds until the butter melts. Stir and set the pan aside.
In a medium bowl, sift flour, baking powder and salt and set aside.
In the bowl of a stand mixer with the paddle attachment, cream butter then add sugar and beat for one minute.
Add the egg and beat to combine. Scrape and beat again.
Alternate adding the milk and dry with the mixer running then add in the vanilla and beat to combine. Scrape and beat again.
Remove the pie plate from the refrigerator and scrape in the cake layer batter, smoothing the top.
Stir the chocolate mixture once then pour over the cake layer.
Sprinkle the nuts over the top and bake for 45 minutes or until a toothpick inserted into the center comes out clean. Ours was perfect at exactly 45 minutes. As it bakes, the chocolate sinks and the cake rises. (They basically swap places).
Cool and cut into eight wedges and serve with whipped cream.
While the pie is cooling, whip the heavy cream to soft peaks and serve over each piece.
Store any leftover pie in the refrigerator.
Keywords: Innkeeper's Pie