This Grilled Vegetable Salad with Basil Dressing is one of those meals that your dinner guests will talk about for a long time!
A colorful collection of in-season vegetables is first marinated, then grilled – then served all together on a platter with a sprinkle of crispy bacon and little mozzarella balls on top, plus a fresh basil dressing that is so good, you'll be tempted to eat it with a spoon.
Now – let's step back a moment – and let me tell you a little more about those grilled vegetables that my husband Jack made for this post.  Those aren't just any grilled vegetables!
If you're a regular reader here on A Family Feast – then you know that we love grilling vegetables (and even fruit) because it adds wonderful caramelized flavor. Well, the vegetables in this Grilled Vegetable Salad with Basil Dressing get even more flavor from a marinade of bacon fat (yes – bacon fat – just enough to add fantastic flavor), white balsamic vinegar, garlic, Tabasco sauce, olive oil and seasonings.
And that fresh basil dressing we mentioned earlier?  There's even a little bacon fat in that too – along with shallots, Dijon mustard, sour cream, olive oil and other seasonings.
Imagine yourself placing this gorgeous platter of Grilled Vegetable Salad with Basil Dressing on your summertime dinner table! (Don't forget to serve it with a nice, crusty French baguette too!)
Prepare yourself for lots of compliments to the chef! 🙂
Print
Grilled Vegetable Salad with Basil Dressing
Author:

Prep Time:

2 hours 45 minutes (includes time to marinate the vegetables)

Cook Time:

15 minutes

Total Time:

3 hours

Yield:

4-6 servings
---
Ingredients
1 pound bacon
1 loaf of French bread, sliced and grilled to serve at the end
Marinade
2 tablespoons bacon fat
2 tablespoons fresh garlic, minced
1/3 cup white balsamic vinegar
2 teaspoons kosher salt
1 teaspoon black pepper
Few drops Tabasco sauce
1/3 cup extra virgin olive oil (use the good stuff)
Vegetables
2 ears of corn husked
2 pounds' mini potatoes (purple, yellow, new red, etc.) they usually come pre-bagged
2 large zucchini, trimmed and cut into thirds the long way (also on the outside slices, trim off a little so every piece has white showing)
1 large red onion, peeled and sliced into six thick slices
1 pound small to medium tomatoes cut in half horizontally
1 small tub mozzarella balls
Dressing
1 tablespoon bacon fat
1 cup fresh basil packed
1 tablespoon minced shallot
1 tablespoon sour cream
½ teaspoon kosher salt
¼ teaspoon freshly ground black pepper
1 tablespoon Dijon Mustard
5 tablespoons extra virgin olive oil (the good stuff)
---
Instructions
Start by cooking the bacon to crisp but save 3 tablespoons of the bacon fat. Crumble bacon into big pieces and aside.
Mix all of the marinade ingredients in a small bowl.
Lay out two sheet pans and pour half the marinate into each.
Place all of the vegetables onto the marinade then flip each piece over ending with the tomatoes and potatoes cut side down.
Let marinate two hours turning the corn occasionally.
While the vegetables are marinating, make the dressing by combining all of the dressing ingredients in a blender except the oil. Pulse and blend until not quite pureed. Add the oil a little at a time with the motor running on low. Remove and refrigerate just before the mixture is still a little lumpy. You should still see bits of basil and shallots.
Heat your outdoor grill to hot on one side and medium on the other.
Each vegetable will be cooked at different times. The potatoes and corn will take the longest and the tomatoes only a few seconds.
As each item is grilled, move to the sheet pan on the cool side. OK to place right back in the marinade, there is no raw meat to worry about.
How I did mine…
I made sure the hot side was very hot and I did not use any additional fat to grease the grill. The oil in the marinade was enough.
I put the potatoes and corn on first and moved those to the back.
I placed the tomatoes cut down just long enough to get grill marks and removed them immediately to the sheet pan.
I added the onions and zucchini and let everything alone until I could see it getting dark on the bottom. At this point, use tongs and flip. The vegetables will tell you when it is time to flip. Too soon and they will stick. Wait too long and you will over cook.
At this point, I kept turning and moving them until they were cooked through and had nice char marks, being careful not to separate the onion as you turn.
Once everything was cooked, I transferred them to a serving platter, tossed in the mozzarella balls, sprinkled over the bacon and poured the leftover marinade from the pan over everything.
Lastly, I dabbed dressing over the top of the platter and served the remaining dressing on the side along with the toasted French bread.
---
Disclosure: This post contains affiliate links.
You may also like:
Grilled Summer Vegetable Salad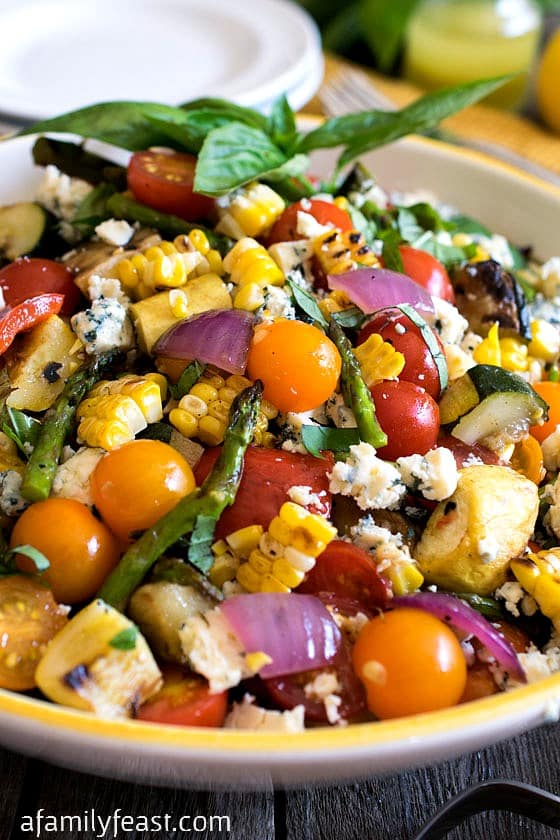 Grilled Stone Fruit with Mascarpone and Cherry Granola
Grilled Sweet Potato Salad with Sweet and Sour Dressing